The Breathtaking Belize Jungle Resort Your Family Must Visit
Belize is a welcoming, kind country that is incredibly diverse in its environments. With over 450 islands and nearly 50% of its land covered in tropical rainforest, there is truly something to discover each visit. I've been blessed to experience the Belize coast more than a handful of times – but have been forever intrigued by visiting the rainforest. The idea of a family adventure trip to a Belize jungle resort had long been on our bucket list.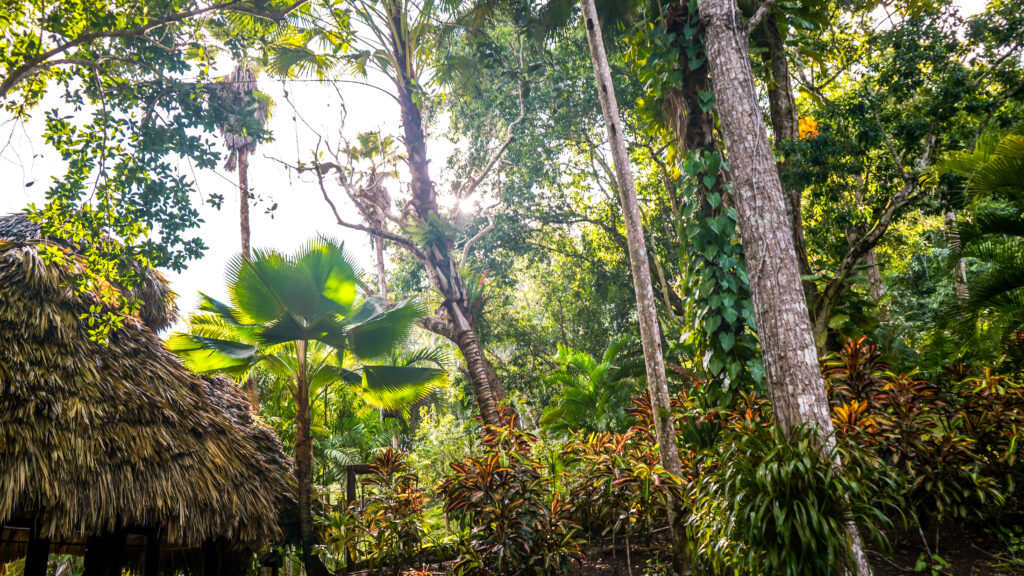 The stars aligned for us in the late summer of 2023, so we kicked off my son Kai's first trip to Belize in the jungle. Our experience staying in the heart of the rainforest at an incredibly gorgeous and thoughtful eco-friendly resort far exceeded anything we could have imagined.
Our Belize jungle resort stay was filled with family fun, adventure, exciting education and relaxation. We left with a deep awareness, refreshed wonders about Belize, and new motivation to protect our rainforests.
Introducing : Chaa Creek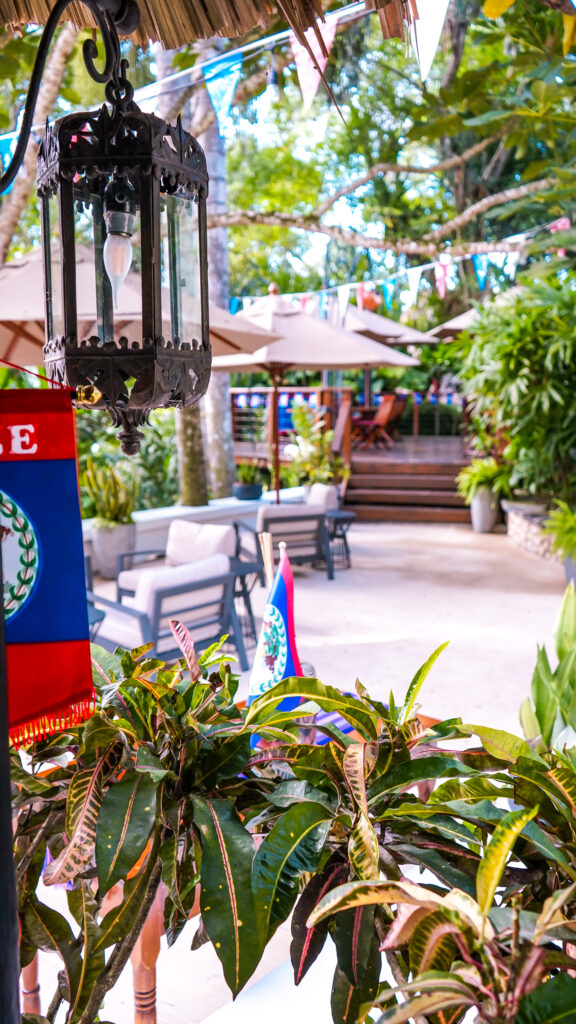 Rewind to June of 2023. I was on a puddle jumper flight, heading to Belize City from Placencia. I sat next to a woman who was terrified to fly on the small plane. She and I struck up a conversation as she asked if she could hold my hand if she got nervous. Absolutely, I was her girl – I tried to distract her fears by asking about her trip.
Her family had just been to a Belize jungle resort called Chaa Creek in San Ignacio. I was instantly captivated by the wondrous place she described. She spoke of a world I had never experienced, but immediately yearned to.
Her stories of Chaa Creek were full of adventure and so much beauty. One quick puddle jump and I was sold (+ she was so brave on the flight!). I never would have guessed that only 3 months later, I would be on my way to experience Chaa Creek with my family.
AN INTRODUCTION TO CHAA CREEK'S JUNGLE SANCTUARY
Nestled deep within Belize's vibrant jungles is Chaa Creek. It's an award-winning luxurious eco-friendly haven that beckons nature enthusiasts, lovers, and families alike. To get a glimpse into the magic of the 400-acre nature reserve that is Chaa Creek, you must read its story.
Founded by a couple deeply passionate about conservation and sustainability, it's a romantic adventure tale of two lovers, The Flemings. Their profound love for nature is something they would go on to share with the world in the most precious way.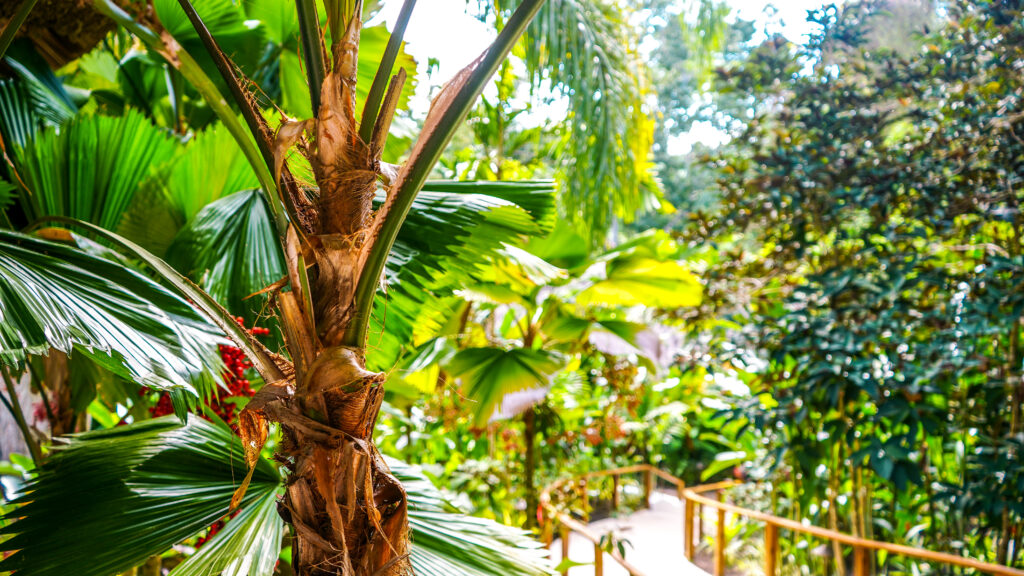 The resort is a testament to The Flemings' unwavering commitment to preserving the beauty and biodiversity of Belize's jungles. Chaa Creek simultaneously provides guests with a luxurious, eco-conscious retreat. Wildly civilized – you must visit to truly understand and experience it for yourself.
Tip : In preparation for your own trip to Chaa Creek, I recommend you explore their informative website. Kai is home-schooled and did this to kick off his research about what he wanted to learn about in Belize. It made the trip extra special.
How To Get To Chaa Creek
Most travelers arrive to Belize via Belize City. Surprisingly, Belize City is just a 2 1/2 hour flight from Houston! From there, you have several options including private shuttle, car rental, or helicopter ride. All transportation options allow you to experience the richness of Belize on your way to the rainforest. Embrace whichever transport you choose as part of the adventure.
We chose a private shuttle, booked through the resort. It's a beautiful 2 hour drive out of Belize City, through the rolling farm lands and into the mountains.
Our driver made our experience incredible. He and Kai chatted the entire drive about what life is like in Belize. He told Kai stories of his parents experiences when Belize became independent. They chatted up how to get Amazon deliveries in Belize. He pointed out his daughter's school. Kai learned so much from our sweet driver.
A Warm Welcome to Our Belize Jungle Resort
Pulling up into the jungle and onto Chaa Creek grounds is an experience that can't be described in words. The beauty and tranquility that washes over one is a stunning welcome. I glanced back to Kai and Walt at one point – the awe on their faces is unforgettable.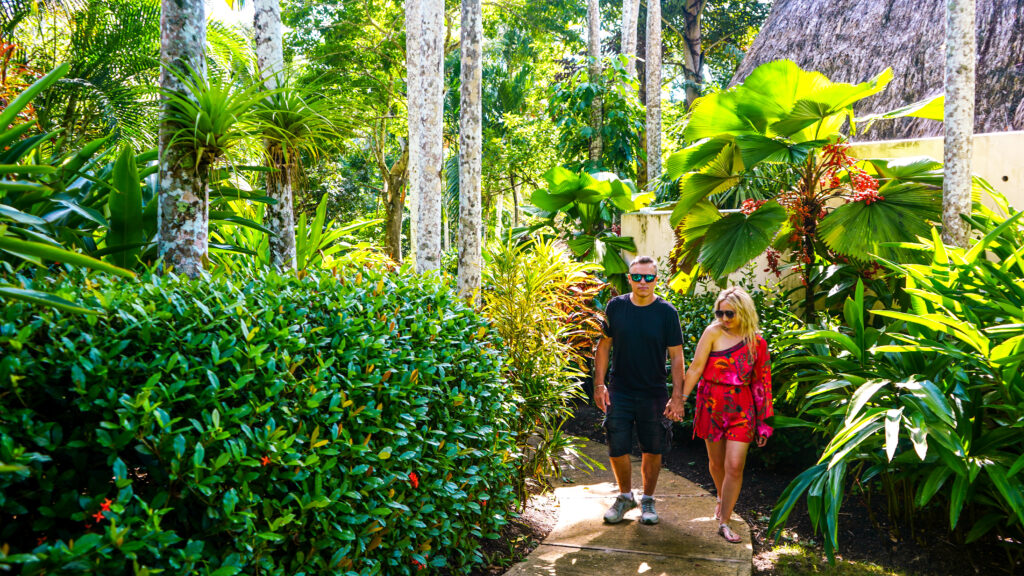 We were greeted by the soothing symphony of jungle sounds and the warm embrace of the Chaa Creek staff. Freshly squeezed juices adorned with tropical fruits were handed to us at the bar. After a moment to take it all in, we were given a personalized tour of the grounds and our villa. Excitedly, we realized how much our expectations were about to be exceeded.
LuxurY Belize Accommodations Hugged By The Rainforest
Just a handful of luxurious villas are built throughout this Belize eco-friendly resort. Each villa is completely unique and designed with beautiful art, plants from the jungle and personalized touches. The textures and colors beckon. Welcoming home, the spacious villas extend lavish comfort accommodations for your jungle stay.
10% of all accommodation revenue at Chaa Creek goes directly into environmental and community projects.
We stayed in two different villas during out time at Chaa Creek.
Spa Villa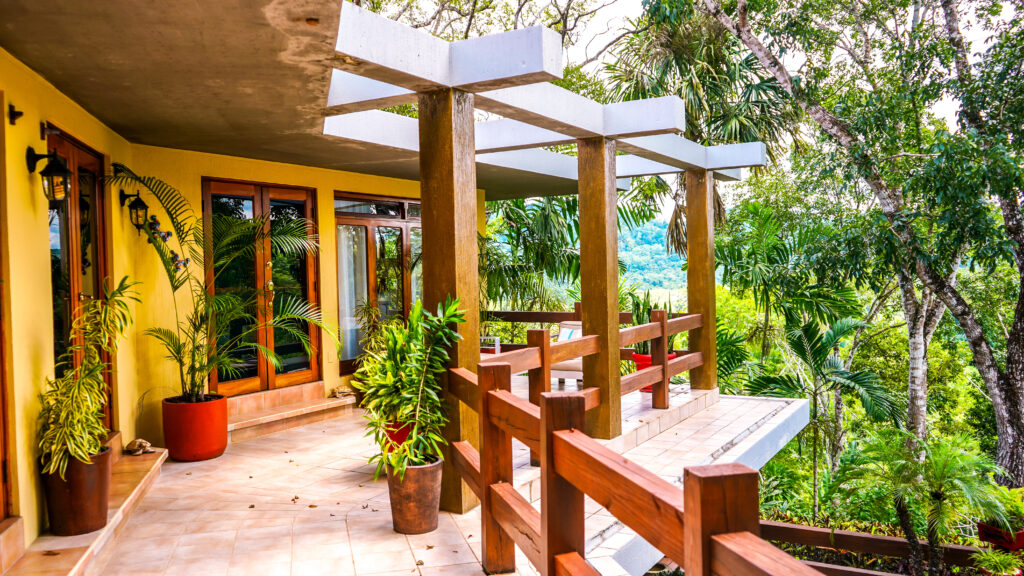 Perched upon a tropical hillside is the three bedroom, two bathroom Spa Villa complete with a spacious kitchen, dining room and glass-walled living space. Air conditioning and ceiling fans cool the heat of the day. No detail is forgotten.
Sitting on the Spa Villa's wrap around veranda at any time of the day will instantly ground you. Immerse yourself in the sights and sounds of the rainforest. Rise with the sun, enjoying panoramic views as the tropical birds (we saw so many, including toucans and parakeets!) and howler monkeys greet your family. At night, draw a bath in the outdoor jacuzzi to stargaze and wonder at the sounds of the rainforest.
Ix Chel Villa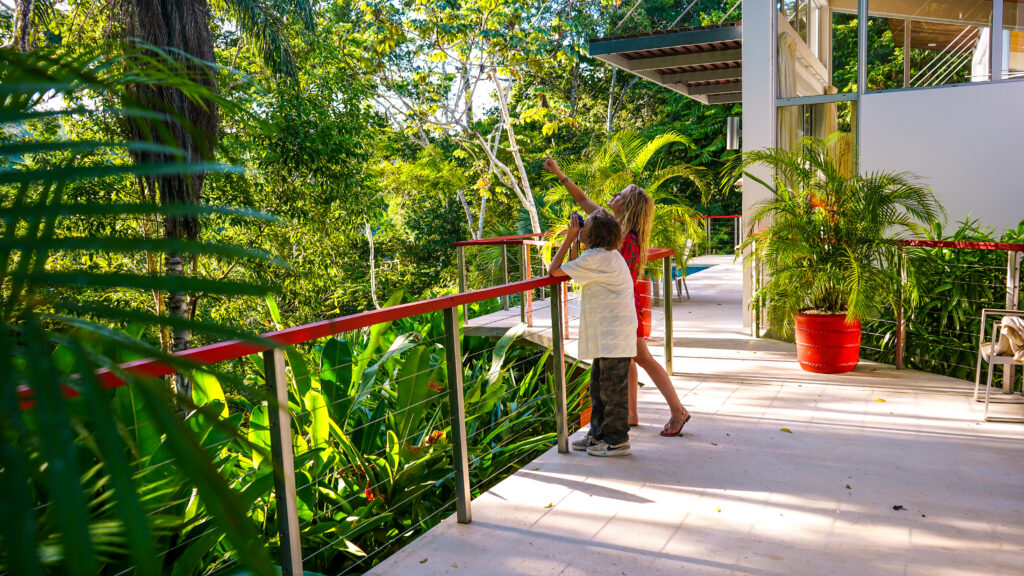 Chaa Creek's newest accommodations are the Ix Chel Villas.
Stunningly placed above the Macal River, the modern villas offer 180° views through floor to ceiling windows in each bedroom. Thoughtfully designed, each bedroom has its own massive bathroom with indoor-outdoor showers. A family gathering space for fun conversations and meals connect the two rooms. Air conditioning is present throughout.
Each Ix Chel Villa veranda has a private pool and hot tub, beckoning you to make new family memories. This is a space that could entertain all day. Time slows during a stay at the Ix Chel Villa. From the first light of sun rising above the Macal River, to the moment you close your eyes, peace immerses you.
DID I MENTION?! : Chaa Creek's Ix Chel Villas come with a personal butler! Without skipping a beat, your butler will connect you requests, further nestling you into pure relaxation. He'll be one step ahead of your every need, yet allow your family the complete privacy Ix Chel Villas offer. Our butler was kind enough to assist Kai and Walt with putting together a special birthday surprise dinner for me on the infinity pool deck, unforgettable.
Exploring The 400 Acre Belize Jungle REsort
Chaa Creek thoughtfully extends a wealth of amenities on their gorgeous 400 acres. We stayed on property the entire time other than a Mayan Ruins tour, and didn't even experience a fraction of the property.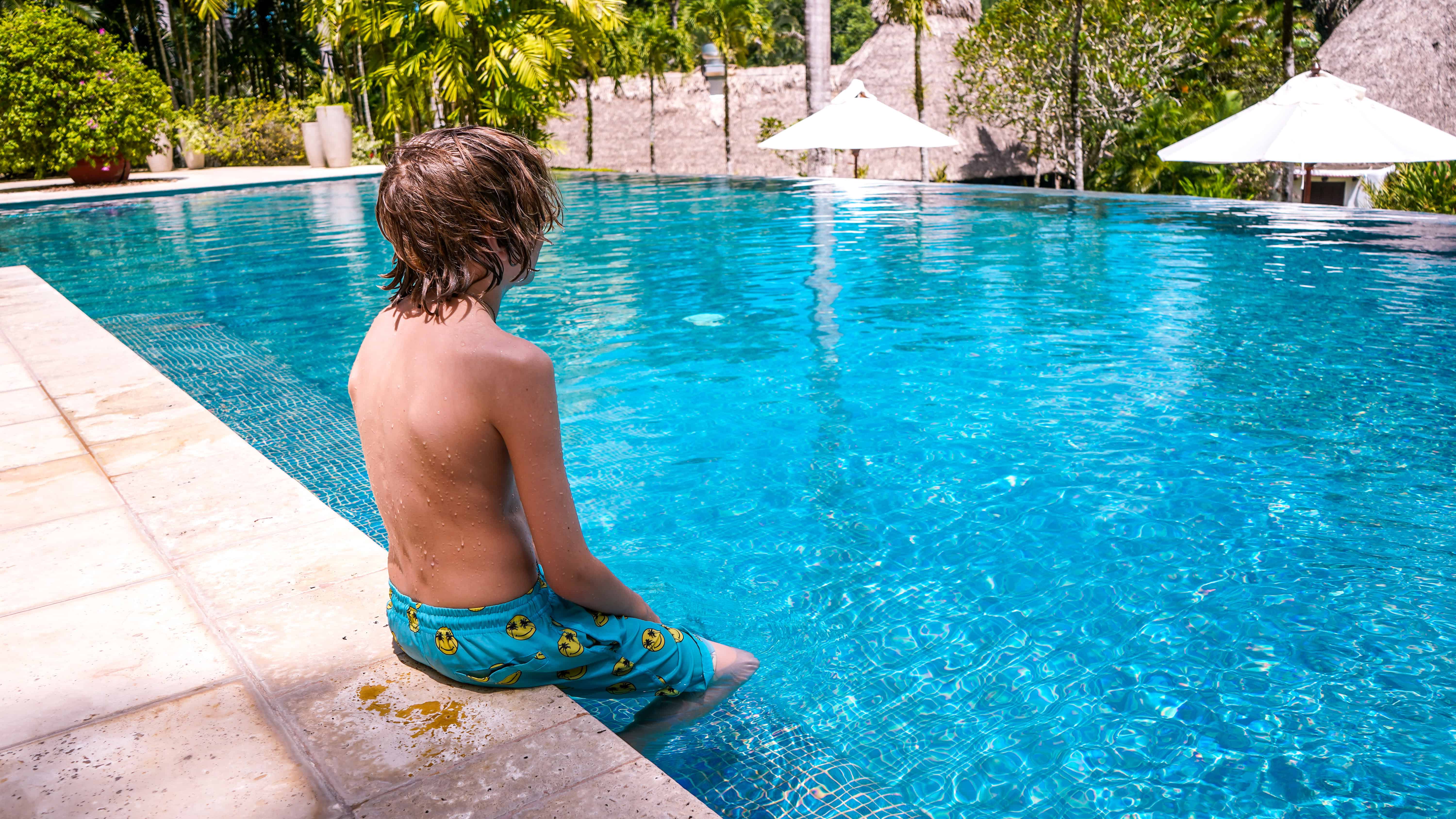 The centrally located salt water infinity pool is nestled within the lush tropical grounds. It beckons you against the heat of the day, the perfect spot for family fun or a cool dip before napping on a lounge chair.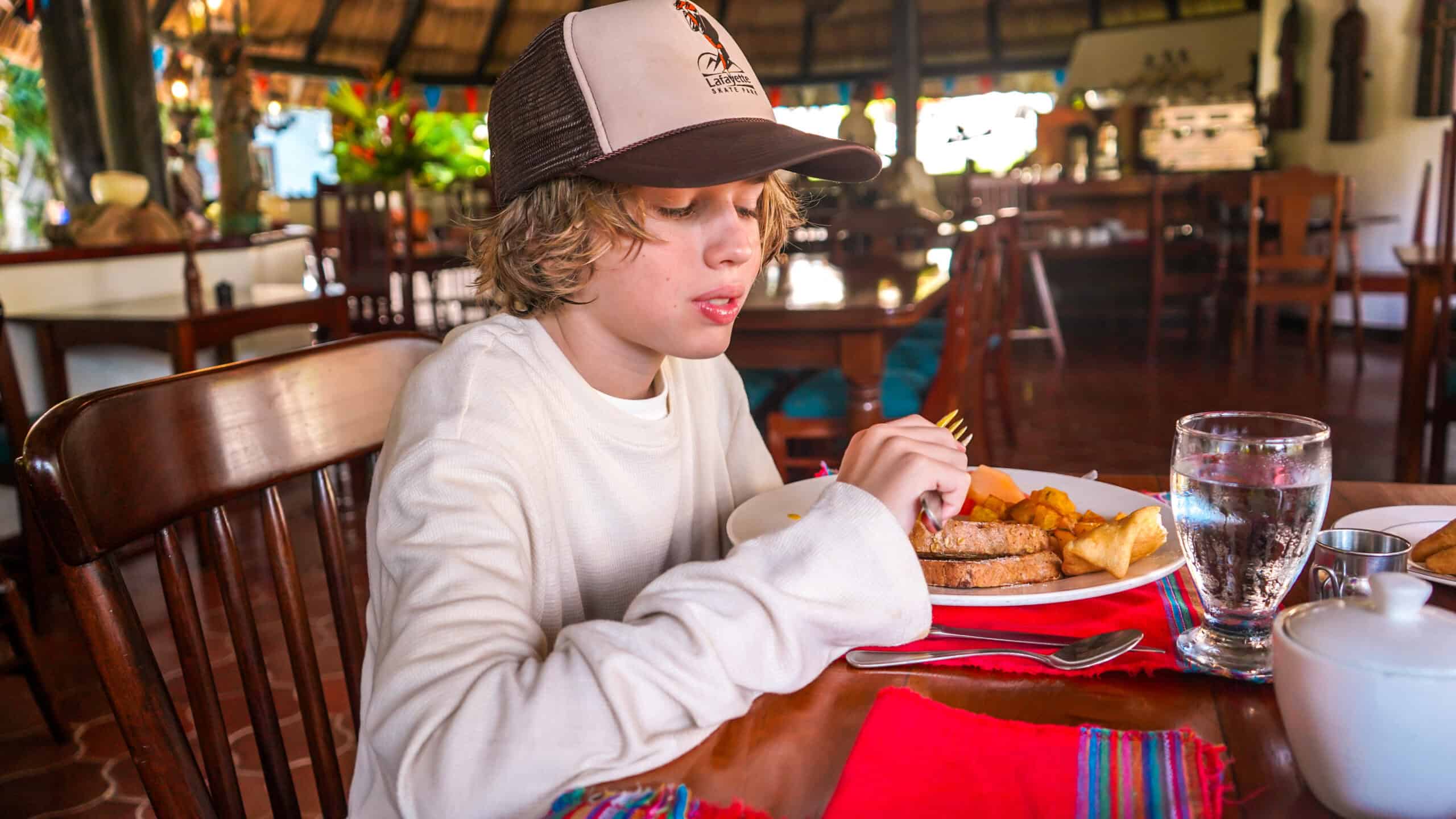 The on-site Mariposa restaurant showcases Belize's rich culinary history. Mariposa uses both food grown at the on-site farm and locally sourced ingredients in every dish. Special diets are welcomed and accommodated. The staff happily, thoughtfully and deliciously offered many choices for my vegan diet.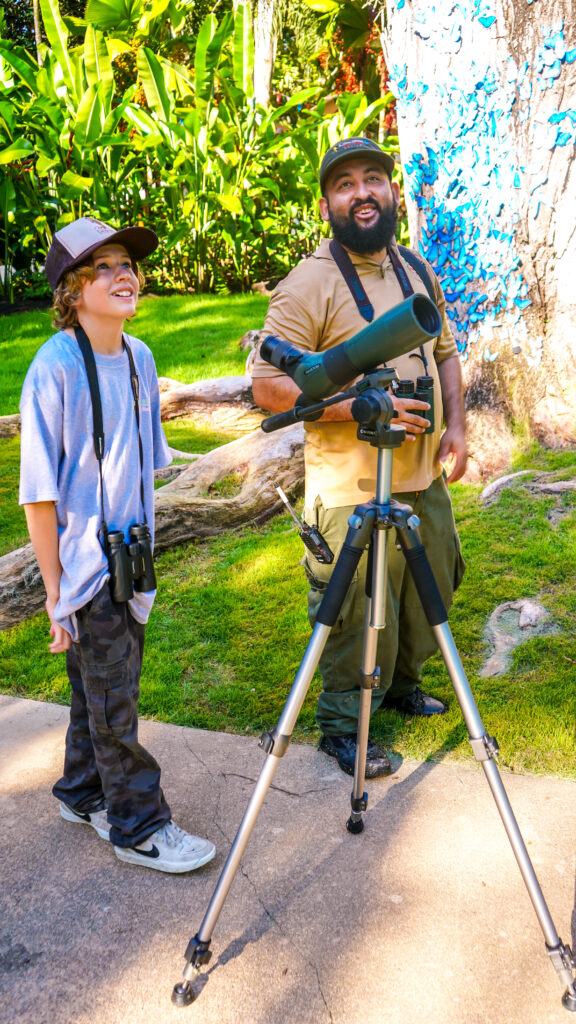 Captivating Activities That Naturally Educate
Resorts that offer educational experiences can often be a let down or frankly boring. Chaa Creek is an entirely different experience with thoughtful, exciting education weaved into every moment of your stay. The staff are experts at captivating through stories and experiences that invite you into their world.
Some of the on-site activities that we experienced and highly recommend are :
horseback riding tour though the rainforest
birdwatching tour
natural history museum tour
butterfly farm tour
RTV safari tour
canoe tour on the Macal River
organic farm tour
hands-on culinary experience
Tip : Balance your itinerary with fun educational experiences and free time to explore and relax. Building this time into your schedule is essential to take a step back from everyday life, and digest the wonder you're immersed in.
Finding Serenity in The Belize Jungle
Amidst all the adventure, we cherished our tranquil moments together. The jungle's profound serenity had a grounding effect on each of us.
As a family, we used the time to connect in love and laughter. Time moves at a slower pace in the jungle, EMBRACE it. Get present together, whether you're horseback riding through the rainforest or lounging poolside.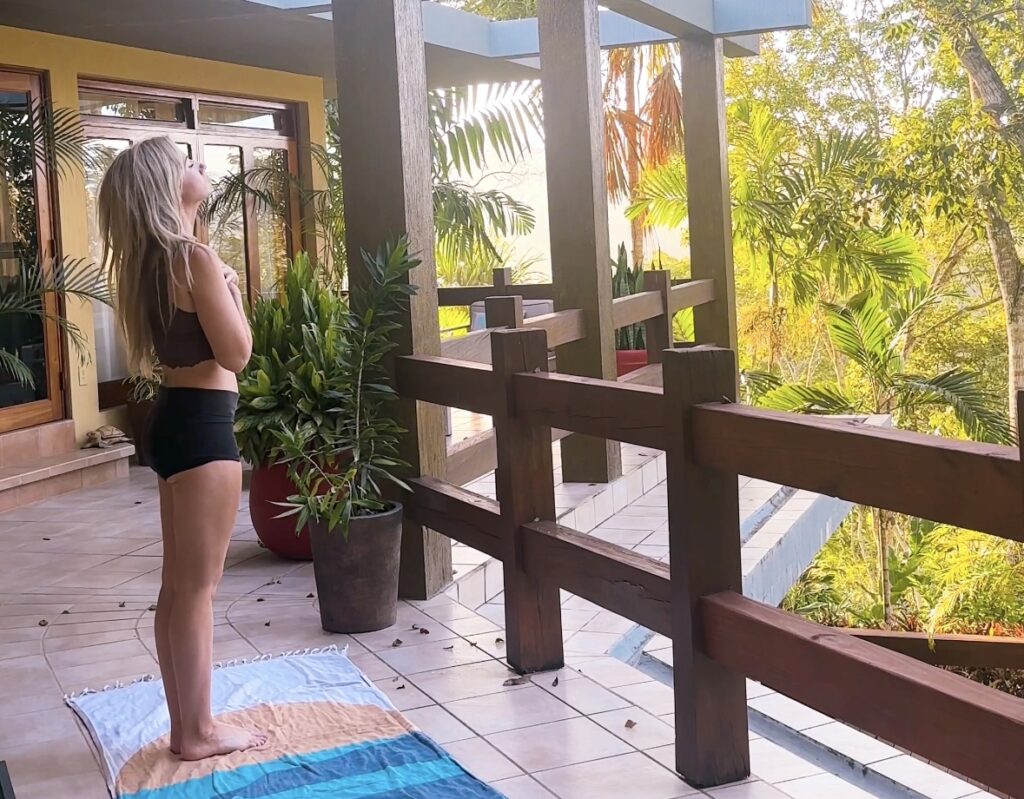 As a mother, I personally found solace in early morning yoga flows and meditations throughout the day on the verandas. Stop a moment to notice the bird sounds and the wind through the trees. Take this time for you, to reconnect to your breath and peace. Allow moments sprinkled throughout family time to rejuvenate and reconnect.
Exemplary Staff and Unmatched Service
I couldn't possibly pour my heart out about our experience at Chaa Creek without mentioning the Chaa Creek staff. Above and beyond doesn't describe this team.
Second to none, each and every single staff member – no matter their role – deeply cares and offers the warmest embrace to guests.
The Chaa Creek staff's passion for nature, love of the land and commitment to guest experience shone through every interaction. It speaks volumes to how the Fleming's embrace each staff member as family.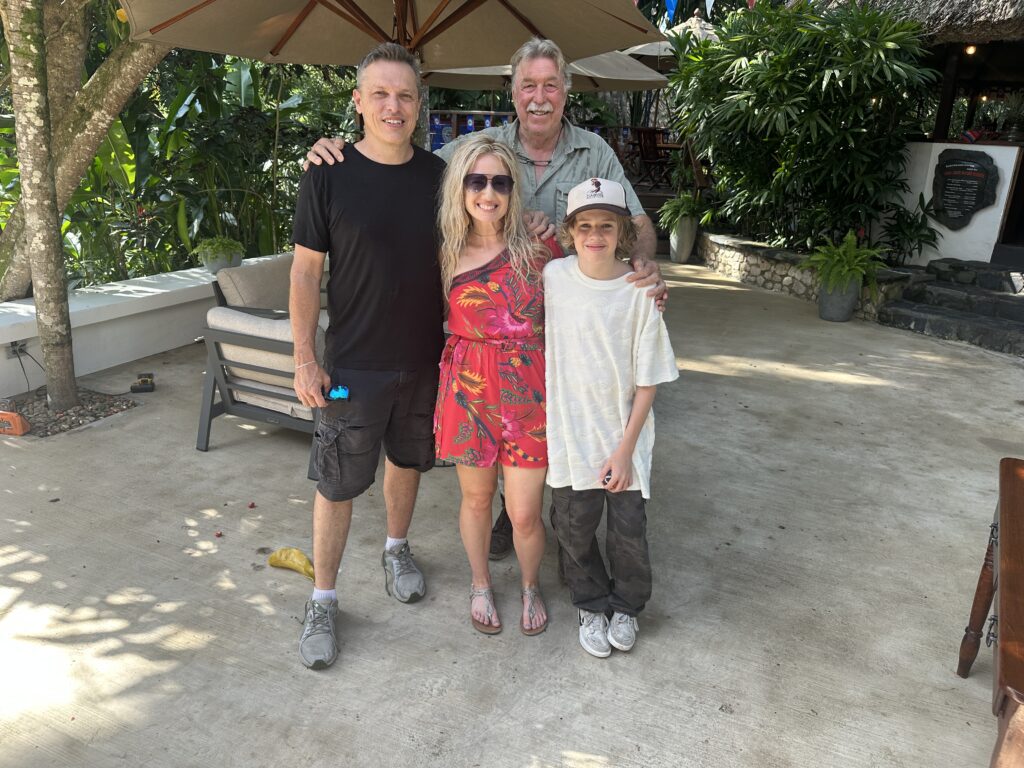 Tip : If you're lucky enough, you might catch members of the Fleming family at breakfast!
A Family Tradition in the Making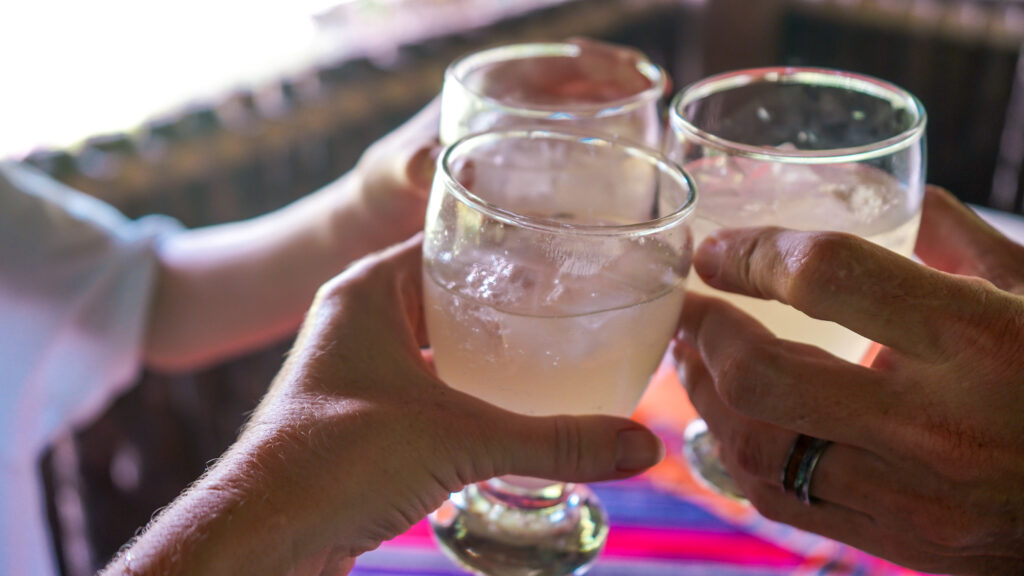 Our family's experience at Chaa Creek was obviously nothing short of extraordinary. This is a place that has embedded itself deep within our hearts. I know it will continue to beckon us back, year after year.
As we said goodbye to Belize's jungle paradise, we couldn't help but dream of making this eco-friendly haven a cherished family tradition. It's a place where we imagine reconnecting with nature, bonding as a family, creating lasting memories, and becoming better humans for generations to come.
Our first Belize jungle resort was not just a vacation destination; it was an unforgettable journey into the heart of an idealistic paradise. It's a place that calls us back again, to explore, learn, rejuvenate and cherish the wonders of the Belizean jungle together.
xx, Jenny (The Kai Life)
Would you stay at a Belize Jungle Resort?
What tropical rainforest species would you be most excited to see?!