A Romantic Caribbean Getaway : Dreamy Tropical Belize
Belize, a mesmerizing jewel in Central America, offers the perfect setting for a romantic Caribbean getaway. Its turquoise waters, powdery beaches, lush tropical landscapes, and beautiful welcoming culture create an irresistible allure for couples seeking a dreamy, sunny escape.
Join my husband and I on a journey to three of Belize's most enchanting locations – Placencia, Caye Caulker, and Ambergris Caye – where love, relaxation and wellness intertwine in the tropics.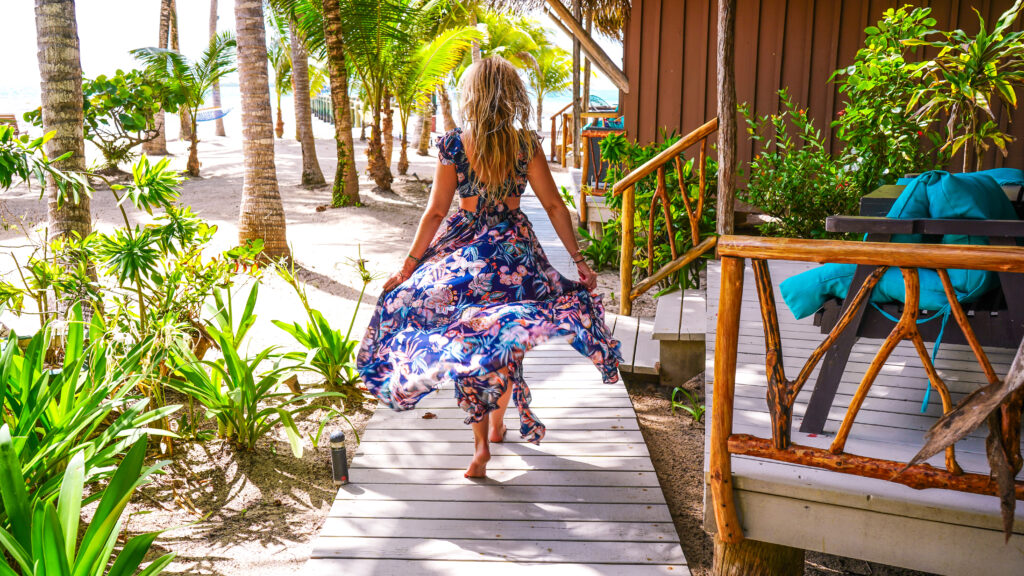 Time is so precious anymore, and life flies especially fast when you're a couple with a kiddo and both have busy careers! Amongst all of the family, work and life stuff – we love to take a week together for just the two of us yearly to hangout, decompress and date a little bit again.
As a beach loving couple, we're always excited when our time together lands us on the sunny shores (ok, full truth – we seek this out 99% of the time!). This summer we knew that we wanted to experience a special tropical destination together. We wanted it to be easily accessible from the US. That's how we landed in the Caribbean's vibrant, sunny Belize!
The Vibes in Belize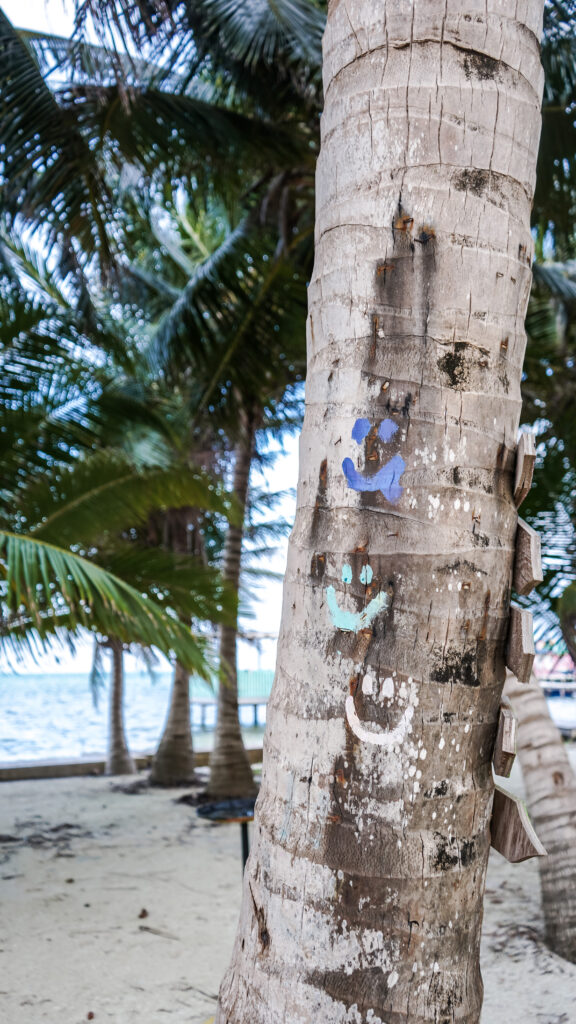 Belize embraces travelers with its smiling, welcoming vibes. It's easy to fall in love with this tropical paradise for a dreamy Caribbean escape.
Every person we met and interacted with in Belize was incredibly friendly and willing to offer recommendations or assistance. This created one of the warmest atmospheres we've experienced traveling. Asking questions is met with eager and friendly responses. There are happy signs hung all throughout the country, with reminders like "be kind", "go slow", and "leave no trace".
The locals exude a chill and super friendly demeanor, allowing you to explore at your own pace. This adds to the relaxed ambiance of a breezy trip to the Caribbean. Many times when we've traveled to other places, we've felt like we were being pushed to purchase something, or there was another agenda – but this wasn't the case for us in Belize, at all!
Getting Around In Belize
We actually visited 3 destinations on our trip to Belize over the course of 6 days!
There are over 450 islands in this Caribbean gem, and over half of the country consists of subtropical jungle or rainforest. Transportation to touristy spots is abundant, making it really common to check out a few areas during one visit. The only difficult part is picking which area in Belize to visit!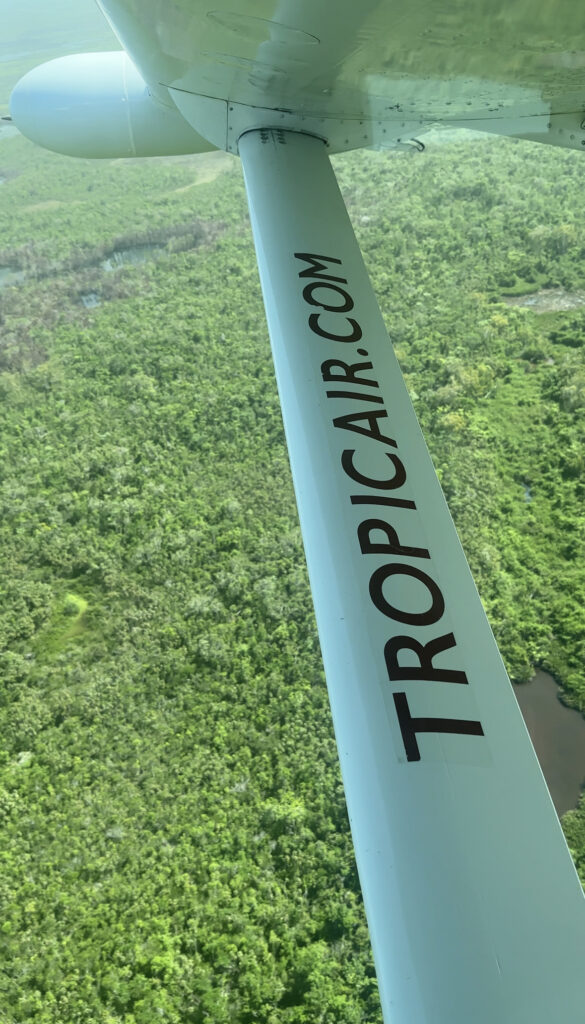 The accessible puddle hopper airlines, like Tropic Air, and water taxis throughout the cayes offer regular schedules and breathtaking views. It's so simple and fun to bounce around Belize. While buses are available and offer a chance to sightsee from the ground, we opted for Tropic Air and water taxis to maximize our time in each location during our trip to the Caribbean. We were mesmerized by the aerial views of the beautiful country.
I even spotted a mama and baby manatee on a flight, and got to be co-pilot (ok, in all honesty, I was just allowed to sit in the seat haha!) on another flight.
If you're planing to visit a few locations like we did, I highly recommend using Tropic Air. The San Pedro Express Water Taxi system is excellent for inter-island travel. If you're moving destinations during your trip to Belize, focus on how fun it is to see the country from the air and the sea, making it a part of your trip – before you know it, you'll be walking into your next villa!
It's easy to travel to Belize as an American
As Americans, traveling to Belize is incredibly convenient. It's located in the central time zone and is just a couple of hours flight from Dallas. It couldn't be easier to communicate or use money in Belize.
Language
English is the official language of Belize and communication with locals is hassle-free. Most of the population also speaks a creole patois and are bilingual. The locals are happy to speak to you in English and all of the signage and menus we read were written in English, simplifying navigation.
How To Pay In Belize
The official currency is the Belize dollar, but the exchange rate is Bz$2 to US$1 (2:1 exchange). The US dollar is used regularly, and both currencies are used interchangeably. It is easy to use US dollars throughout Belize without the need to exchange money (or pay expensive change rates) beforehand.
When you pay with cash in US dollar, you'll be given your change in Belize dollars. This is great to use for tips, or other places you're using cash. Just a note about using cash – US coins are not accepted in Belize. You'll find ATM's throughout the touristy areas in Belize.
We found that Visa and MasterCard credit cards are widely accepted (Discover and Amex less so). This made payments effortless and allowed us to earn more travel points as we traveled (my favorite way to earn rewards!) with our Chase Sapphire card. We stayed in the touristy spots, and found that there were only two places on our trip which accepted cash only.
Tipping is a simple process in Belize. While appreciated, it is not mandatory. People tip an average of 10%. You'll want to tip closer to 20% for exceptional service. I've traveled to other countries and have felt that I need to tip EVERYONE, even if I'm just asking for directions or assistance – this is not the case in Belize, or a feeling that you will get at all.
Eating And Drinking In Belize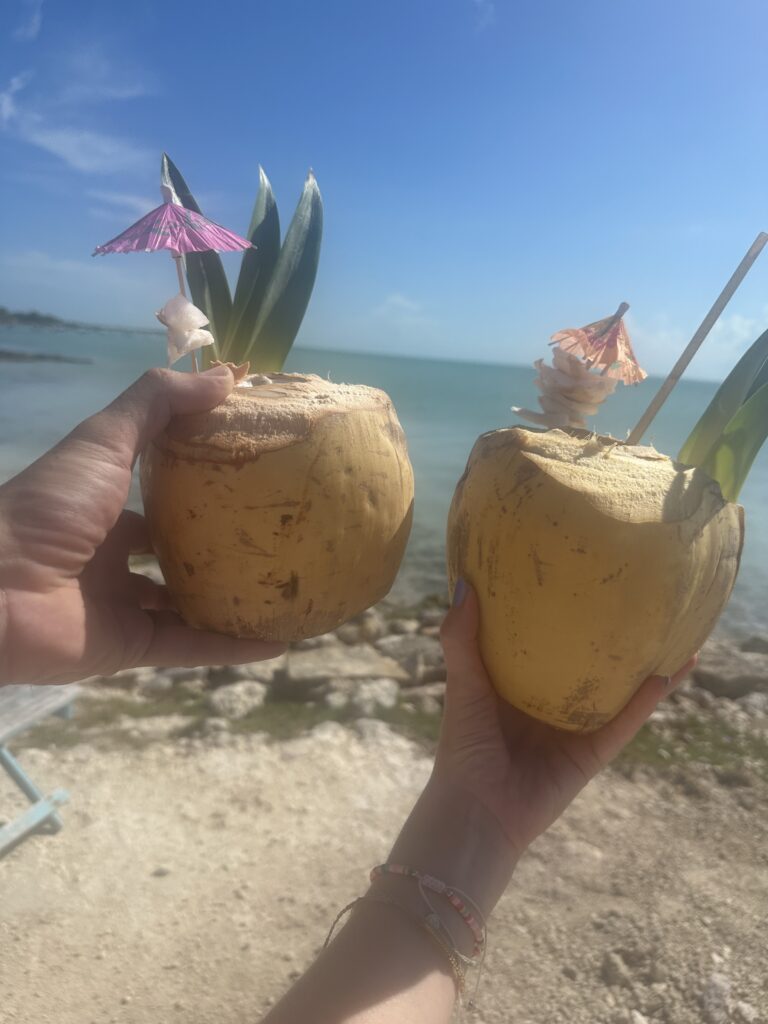 As a plant-based person, I was pleasantly thrilled to find delicious vegan food options throughout Placencia, Caye Caulker and Ambergris Caye Belize, while my husband enjoyed a variety of non-vegan dishes. The fruits in Belize are out of this world, providing fresh breakfasts each morning on our holiday in Belize. We highly recommend you stop by a fruit stand for a mango or pineapple (don't sleep on drinking from a coconut together to cool down a hot afternoon!).
It's NOT recommended that you drink the water in Belize. All of the resorts that we stayed in and restaurants we ate at served filtered water and ice cubes. I used the UVBrite Self Cleaning Water Bottle for the first time during this trip and absolutely loved it.
The Trip : Our Romantic Belize Getaway Agenda
We had six days away together and wanted to see a few areas in Belize while still relaxing. We chose to spend two nights in each destination, and although we would have loved more time, this little trip around such a beautiful Caribbean country was the perfect itinerary.
Placencia: Where Time Slows Down
We spent the first part of our special Caribbean trip in Placencia. Placencia is a charming coastal village along the Caribbean Sea and towards the southern end of Belize. Time slows down here. We fully embraced the relaxed vibes of Placencia's coastal paradise. Placencia is a quick 30-45 min puddle hopper flight from Belize City.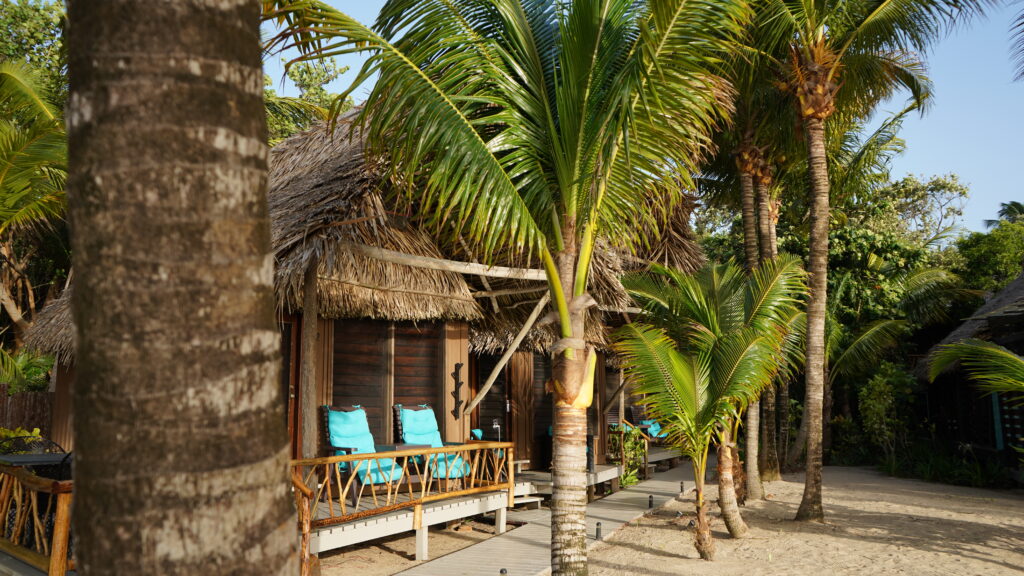 During our time in Placencia, we stayed at Maya Beach's gorgeous Azure Del Mar, a warm and inviting boutique property offering beachfront villas and a plethora of amenities. We cherished getting lulled to sleep by the sound of the waves and waking early with the sun to watch it rise. We loved enjoying the sun's gentle rays from the dock and abundance of hammocks and lounge chairs on Azure Del Mar's beach. Grab a spot on the ocean swing to watch the sun say good morning before a delicious breakfast at their restaurant, The Reef.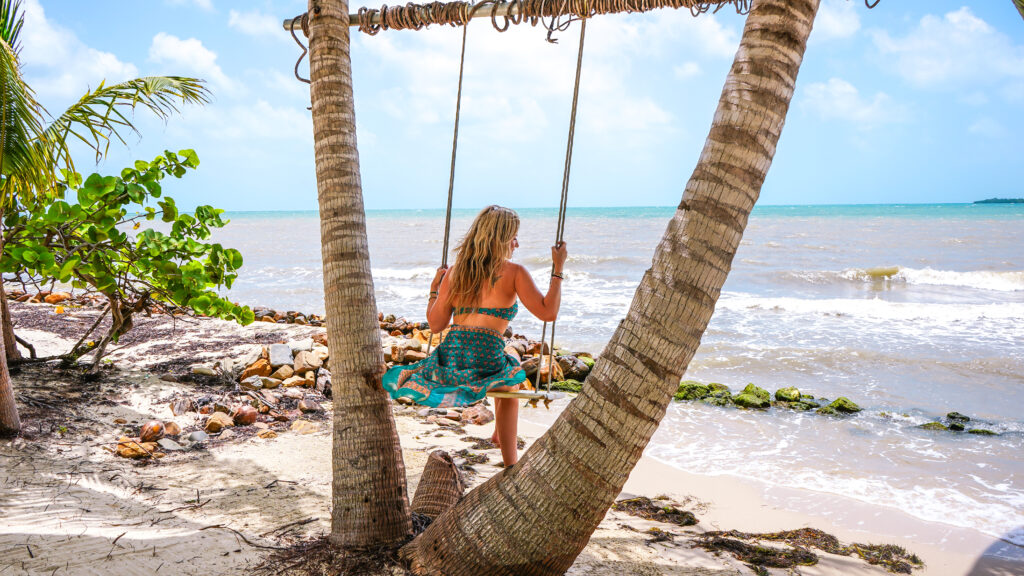 Get a vehicle to skip about Placencia. Azure Del Mar does offer transportation into town, but Placencia a great place to have a little vehicle in. We had so much fun with our rented golf cart. Although there are plenty of cars on Placencia, it's just as common to see golf carts on the road. It made our travel back and forth to town a joyous experience each time! We rented our golf cart from Captain Jak's, and they made it super convenient for us by dropping it/picking it up directly at our hotel.
We had fun strolling along and shopping on the Placencia Sidewalk (the narrowest street in the world at 4 feet wide, according to the Guinness World Book of Records). We also spent an afternoon at the Placencia Beach Club – I love their swim up bar, and they've got some fantastic food!
Caye Caulker: Embracing the Island Life
Our romantic Caribbean getaway continued to the idyllic island of Caye Caulker, where we discovered an island offering something for everyone. From Placencia, we flew to Belize City and took a water taxi to Caye Caulker (the Caye Caulker airport is currently closed to remodel the runway through September 2023). Caye Caulker is located about 45 minutes north of Belize City by boat.
When researching Caye Caulker, you'll immediately learn about "the split". In 1961, Hurricane Hattie split Caye Caulker in two, creating the north side and the south side. All you need to know about the split is :
the north side of the split is quiet and relaxing
the south side of the split is bustling and full of life, where the town is located
it's really fun to hang out at the split
there's a water taxi called "split to split" that travels back and forth between the sides regularly. You just wave it down and they'll come pick you up!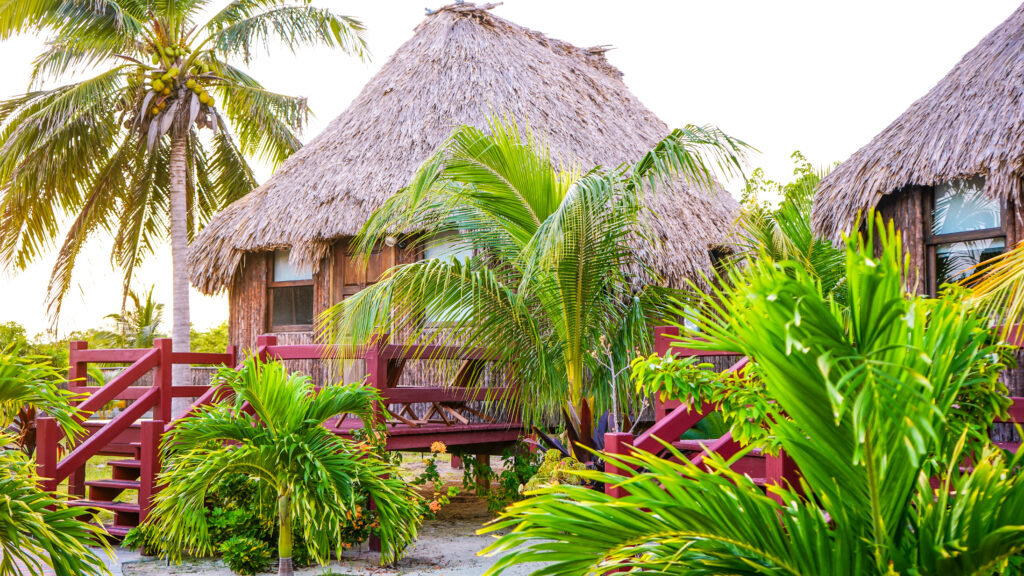 We chose to stay on the North Side of the split, to truly relax and remove ourselves from busy life for a bit. We stayed at the serene El Ben Cabanas because of their gorgeous tropical thatch hut cabanas, and loved every moment of our stay here. El Ben Cabanas is a calm and quiet resort offering the perfect balance of relaxation and exploration. They have a private dock and a boat which will pick you up directly at the Caye Caulker Marina. Their property is a lush island paradise full of palm trees and other tropical plants. We loved the feeling of "going home" after we were done exploring town on the south side.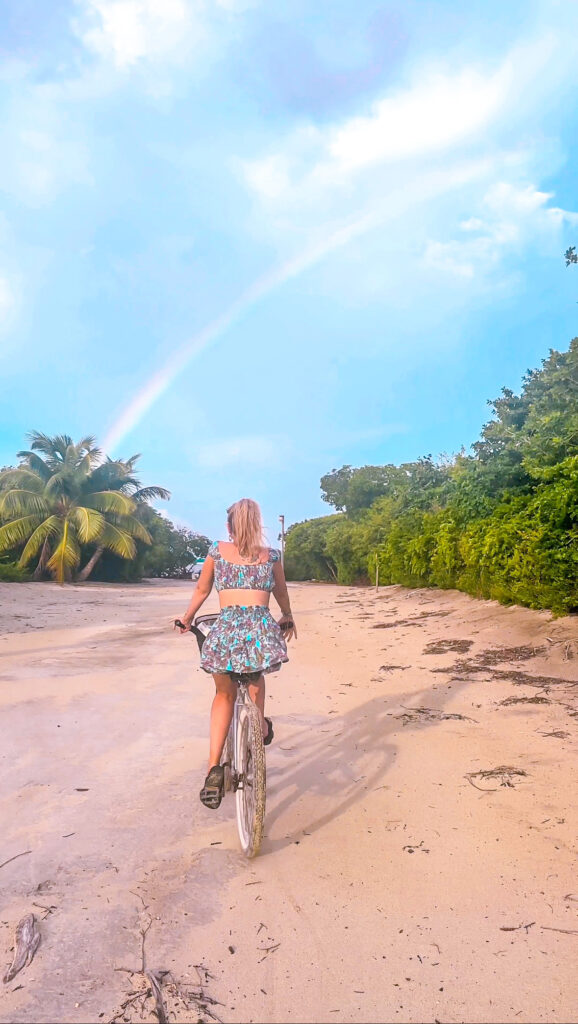 During our time on Caye Caulker, we rented bikes from El Ben Cabanas for $5 USD/day and explored the sandy paths on the north side (I totally spotted a gorgeous rainbow on my birthday!). The split to split even allows you to bring your bike on board, making it easy to continue exploring when you hop over to the south side!
A highlight of our time on Caye Caulker was taking an open-air yoga class at Namaste Cafe, the island's only yoga studio. After the relaxing session, we had a fresh breakfast in their restaurant, savoring the tropical flavors and refueling for the day's adventures.
It was also fun hanging at the Lazy Lizard (at the split) to catch some rays and a couple of drinks. I even worked up the courage to leap off of the Lazy Lizard's famous diving platform (to be 100% honest, it took me 5 tries!). Walt did it immediately on the first try! To end the day, we arrived at Iguana Reef just before sunset during feeding time for the stingrays and loved seeing them gather. The stingray feeding is a sweet moment not to be missed.
Ambergris Caye: A Tropical Escape with a Touch of Luxury
Our final destination, Ambergris Caye, was a treat for the senses during our vacation in Belize. Getting to Ambergris Caye from Caye Caulker is an easy 30 min water taxi ride, a fantastic way to ease further into island life.
We stayed just north of the bustling town of San Pedro at the luxurious, brand new The Watermark, offering us easy access to all that Ambergris Caye had to offer. The location of this hotel is perfect as the city is accessible, yet you feel removed.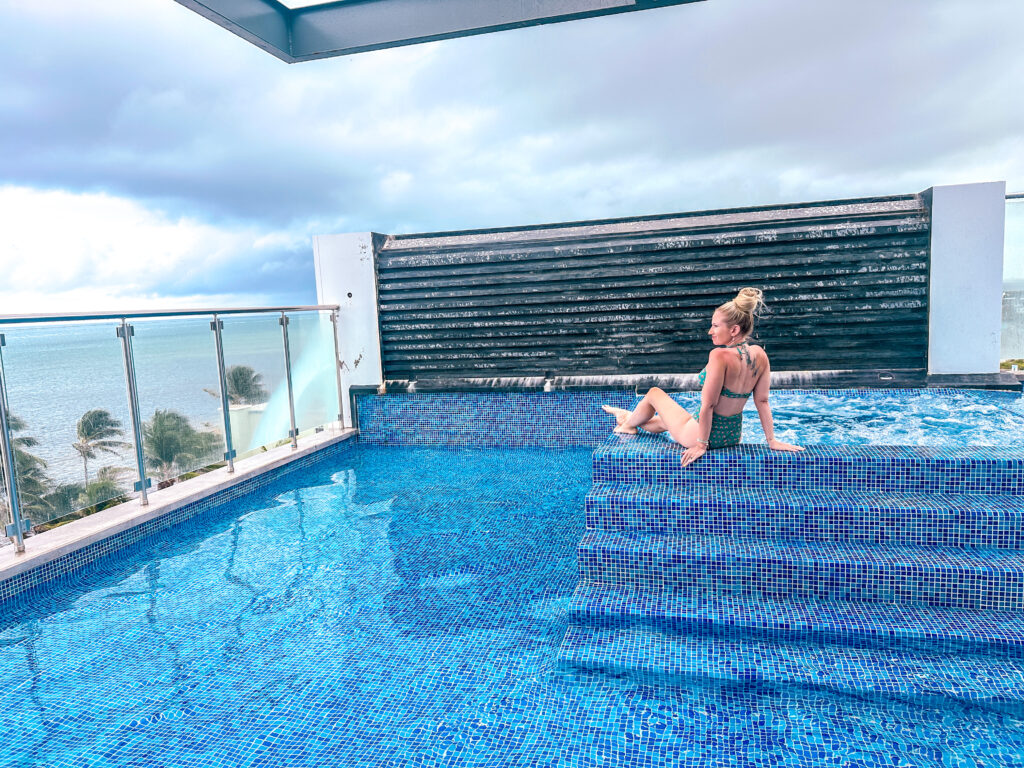 We had heard so much hype about The Watermark's rooftop pool, so we checked it out immediately upon checking in – and it delivered! What a vibe the pool is! We had some lunch and took a dip before getting out around the island.
Rent a golf cart on Ambergris Caye. The Watermark made it simple for us by arranging it, it was dropped off and picked up from our hotel. Just a note, our golf cart wasn't filled with gas when we got it (this seems typical on Ambergris Caye) – so be sure to check right away and fill it up!
During our stay, we ventured up north to discover the "secret beach" – kind of a funny play on the name of a beach that isn't so secret. Along the way we discovered so many restaurants and shops that we added to our bucket list for next trip! We enjoyed dinner at the coolest little place called The Truck Stop which boasts sunset views, an outdoor movie screen, yard games, a couple of bars, live music and several shipping container restaurants.
A Dreamy Romantic Caribbean Getaway To Belize
Our getaway as a couple to Belize's enchanting gems – Placencia, Caye Caulker, and Ambergris Caye – was nothing short of magical, and the perfect little getaway from the US. The tropical beauty, friendly locals, and diverse experiences creates the perfect backdrop for a dreamy Caribbean vacation. As we bid farewell to Belize, we carried with us memories that would forever bind us to this tropical paradise – and added so many spots to our bucket list for next time.
For any couple seeking a dreamy escape to the Caribbean, Belize's charms await – a destination where love blossoms, and relaxation thrives amidst the splendor of the tropics.
xx, Jenny (The Kai Life)
Would you take a romantic getaway in Belize?
I would love to answer any of your questions or hear about your favorite things in Belize! Comment below and let's get the conversation going 🙂