Azure Del Mar Beachfront Bliss: Placencia Belize Resort Review
Nestled along the calming shores of Maya Beach in Placencia Belize lies the exquisite beachfront retreat, Azure Del Mar. If you're seeking a romantic slice of paradise that marries Caribbean charm with unparalleled comfort, this Placencia resort is the blissful escape you need to book.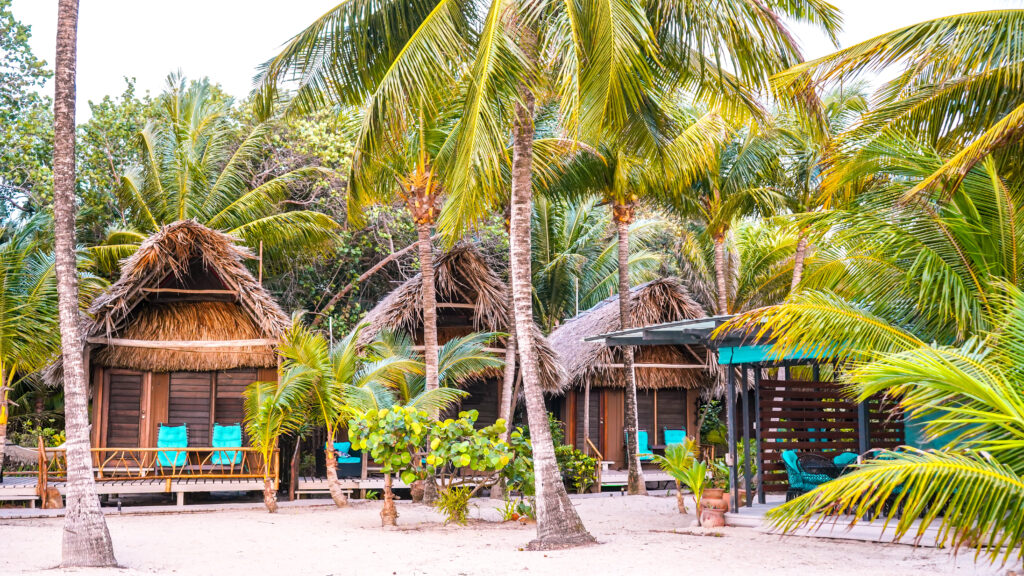 My husband and I try to take a trip together yearly (at least!). Vacationing as a couple is such a rare treat when you have a family. We find that it keeps our relationship fresh and fun, inspiring us to return home even more excited on our journey of parenthood together. It always reminds me of the first time we traveled as a couple, and brings back feelings of dating again. Obviously, getting time alone when you have a family is easier said than done. It's wonderful if you can figure it out!
Although it's not always easy to decide on the perfect destination for time away together, it was simple for us this trip.  After visiting Placencia, Belize for the first time with girlfriends a month prior, I couldn't wait to introduce the area to Walt.  It came as a surprise that we were able to head back to Belize as soon as we did! But my Belize mini-series quickly developed – we just had to choose our resort. I was hopeful to find a really special location.  
There are many Placencia resorts to choose from, something for everyone. However, as soon as I stumbled upon Azure Del Mar, I knew that we had to experience the Maya Beach paradise as a couple. I'm so thrilled to introduce Azure Del Mar to you.
Arriving in Paradise: A Welcoming Oasis
Although traveling to Placencia is a bit of a journey, make your travel part of the fun and adventure! Most travelers find it easiest to fly into Belize City. From there, you have several options to head to Placencia.
As you step off the plane at the intimate Placencia Airport, the first taste of the Azure Del Mar experience begins. With a seamless and joyful pick-up service (upon request), they ensure that your journey is as stress-free as your stay. We were thrilled with the excitement that our kind driver showed to us. He gave us a mini tour and told us some history on the 15 minute drive to Maya Beach.  The next day, he hand-delivered a note with recommendations on how to spend a day on the Caye we were traveling to next!
Stepping Onto Azure Del Mar
Upon arriving at these Belize beachfront cabanas, you'll step into a true oasis. The beauty of this haven is accentuated by its lush tropical surroundings. It's a sanctuary, where the symphony of the waves harmonizes with the rustling foliage. Unquestionably, you'll immediately notice a feeling of calmness and welcoming as soon as you step on the property.
When you walk into the open-air reception lounge, you'll be greeted with fresh tropical juice and a warm smile. It's obvious that the staff truly cares that your every need is met. They go above and beyond, making sure that you have the most incredible time at this Caribbean beachfront resort gem.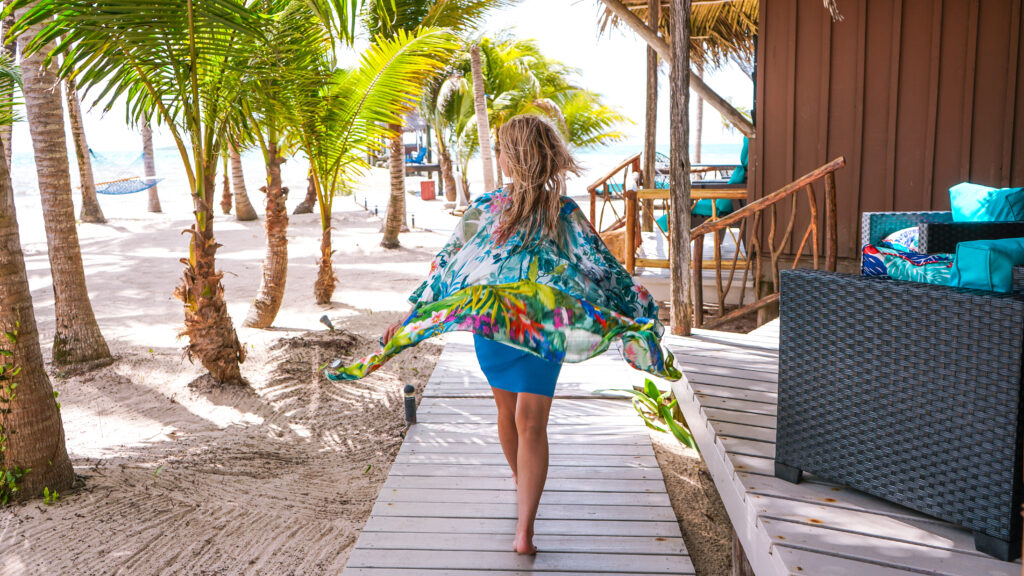 OUTFIT DETAILS : Miss Match | Tropical Paradise Long Sleeve Kimono (code JENNY for 15% off)
The level of genuine welcoming that the staff provides throughout your time as their guest is second to none. For example, after getting a personal tour of the property, we sat down at the restaurant for a bite. Our waiter said he was excited to spend the next few days with us and wanted to introduce himself as a friendly face. The little things go such a long way.
Boutique Placencia Beachfront CabanaS
Azure Del Mar prides itself on providing an intimate beachfront accommodations. Their boutique hideaway features 6 traditional Belizean thatched roof cabanas. Only a handful of thoughtfully designed accommodations are offered. These boutique Maya Beach cabanas cultivate an environment where personalized attention flourishes.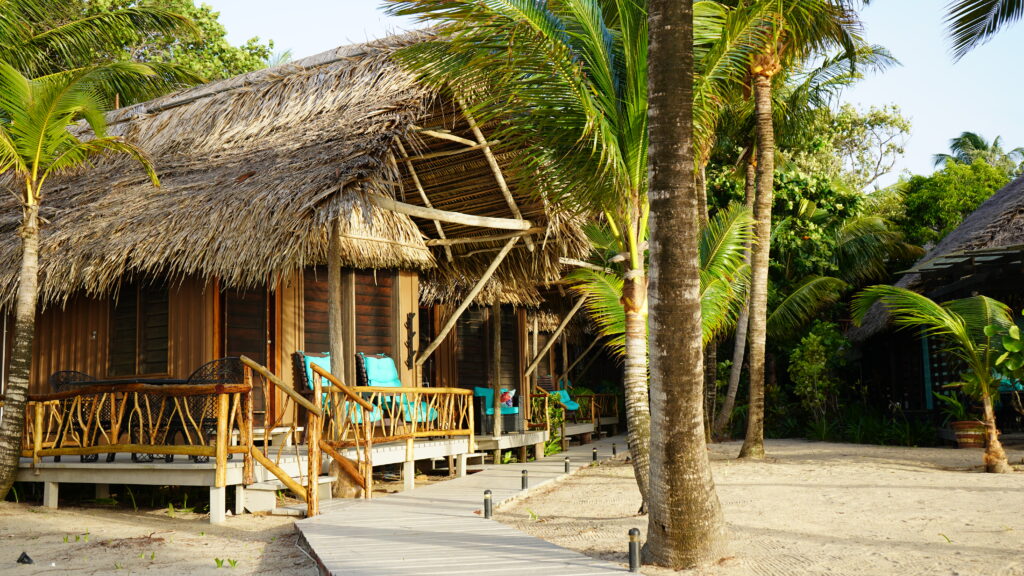 Each cabana is spacious and includes the amenities you'll need to fully enjoy your stay. Featuring a vaulted ceiling, venetian blinds, air conditioning and fans, you'll get to set your comfort level.
The bathrooms with hot water feature Talavera sinks and gorgeous tiles throughout. There is a retro mini-fridge, bottles of water and glasses for your use.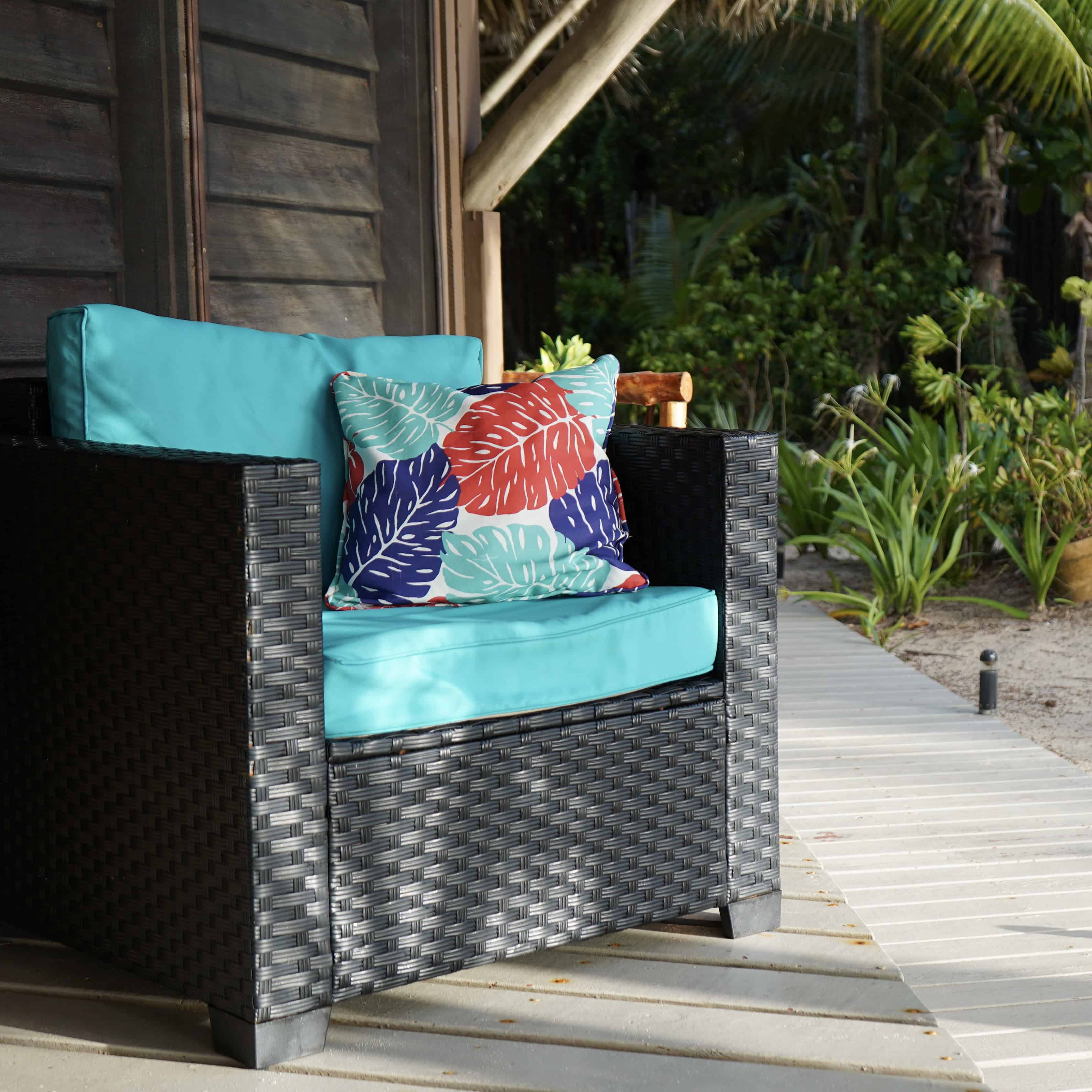 Azure Del Mar made sure their beachside cabanas beckon you to stay. The beds, pillows and linens are so comfortable. The staff continues above and beyond details in your room. Welcoming you with a handwritten note, and adorning your towels with freshly cut flowers are two sweet examples.
Sleeping in Serenity
Prepare to have your slumber transformed. The gentle cadence of the ocean and the caress of the sea breeze settle you into your cabana. The salty scent of the Caribbean adds to the best night's sleep you'll ever have. The screen windows serve as a portal to the sea's lullaby, an experience that etches itself into your memory.
Belize Resort Amenities That Invite You To Stay Awhile
These Belize beachfront cabanas offer delightful amenities that amplify your stay. From the refreshing pool that mirrors the azure sea, to the on-site complimentary kayaks and bikes – every corner is designed for simple pleasure. Hammocks sway in the gentle breeze under the palms. Lounge chairs beckon you to stay awhile. A beach swing invites you to rise with the sun for the perfect view. These are the threads that weave the Azure Del Mar experience.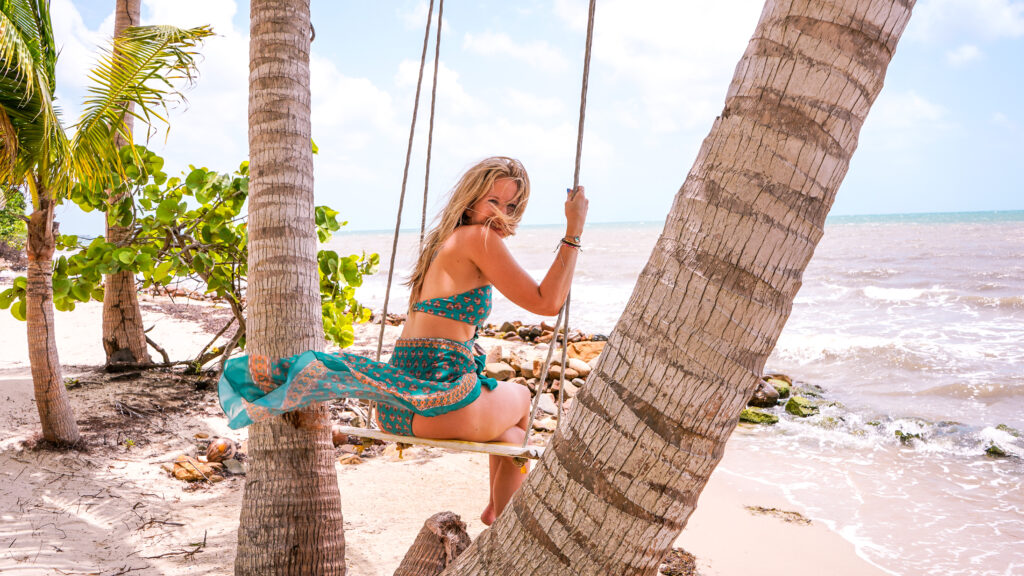 OUTFIT DETAILS : Women's Retro Swimsuit | With Beach Sarong
Life eases into a slow down here, in the best way possible. While wifi is conveniently located throughout the property, you'll find yourself wanting off-grid in the sweetest escape.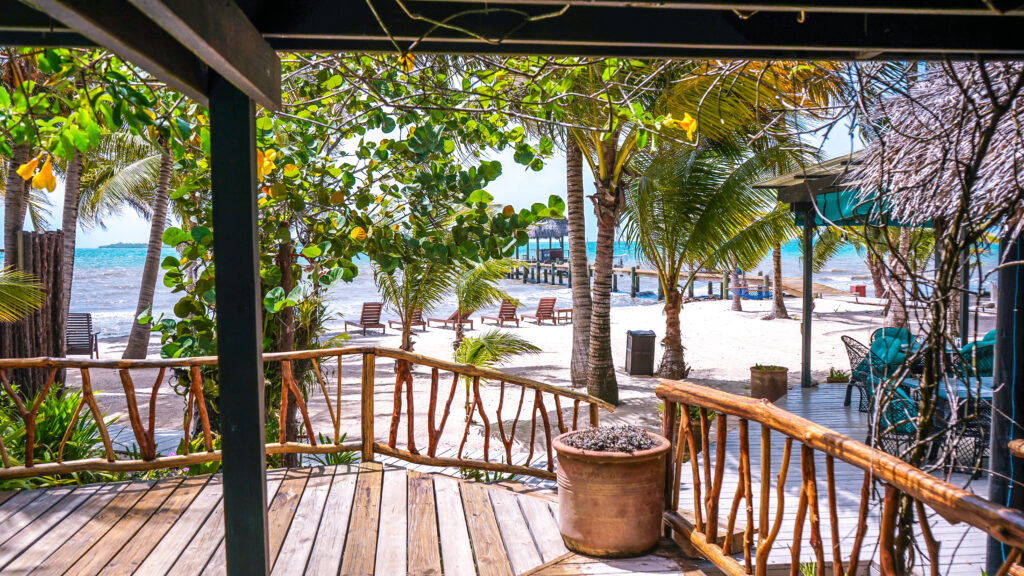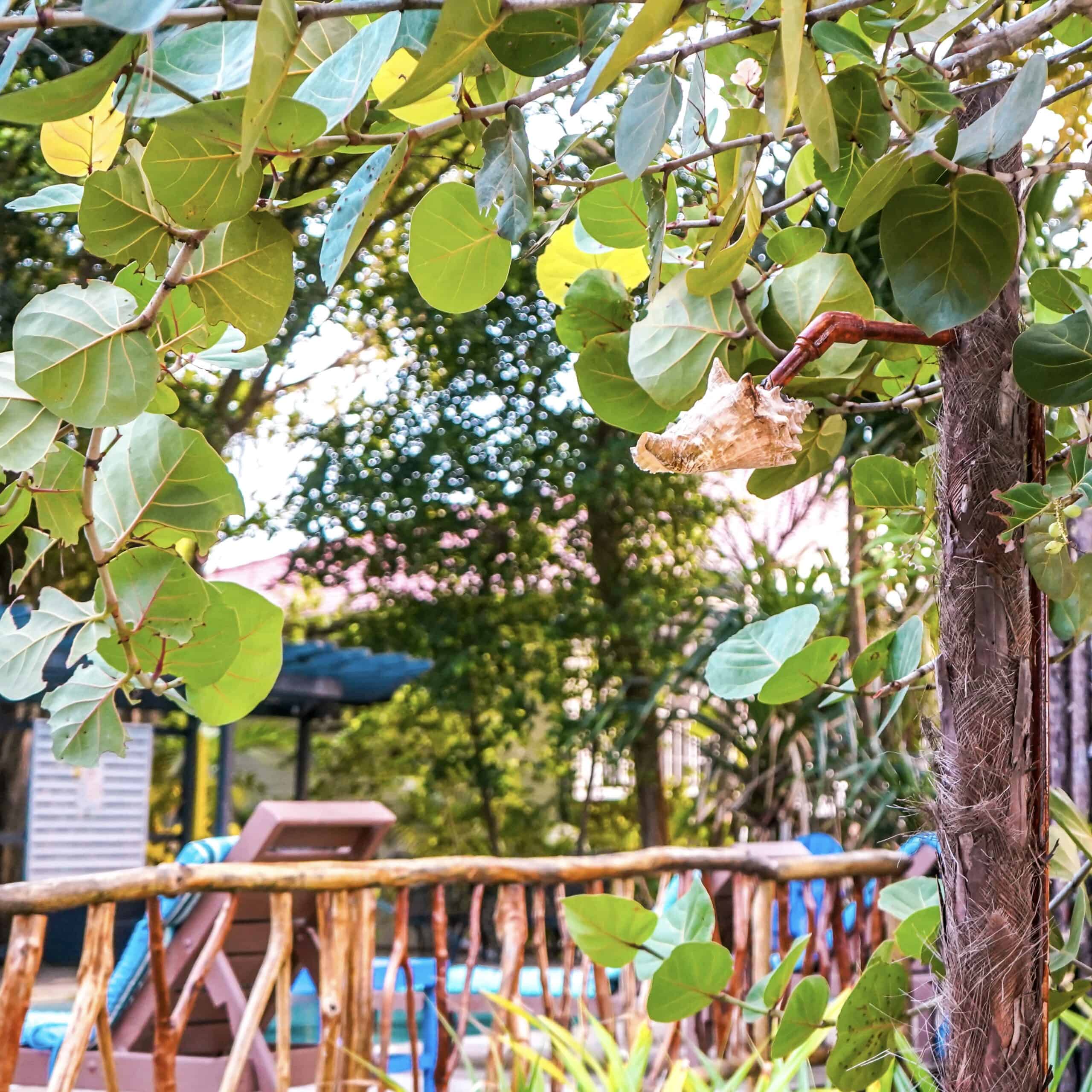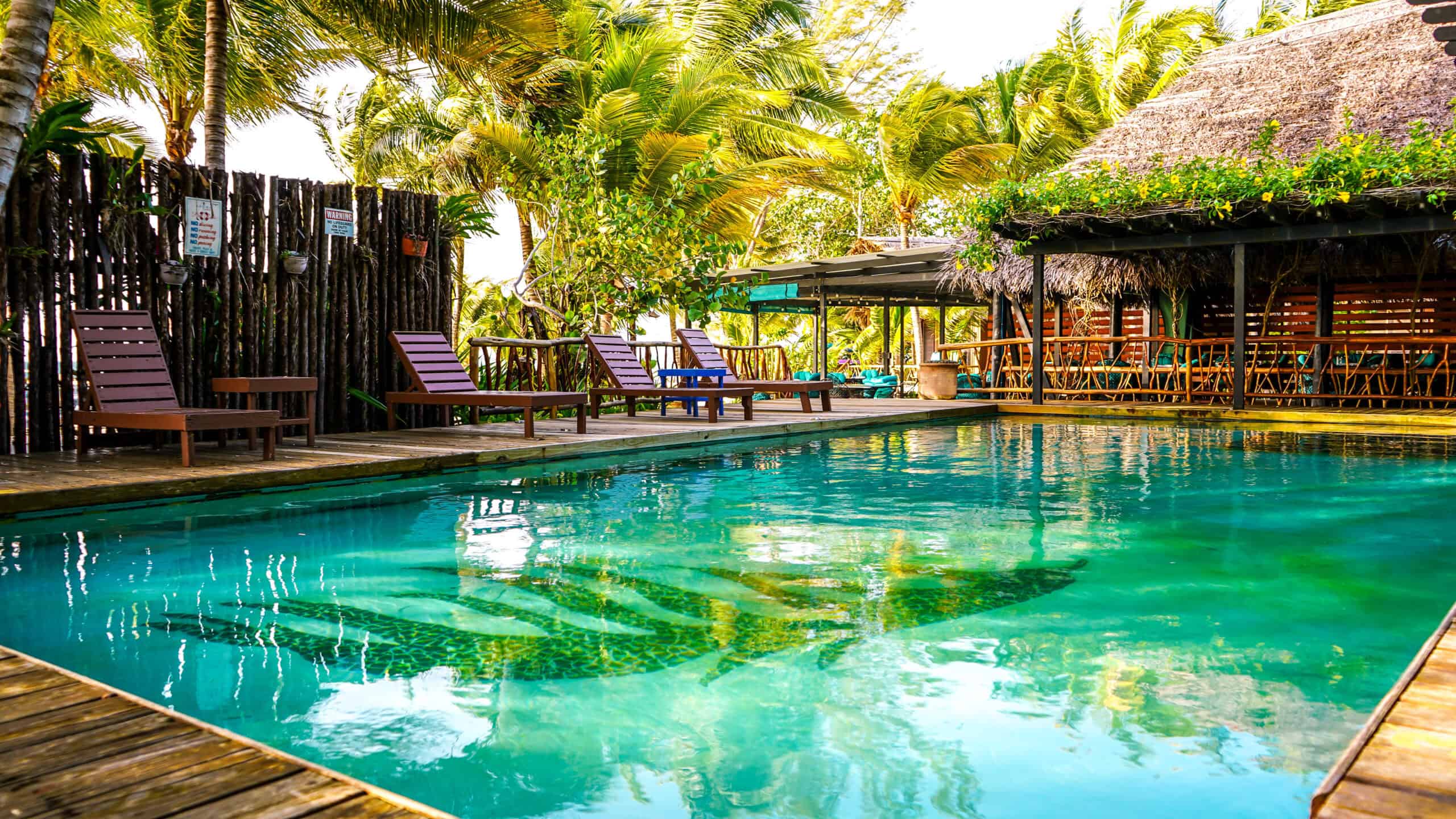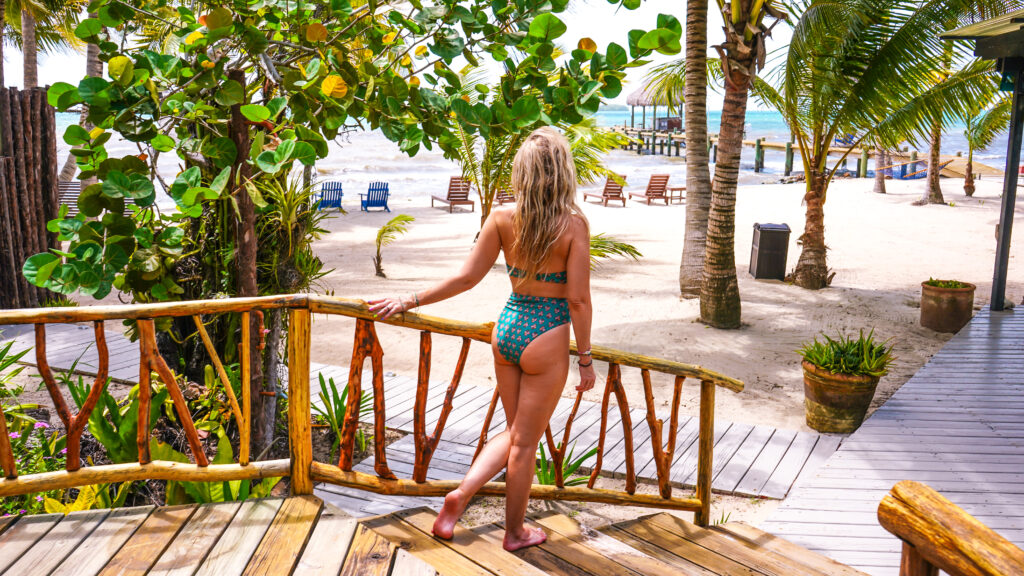 OUTFIT DETAILS : Women's Retro Swimsuit | With Beach Sarong
A Beachside Dining Experience
The Bonefish Grill is the highly acclaimed on-site restaurant.  Five star reviews are abundant. People travel from throughout the area just for the dining experience.  As a guest at Azure Del Mar, you can't beat having a gorgeous, delicious restaurant just steps from your cabana.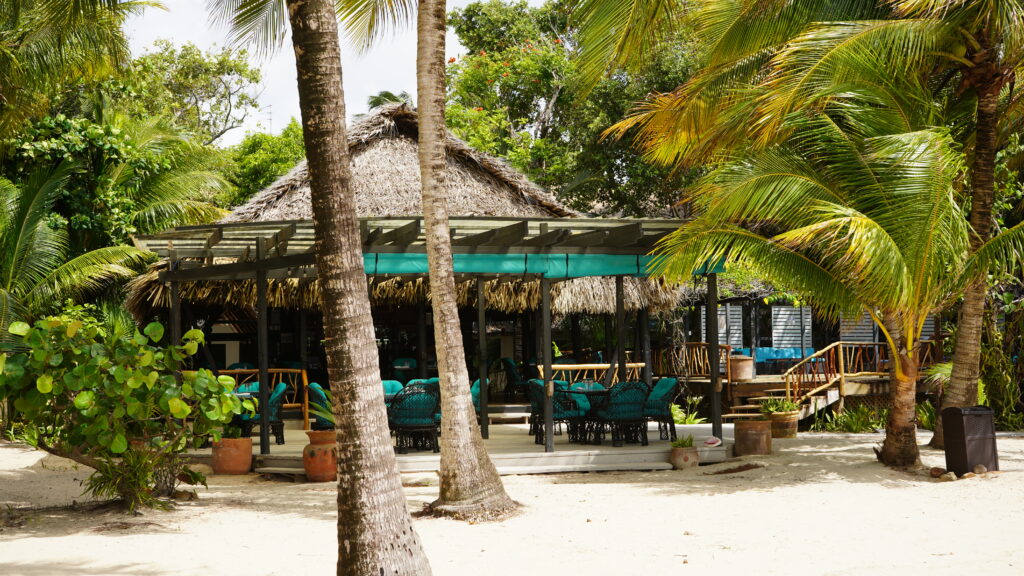 I'm plant-based and my husband is not. It's important to us that we dine in restaurants that support both of our eating preferences. We each loved the delicious menu offerings throughout breakfast, lunch, happy hour and dinner. As well, the full bar on-site makes delicious alcohol and non-alcoholic drinks alike. Don't sleep on the dirty banana!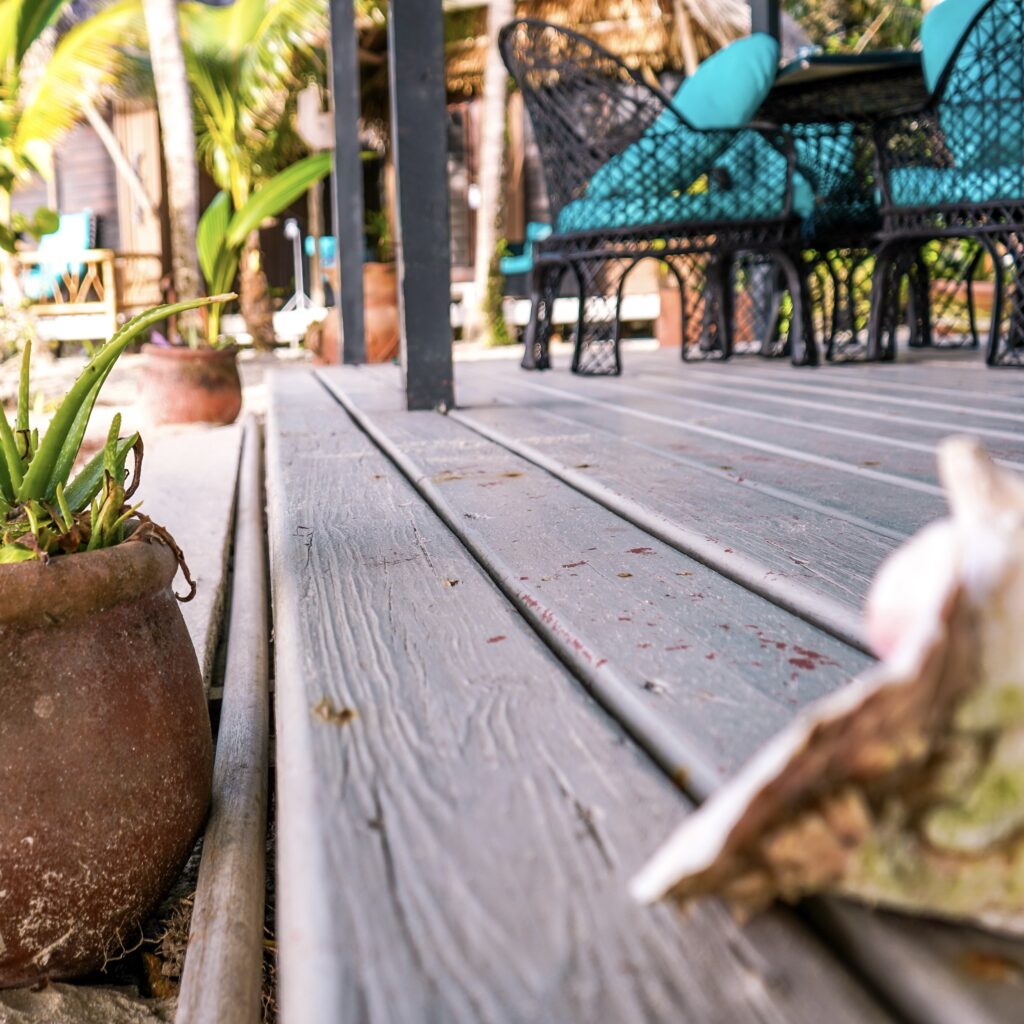 Central To The Fun
Azure Del Mar is located in Maya Beach, just 7 miles north of Placencia Village on the Placencia Peninsula. It's location is sweetly removed, yet nearby destinations are perfectly accessible.  The resort's shuttle heads to town upon request. Alternatively, renting a golf cart to bounce around town is fun and convenient.
Belize Beachfront Cabana Paradise Found
With its boutique Placencia cabana charm, Azure Del Mar is a place where you don't merely stay; you connect. Connect with nature, with the sea, with each other and with yourself. Whether you're swaying in a hammock beneath the palms, or simply gazing at the horizon from your cabana, every instant feels like a gift.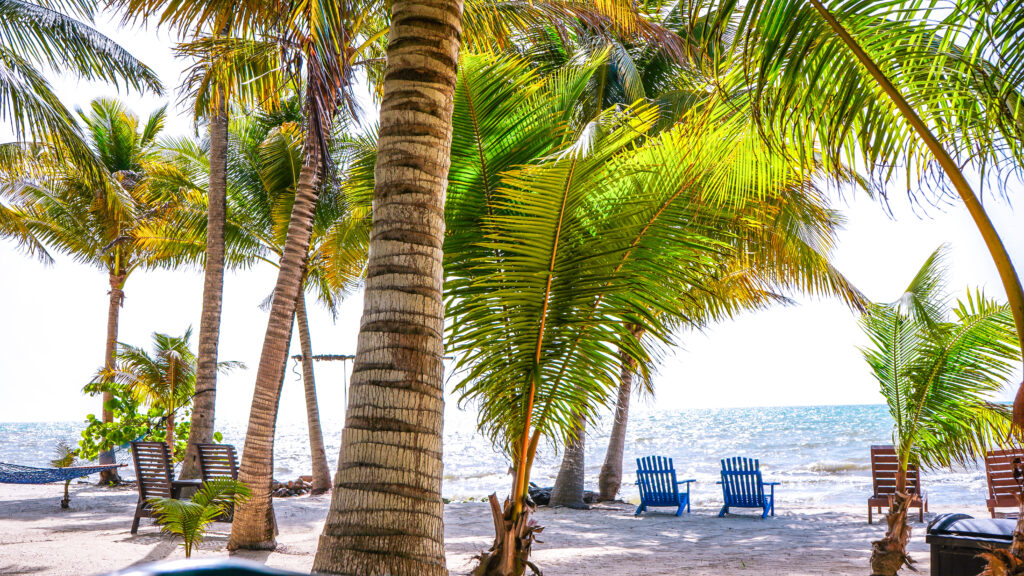 Azure Del Mar will forever occupy a special place. It's a retreat that grants you not just a vacation, but an experience of soulful rejuvenation. It's an invitation to vacation, as a couple, a family, with friends, or solo. This Placencia Resort will etch itself in your heart, reminding you to return whenever the allure of the Caribbean calls.
xx, Jenny (The Kai Life)
Have you ever stayed in a beachfront cabana?
I want to hear about your experience!