Colorful Caye Caulker Belize : A Mini Travel Guide
Welcome to the vibrant and welcoming paradise of Caye Caulker, Belize! Whether you're seeking an exhilarating adventure or a relaxing getaway, this charming island has something for everyone. From its colorful shops to its turquoise waters, Caye Caulker offers a unique and unforgettable experience.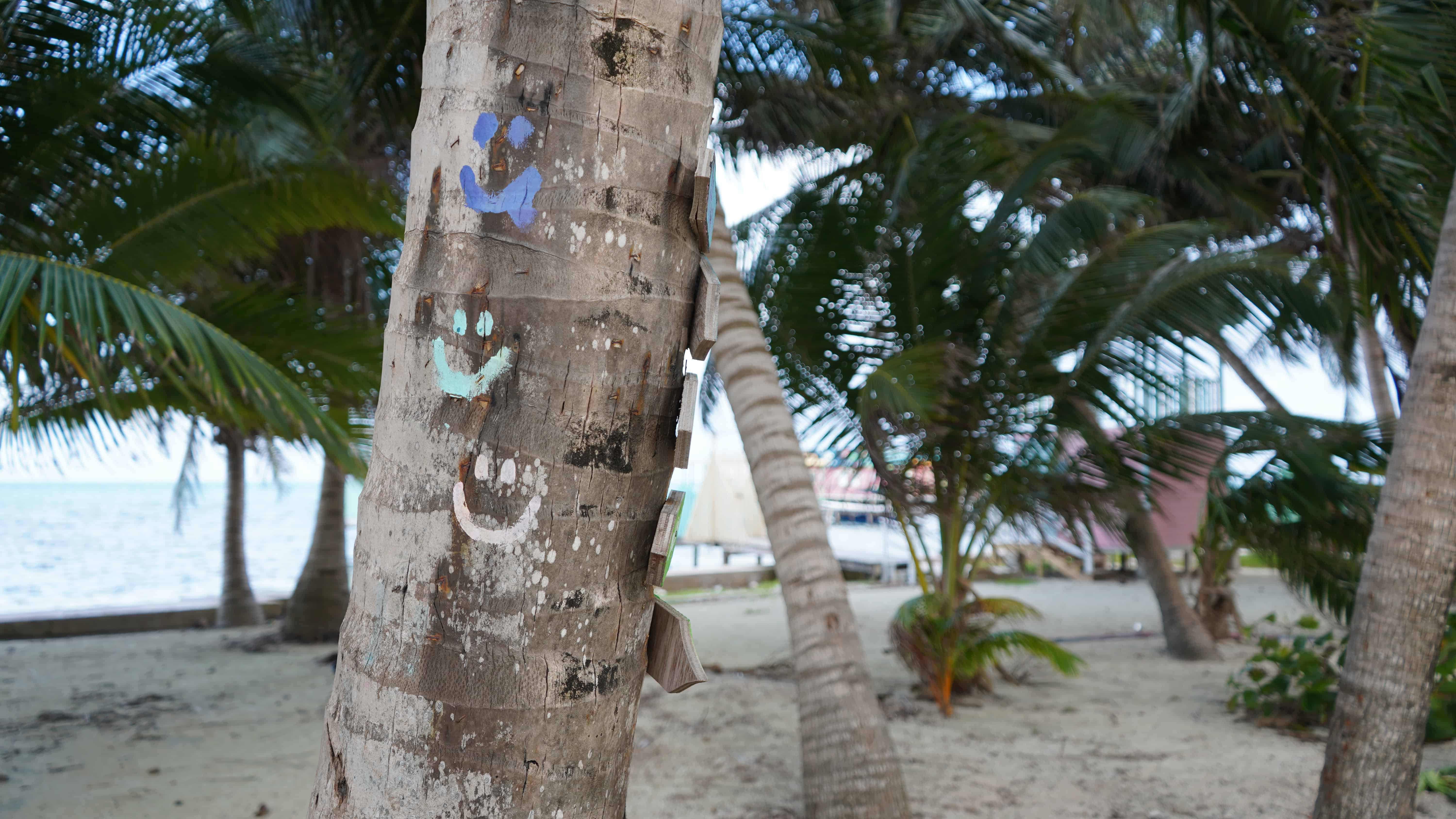 In this mini travel guide, we'll explore the wonders of Caye Caulker, from how to get there to the best spots to eat, relax, and explore. Let's dive into the magic of Caye Caulker Belize.
Getting to Caye Caulker Belize: Your Island Escape Begins
Reaching Caye Caulker is an adventure in itself. Belize has so many incredible destinations – think of the puddle hoppers and water taxis as part of the fun! The journey to Caye Caulker starts for most with a flight into Belize City.
From Belize City, you can take a thrilling puddle hopper flight or a scenic water taxi ride directly to Caye Caulker. Choose your preferred mode of transportation to set the tone for your tropical vacation. Whether you're soaring over turquoise waters or cruising alongside the coast, the journey to Caye Caulker is an exciting precursor to the island's charm.
Note : as of August, 2023 the airport in Caye Caulker is closed for runway remodel. It's scheduled to reopen in September, 2023.
We traveled via water taxi with San Pedro Belize Express. The departing marina is located about 15-20 minutes from the Philip S.W Goldson International Airport. Getting a taxi at the airport is simple – one can also be reserved in advance if preferred. The marina was honestly VERY busy and overwhelming, but there are many people willing to help if you need assistance. Once on the water taxi, the cruise along the Caribbean sea to Caye Caulker was very enjoyable and the views were breathtaking.
Upon arrival at the Caye Caulker Marina, you'll be situated downtown on the south side of the island. Coordinate pickup from the marina with your resort or hotel in advance. Golf cart taxis at the marina are also abundant to bring you to your accommodations.
The Weather in Caye Caulker and When to Visit
With its tropical climate, Caye Caulker offers warm temperatures and sunshine year-round. The peak tourist season runs from November to April, characterized by dry weather and comfortable temperatures. The off-peak season from May to October brings occasional rain showers and lower prices.
Whether you're seeking bustling activity or tranquil seclusion, Caye Caulker's weather has something to offer for every traveler.
We traveled to Caye Caulker Belize during July. There was some light rain and the skies were cloudy. The island was a lot less busy, though – and the overcast skies kept tropic temperatures much more comfortable. We would return during July in a heartbeat!
The Caye Caulker Belize Split: A Natural Mystery
The Split, a picturesque channel, is one of Caye Caulker's most iconic features. Dive into history and unravel the mystery of how The Split formed. Some say that it was created by Hurricane Hattie in 1961, while others say that it was man-made later on.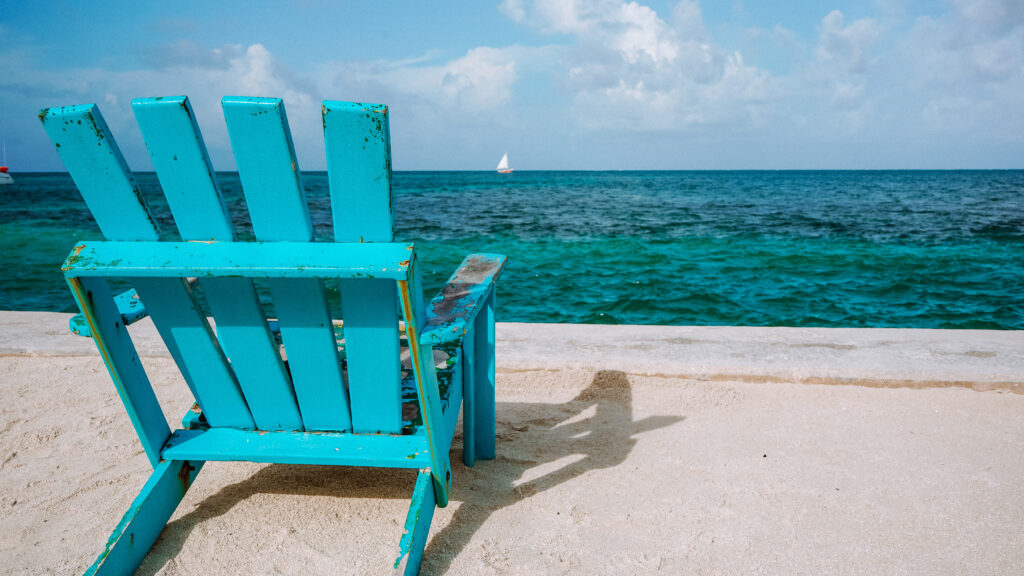 Regardless of how it was created, The Split is a must see when you visit Caye Caulker Belize! The vibes are high hanging out at The Lazy Lizard Bar & Grill. Those staying on the quieter North side of the island will need to take the Split to Split Ferry (or a water taxi provided by their resort) to reach the busier south side where the town is located.
The Split to Split Ferry is easy to use – you simply just show up! If the ferry is on the opposite side of the split, wave them down and they'll come to you. The ferry driver will take you to the other side for $2.50BZ / $5USD. If you've rented a bicycle, you're welcome to bring it on the ferry with you.
Navigating Caye Caulker: Golf Carts and Bikes
Getting around Caye Caulker is a breeze, thanks to the absence of cars and the island's compact size. Golf carts and bikes are the preferred modes of transportation (the taxis on the island are actually golf carts!), allowing you to explore the island's nooks and crannies at your own pace.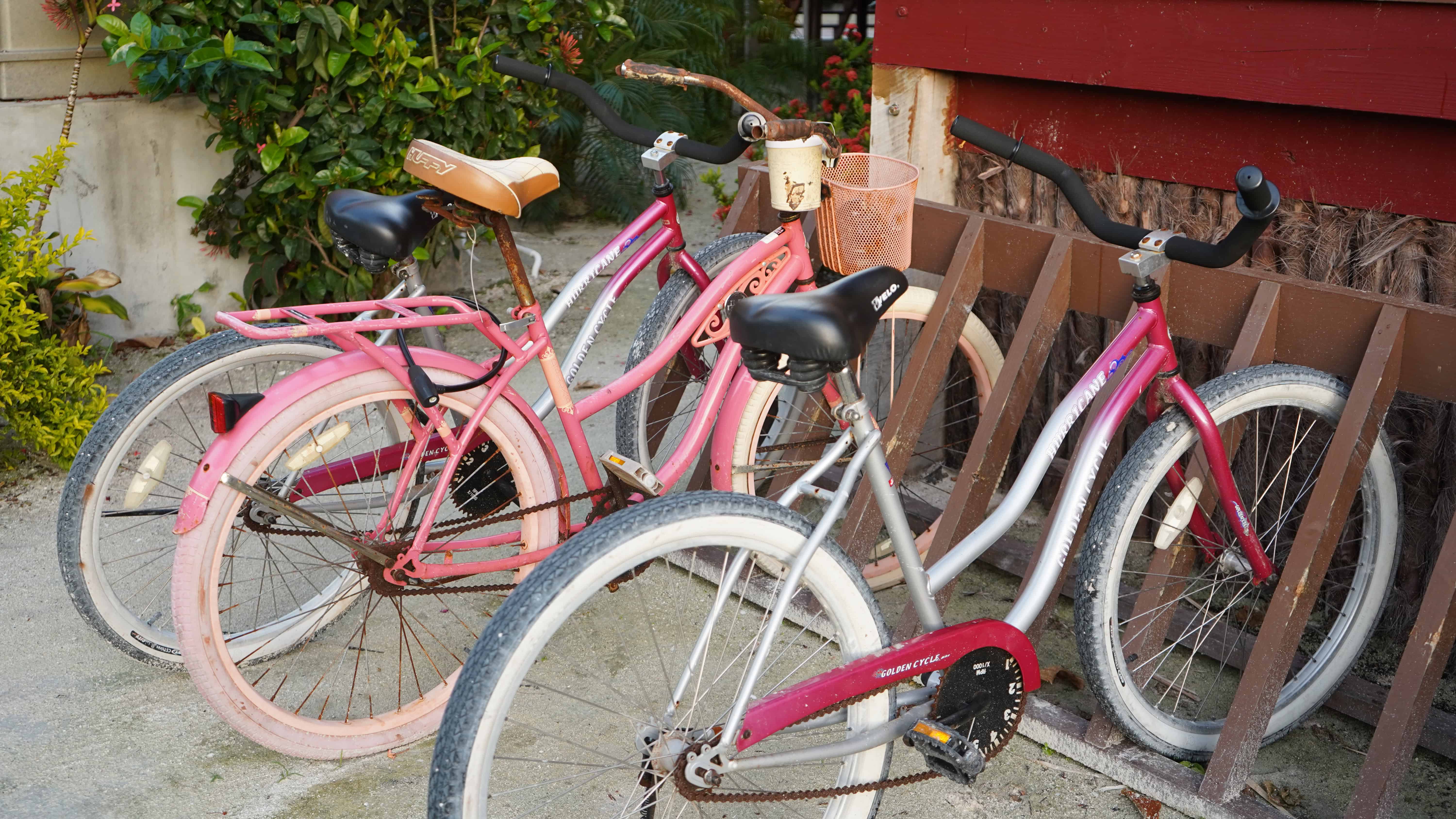 While we didn't rent a golf cart on Caye Caulker, we saw a ton of them. We chose to rent bikes to be eco-friendly and leisurely explore the island's beauty. Bike rentals are available throughout the island for $5-$15/day. Biking around Caye Caulker was one of our favorite activities and a great way to get around.
Where to Stay on the Quiet North Side
Resorts and hotels on Caye Caulker Belize are abundant. No matter your style of accommodations, you'll find something that adds to your island experience. When deciding on your hotel or resort, take into consideration that the North side of the island is very quiet and calming, whereas the South side where the town is located is bustling. We loved staying on the quiet North side as an escape from the touristy side.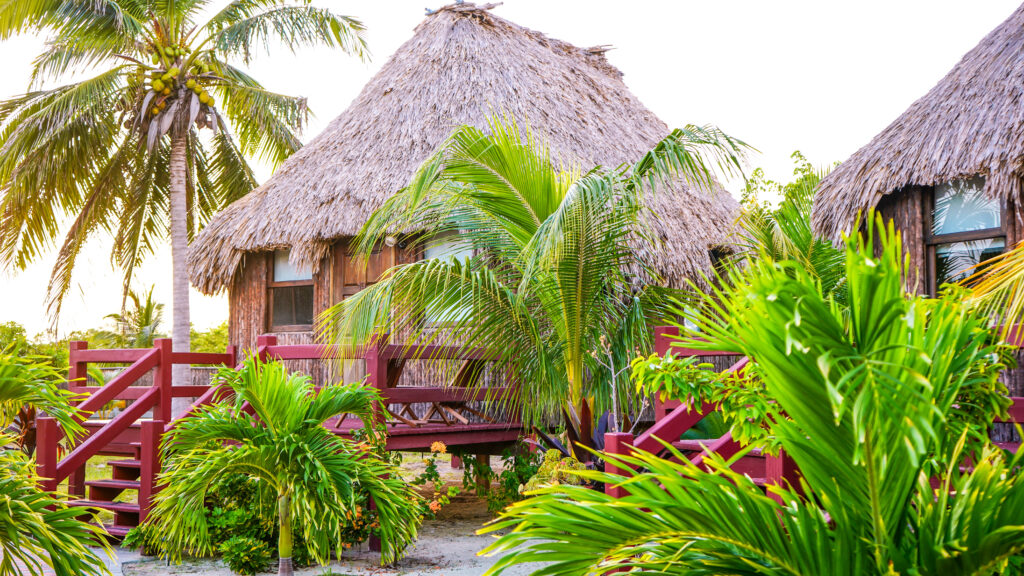 For a truly tropical cabana experience, the quiet North Side of Caye Caulker is a serene haven at El Ben Cabanas. Nestled along the protected mangrove lined shoreline, the thatch roof cabanas provide the perfect escape from the daily hustle. Walking through the property, you'll be immersed in tropical gardens that beckon you to stay awhile. El Ben Cabanas offer both tranquility and proximity to the island's vibrant attractions.
Savoring Caye Caulker's Culinary Delights: Where to Indulge in Island Flavors
When it comes to dining, you'll be able to indulge in fresh and flavorful meals throughout Caye Caulker. There's almost too many restaurants to choose from – we left with a long list of places we can't wait to try next time. Some favorites included :
Juicy – for refreshing smoothies, fresh juices and happy vibes, Juicy is the spot. You'll immediately feel at home with the colorful welcoming signs. After being greeted with a smile, choose a refreshing drink to cool you down.
T&T Bar and Grill at El Ben – enjoy a tropical open-air dining experience on the quiet North side. We loved breakfast at T&T to fuel our day. Be sure to order fry jacks, a true Belizean staple (theirs are SO good). Their pineapple mimosa was smile-worthy.
Hibisca by Habanero for dinner and music – on our first night on Caye Caulker, we were drawn to Hibisca because of the live singer & guitarist. As soon as we saw the variety in the menu, we grabbed seats. They offer delicious plant based options that I could enjoy with a huge variety of fish and other local dishes as well.
Things You Must Do While Visiting Caye Caulker Belize
The welcoming island of Caye Caulker Belize truly offers something for everyone. With its radiant, welcoming vibes your time on the island can be spent under the sun relaxing, or by finding adventure. Below are some must-do activities when on Caye Caulker :
Wellness on Caye Caulker: Namaste
Unwind and rejuvenate at Namaste Café and Yoga Studio, the island's only yoga studio. Take part in an open-air yoga class that overlooks the tropical foliage, allowing you to find inner peace while surrounded by natural beauty. Mats and blocks are provided and class is donation-based. Be sure to check their schedule before visiting, Namaste has an all-levels morning class or two daily.
After your practice, treat yourself to a delicious breakfast at Namaste's café. Nourish your body with wholesome food and embrace the positive vibes of this three-story wellness haven. Stay awhile to enjoy views of the town as you plan your day.
Sun And Fun Meet At The Lazy Lizard Bar and Grill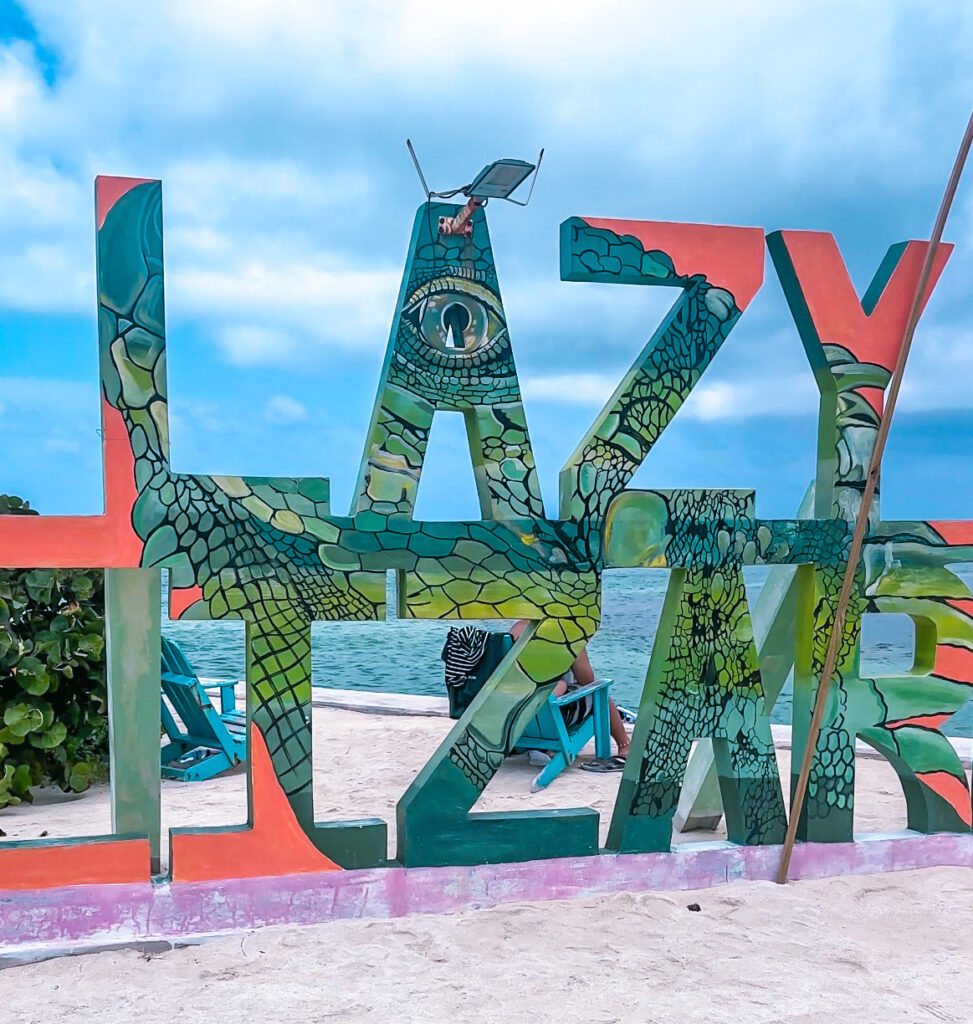 Caye Caulker's famous Lazy Lizard Bar and Grill is a must-do during your time on the island. Upon walking up to the colorful sign that beckons you to join the fun, you'll immediately feel like you're a part of the party!
Spend lunch and say cheers as you take in the vitamin D at one of The Lazy Lizard's many hang-out areas in or out of the water. Dance to the tropical Caribbean music, and experience the thrill of jumping off their platform into the crystal-clear ocean.
Beach Bars and Local Vibes
Caye Caulker is lined with fun beach bars located along the shore and on docks. Each is unique, but they all offer great food and tall drinks. We hung out at the Sip N/ Dip for a snack and some time on the ocean swings!
Sunset Stingray Feeding at Iguana Reef Inn
For a unique and sweet experience, you must visit the Iguana Reef Inn for their stingray feeding. Just before sunset, make your way to Iguana Reef Inn's shore to witness the feeding of stingrays in their natural aquarium.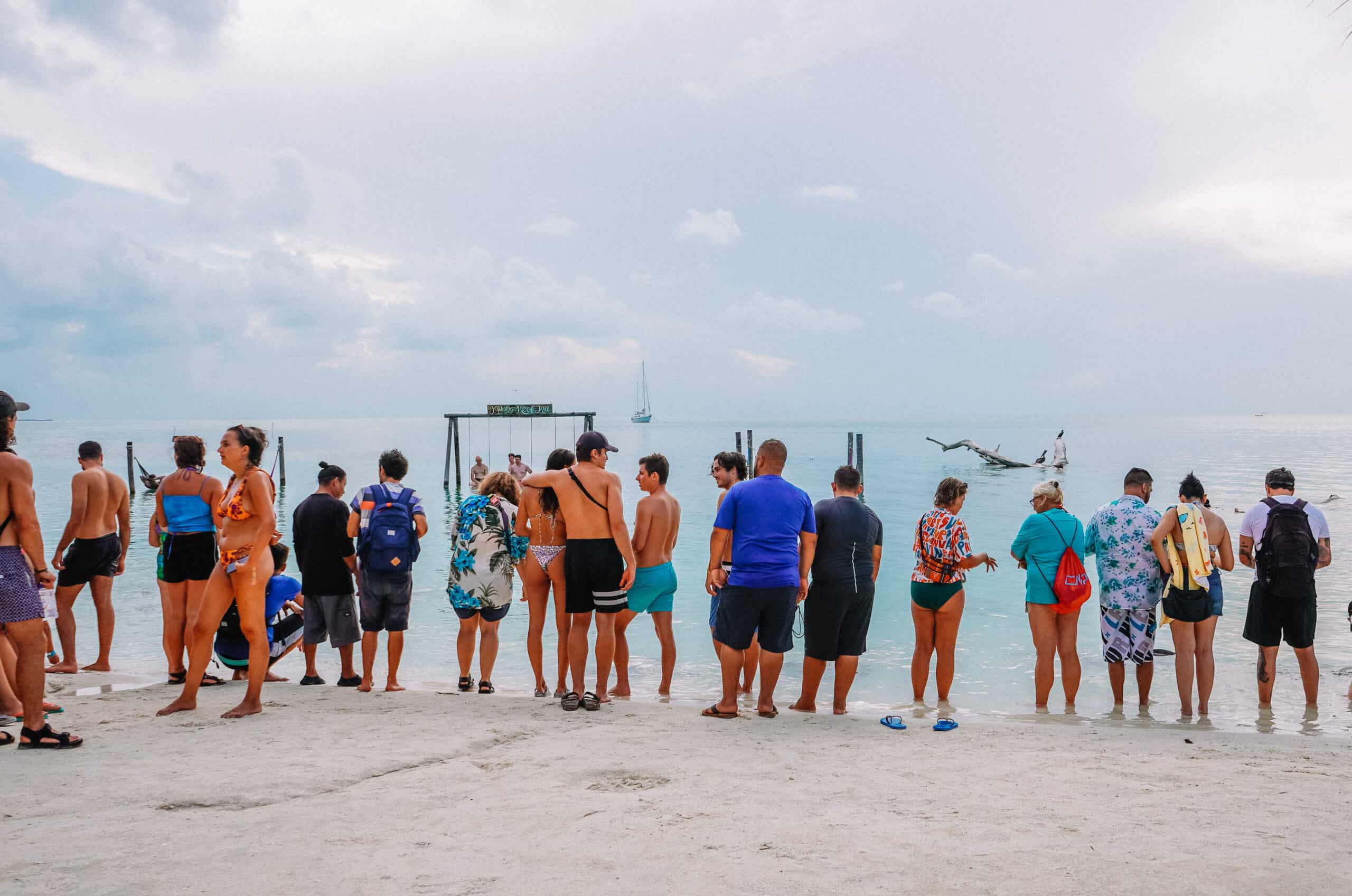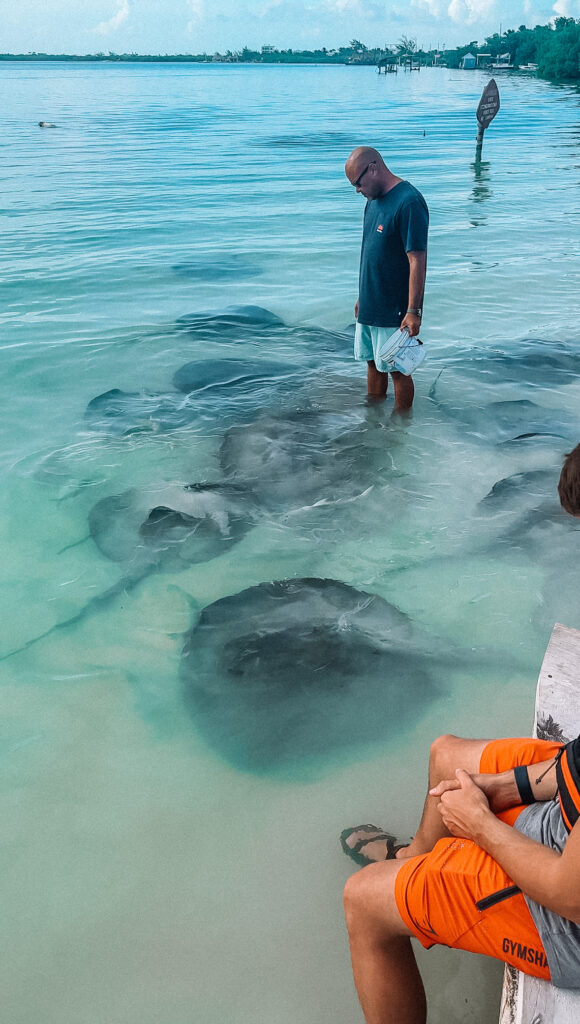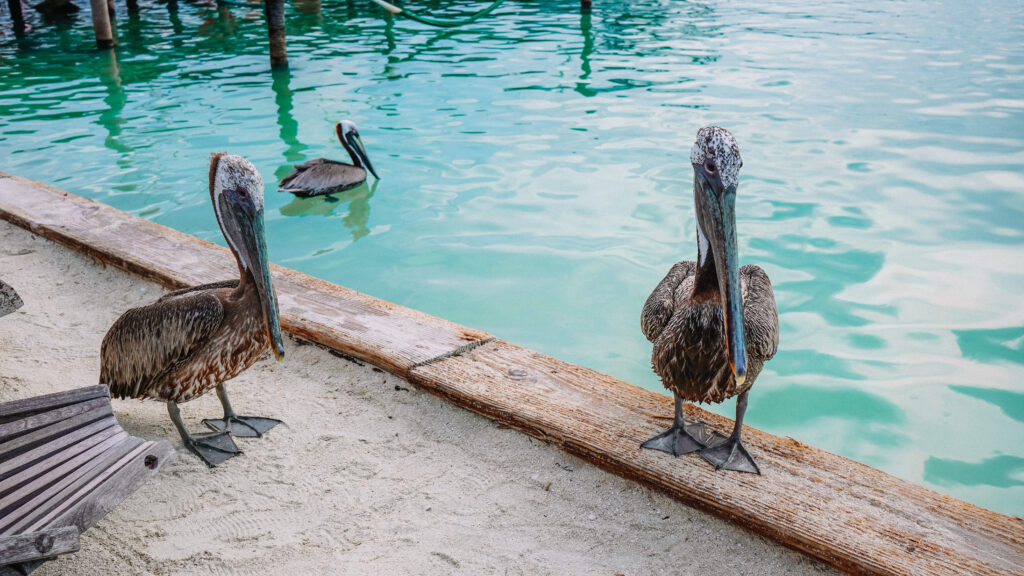 This unique spectacle offers a glimpse into the marine wonders of Caye Caulker and adds an extra layer of magic to your island adventure. It's a magical experience for children and adults of all ages. It does get a bit crowded, so head over early and grab a drink or snack from the bar to support the hotel for this free offering.
Exploring Caye Caulker's Colorful Markets: A Shopper's Paradise
Discover the vibrant charm of Caye Caulker's brightly colored local shops. Support local artisans and bring home authentic souvenirs that capture the essence of the island. Make a day of exploring the island on your bike as you pop into the shops scattered throughout Caye Caulker.
LeavE a Positive Impact: Eco-Friendly Adventures
As you revel in the beauty of Caye Caulker, remember to leave the island better than you found it. Engage in eco-friendly practices during your stay, such as participating in beach cleanups or choosing sustainable activities. By making conscious choices, you can contribute to the preservation of this exquisite natural paradise.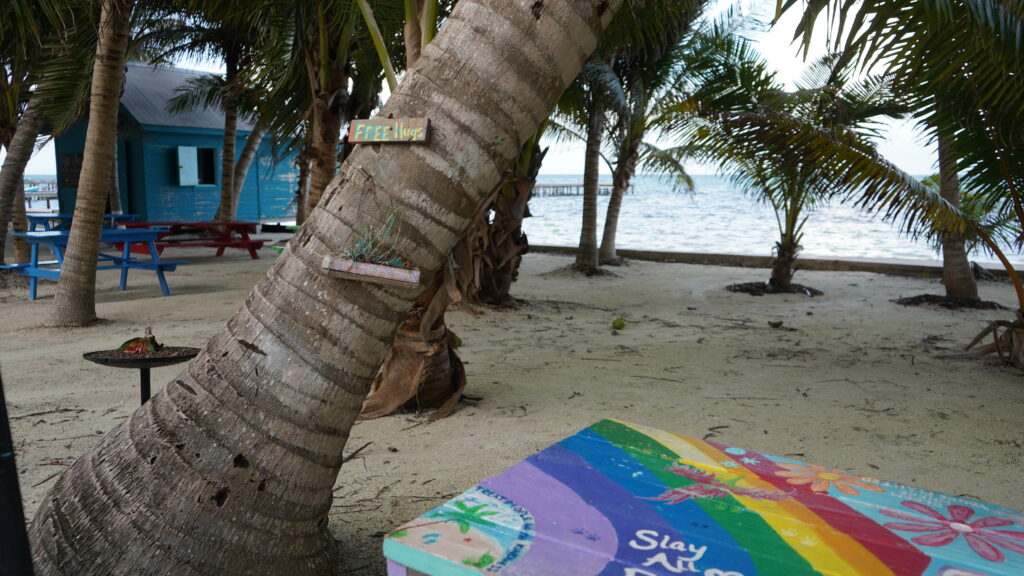 Embrace the Magic of Caye Caulker Belize
Caye Caulker Belize invites you to experience its kaleidoscope of colors, warm hospitality, and captivating beauty. From the moment you step onto this enchanting island, you'll be immersed in a world of adventure, relaxation, and discovery. Embrace the rhythm of island life, explore its vibrant streets, savor its culinary delights, and connect with the local culture. As you bid farewell to Caye Caulker, you'll carry its spirit and unforgettable memories with you, eager to return to its welcoming shores.
Safe travels and island dreams. xx, Jenny (The Kai Life)
Have You Been To Caye Caulker, Belize?
I want to hear about your favorite part of your trip! Comment below and let's chat about our love for Caye Caulker, Belize!