Getting Around Belize : Travel Adventures (pt 1 – Puddle Jumpers)
Belize is a small country bursting with incredible diversity. From lush jungles to accessible islands and vibrant cultures – there's no shortage of experiences waiting to be explored. Belize has over 450 islands (called cayes – pronounced "keys"). Alternatively, nearly half of its mainland is covered in rainforest! There is so much to explore.
What makes visiting Belize easy is its accessibility – my Getting Around Belize series covers the simple and fun ways to get to your destination. I highly encourage making your transportation part of the fun. Welcome to part 1 of Getting Around Belize!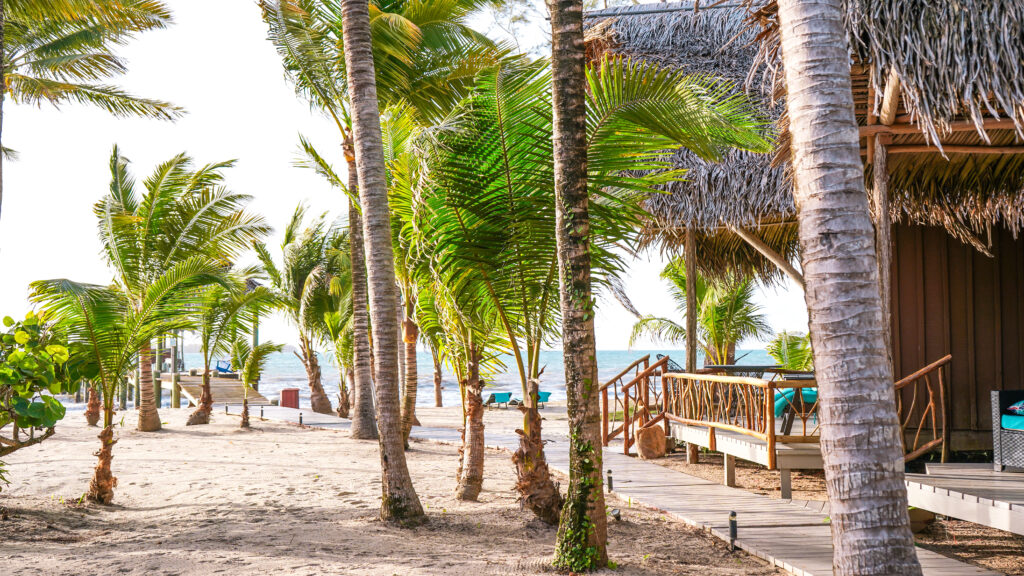 LOCATION DETAILS : Azure Del Mar Beachfront Resort
Getting Around Belize : Puddle Jumper Flight Delights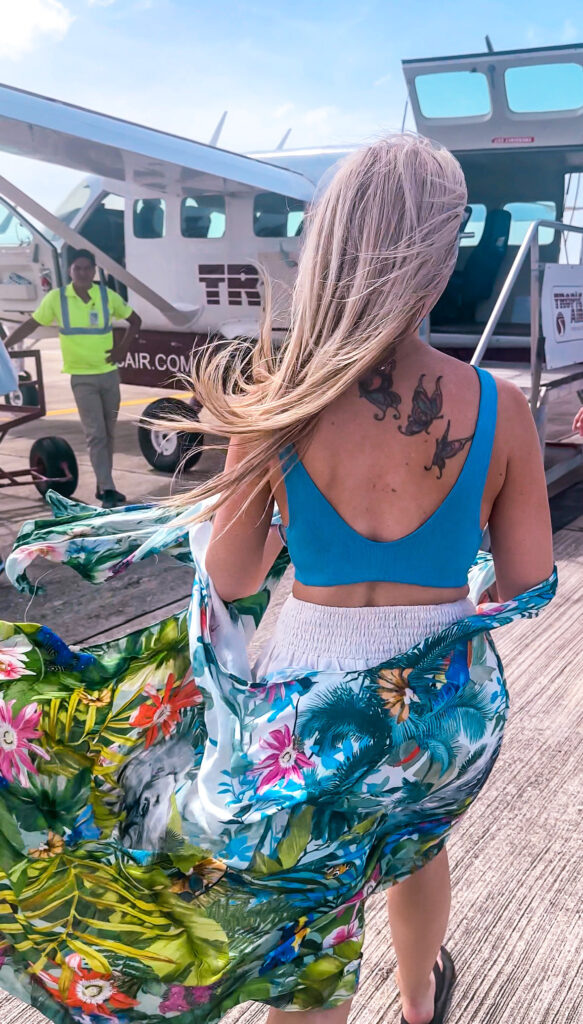 As travelers, we often focus on the destination, but in Belize, your journey can become part of the adventure! The main modes of transportation in Belize are puddle jumper flights, water taxis, bus, and automobile. You can choose your method of transportation based on how quickly you want to arrive at your destination, and the perspective you want to see.
Puddle jumpers are small planes that transport a handful of passengers on short flights. They're very common in Belize (both domestic and international), used regularly to get from one destination to another.
Have you ever taken a puddle jumper flight? When planning how to get around Belize, we chose to fly, because we wanted to take in all of the views of the rainforest and Caribbean Sea! I have to admit, I was SUPER nervous about my first time on such a small plane.
The first time I flew on a puddle jumper flight in Belize was with some girlfriends. My husband and son couldn't believe I was brave enough to board such a small plane! As soon as I was in the air, though, I knew that I had absolutely made the right choice. Our family has gone on to fly around Belize since. I'll tell you all about the adventure, truly the best way to get around Belize!
Tropic Air: The Airline For The Ultimate Puddle Jumper Excursion
When it comes to experiencing such a beautiful country, Tropic Air takes getting around Belize to the next level. Their flights aren't just a means of transportation; they're a sweet adventure in themselves. Imagine soaring over Belize's breathtaking landscapes, it's the most magical perspective. We've flown Tropic Air for each of our flights and have had the most wonderful experiences.
The Cost Of Puddle Jumpers Flights In Belize
While taking a flight to your destination in Belize is more expensive than a water taxi or bus, it certainly gets you there faster with all the views. Flights seem to range from somewhere in the $50-$200 USD range.
Getting To Tropic Air At Belize International Airport
Tropic Air is located conveniently at Belize International Airport, where most tourists arrive in the country.
Image Via Tropic Air
Upon arrival, you'll go through customs and get your luggage.
From there, you'll walk up to the Tropic Air kiosk. A representative will confirm your tickets and answer any questions you have.
With your tickets in hand, you'll head through a short security to get in the terminal.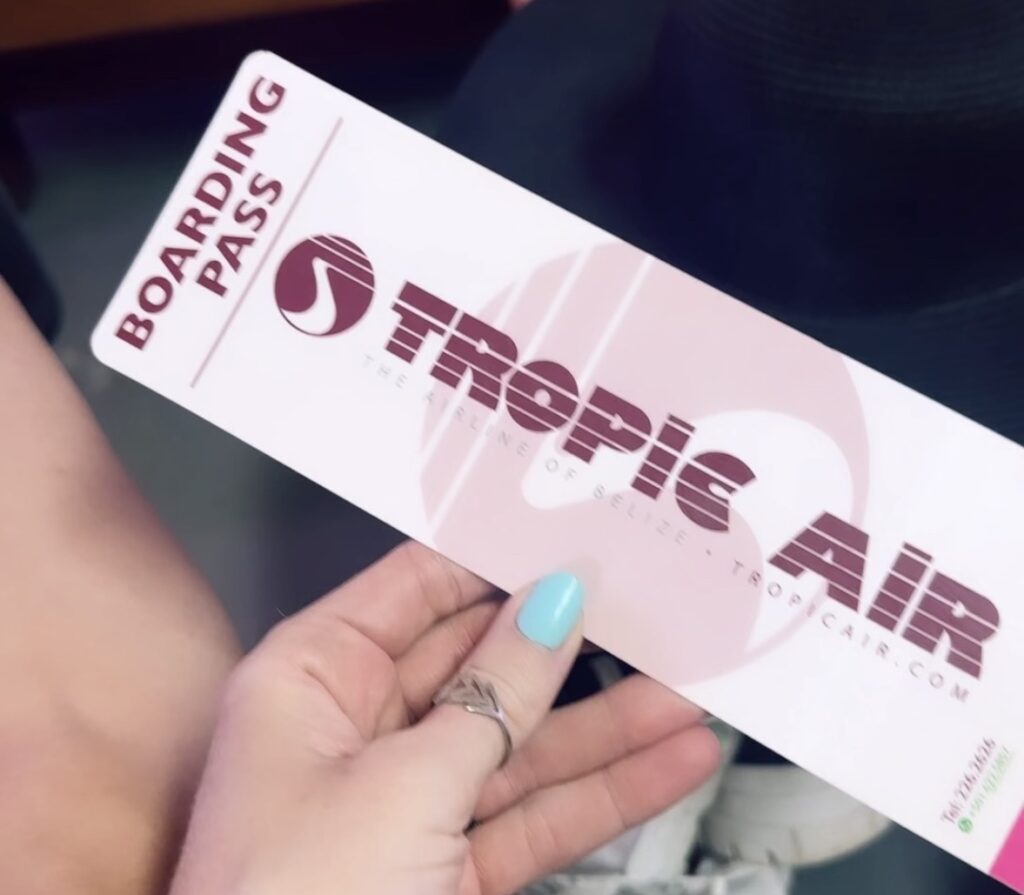 The terminal area in Belize International Airport is small but busy. There's only a handful of gates. You'll find Tropic Air located at the far end – conveniently located across from Johnny'z Bar in the departure lounge! Upon arriving in the departure area, I highly recommend you tell the Tropic Air team you're there, get changed into something fun and tropical – and grab a drink from Johnny'z to celebrate!
Above and Beyond: Tropic Air's Exceptional Service
Tropic Air isn't just about flying; it's about taking care of travelers like family. We experienced this firsthand when my husband fell ill to food poisoning during one of our trips, from an off-resort restaurant we tried. Our flight was the next day but he still felt so ill.
The entire Tropic Air staff went above and beyond for us. The employee at the counter in Placencia noticed that he didn't feel well and asked if he was ok. After we sat down, he came back over to us with the names of a few hospitals that he recommended. He also arranged to have a staff member drive us to the marina we were headed to, in case Walt needed to make a stop at the hospital. Once we arrived in Belize City, the staff member met us at the gate and carried all of our luggage. He was so friendly and helpful to us. Tropic Air took customer service to a whole new level. Their boutique, friendly service is truly exceptional. I had to share this experience with you, because we are absolutely fans for life!
Getting Around Belize: The Puddle Jumper Experience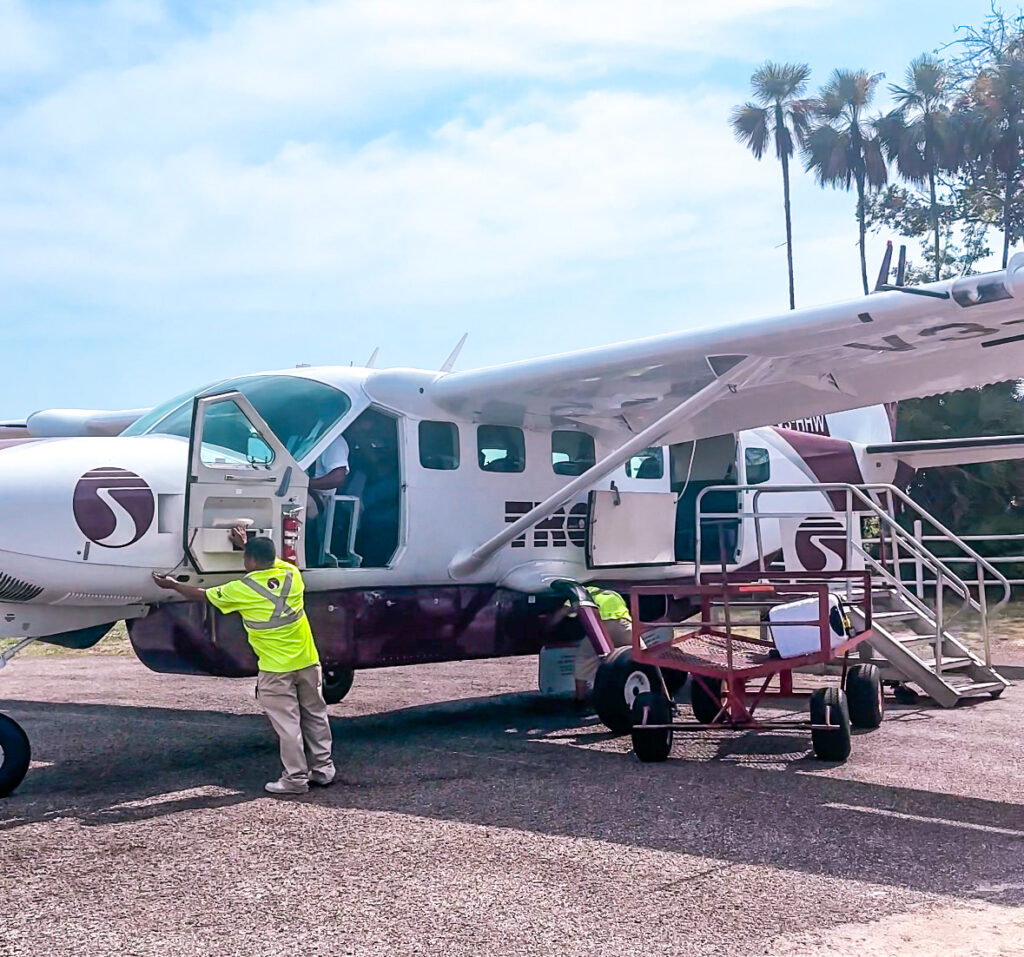 Now, let's talk about the exhilarating experience of flying in a small puddle jumper plane! These compact aircrafts offer an intimate connection with Belize's natural beauty. Expect panoramic views that will leave you breathless.
What To Bring Onboard
At booking, you'll choose your baggage configurations. These planes are small – even your carry on suitcase will be under your puddle jumper plane. You can bring a small carry on with you.
I recommend bringing a bottle of water on board with you. Definitely bring your camera or phone with video camera. You'll want to capture every scenic moment from the air!
If you tend to get nauseous, you may want to speak with your health care team about a motion sickness treatment. My husband does tend to get motion sickness, but didn't get nauseous at all, the flights were so smooth. We do love these motion sickness bands when we need them!
The Co-Pilot Seat: An Adventure Within an Adventure
Upon boarding your flight, you'll notice just how small the plane really is. Staff will direct you where to sit – however I have two great recommendations for you!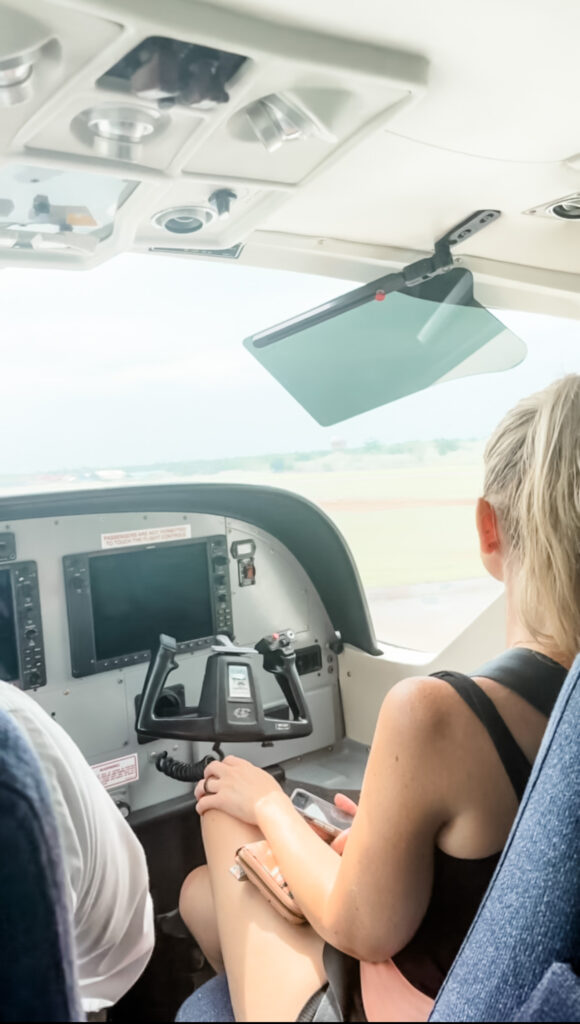 For the ultimate thrill, inquire about the co-pilot seat as soon as you arrive at the gate. If not yet taken, the co-pilot seat is a unique opportunity to sit beside the pilot! You'll get to see the world from their perspective. To my surprise, staff asked if I'd like to sit there on my last flight in Belize. YES I answered immediately! Riding in the co-pilot seat was one of the most memorable experiences of my life. Although every seat on Tropic Air offers perfect views, this took it to a whole new level.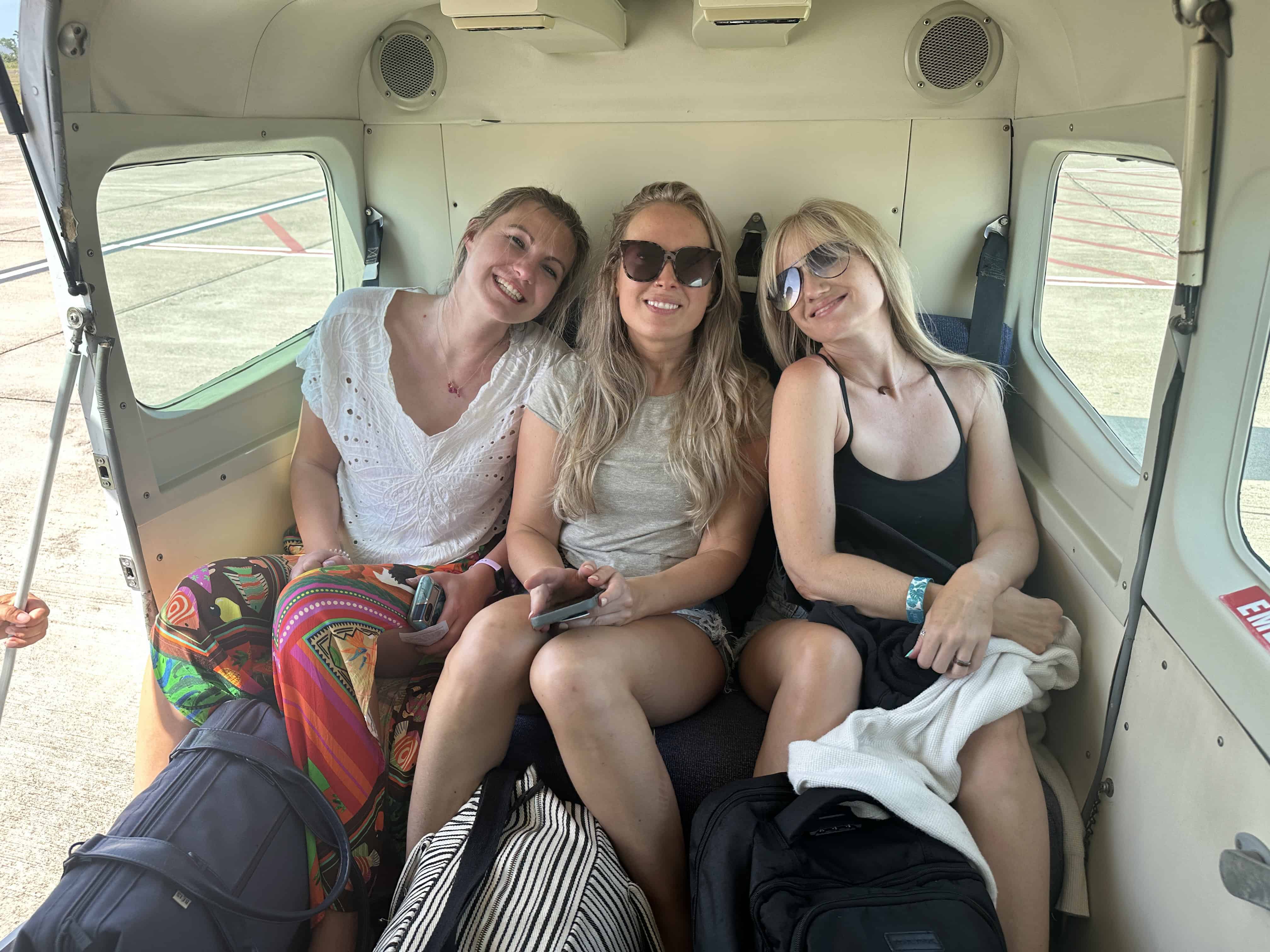 If you're a part of a group of 3, or are taller and want more leg room, I recommend asking if the back seat is available. On the flights we flew, it's the only full row on the plane, offers a lot more space and still has spectacular views.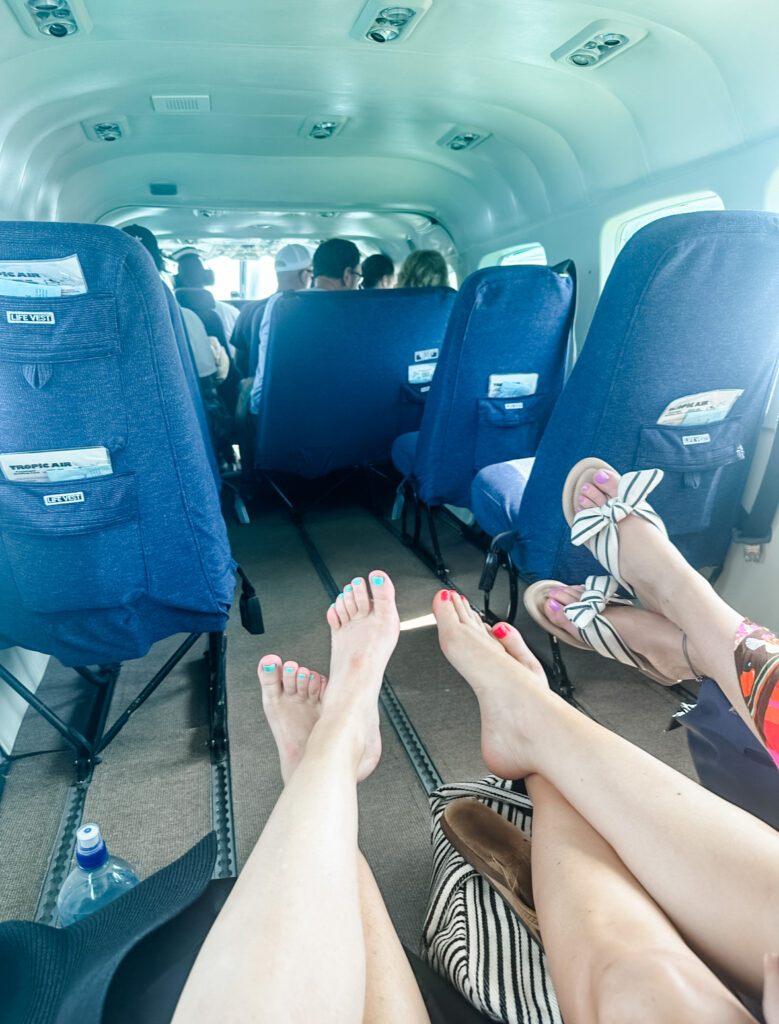 The Belize Flight Experience
The thrill of feeling the engines roar to life, and ascending into the boundless Belizean skies is an experience unlike any other. It's a reminder that the journey itself can be just as exhilarating as the destination.
As you peer out the window and watch the landscape transform beneath you, the sense of wonder grows with every passing minute. From the azure blue Caribbean Sea to the forests full of tropical foliage, treat your transportation around Belize as an excursion and enjoy! Tropic Air doesn't merely transport you from one place to another; they share the heart of Belize's natural beauty. Every flight is an unforgettable chapter of your Belizean adventure.
The flight itself is simple. I noticed that I felt take-off and landing much less than on a larger commercial airplane. I experienced a couple of flights with slight turbulence, but it was overall much smoother than a larger plane. Having water was important for me, as it does get stuffy on the smaller planes.
The Best Way To Get Around Belize : Where I've Traveled With Tropic Air
Tropic Air currently offers routes to 8 domestic and 5 international locations. We haven't flown with them internationally yet, but are considering a flight to Cancun someday! I'll continue to update this section as I experience new destinations via Tropic Air.
Getting to Placencia: Where Tranquility Meets Adventure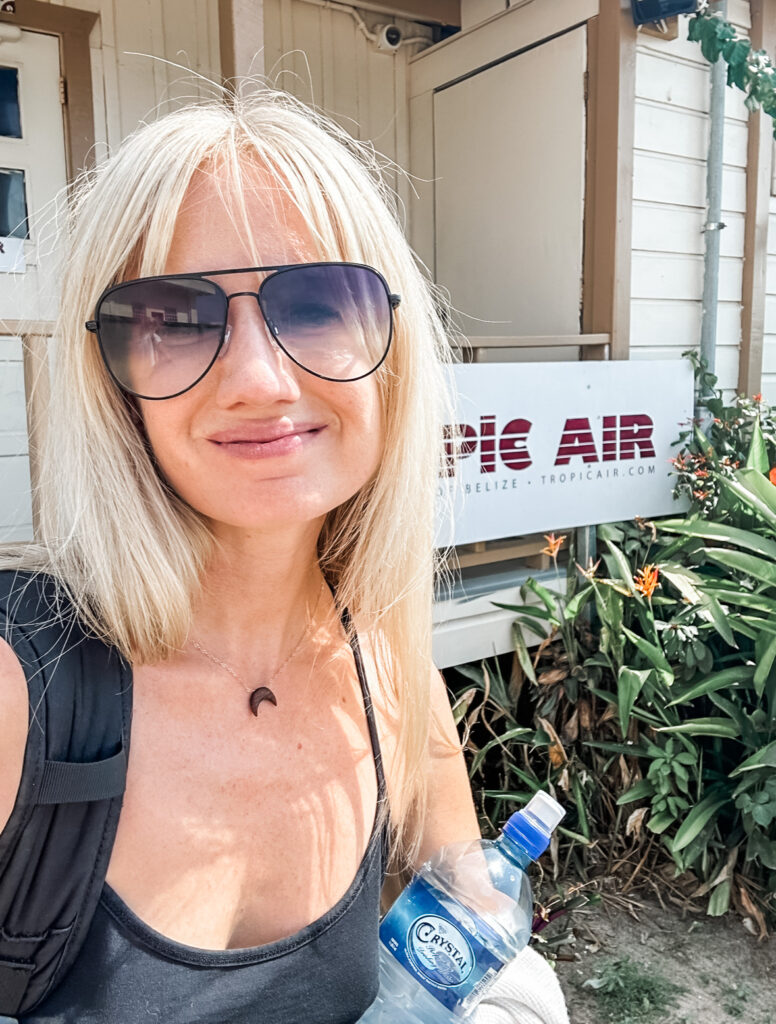 The flight from Belize City to Placencia is 25-45 minutes (depending on if it's non-stop). Just for perspective, it takes roughly 3-6 hours to drive or take a bus.
Once you land in Placencia, you'll be amused by the cute airport and small baggage claim area. You'll also be welcomed with open arms by the Tropic Air staff. Pre-arrange transport with your resort and they'll pick you up right at the terminal!
The small airport operates a handful of flights a day, so you won't need to sit at the airport for a long time on your return flight. Arriving 30 minutes prior to your flight will be more than enough time, but check with Tropic Air staff for their recommendation.
Getting to San Pedro : Ambergris Caye Tropical Playground
The flight from Belize City to San Pedro is roughly 15 minutes. Just for perspective, the water taxi is approximately 90 minutes (and the marina is located about 20-30 min taxi ride from Belize International Airport).
You'll conveniently land in the bustling town of San Pedro. Taxis are readily available if your hotel doesn't have transport. If your accommodations are downtown, you might be just a few minutes walk.
Getting to Caye Caulker : A Slice of Paradise
The flight from Belize City to Caye Caulker is roughly 15 minutes. Just for perspective, the water taxi is approximately 45 minutes (and the marina is located about 20-30 min taxi ride from Belize International Airport). Please note that at the time of this writing, the Caye Caulker airport is closed for maintenance on the runway. Expected open date is late September, 2023.
You'll conveniently land in the heart of the South Side of Caye Caulker. Golf cart taxis are readily available if your hotel doesn't have transport.
The Best Way To Get Around Belize : Your Uncharted Journey Awaits
From extraordinary customer service to unforgettable landscapes, Tropic Air will take your Belize adventure to new heights! Offering the quickest mode of transport with arguably the best views of gorgeous Belize, it's pure fun to make this way of getting to your destination part of the adventure. Hope to see you on the next flight!
xx, Jenny (The Kai Life)
I'm curious – would you fly On a puddle jumper?
Tell me everything, I want to hear if you would do it, if you have done it! Would you fly the co-pilot seat if asked?!