Placencia Belize Delights : A Mini Travel Guide
Welcome to the enchanting Placencia, Belize! Placencia is a sweet slice of Caribbean paradise that beckons with its calm beaches, vibrant culture, rich history and endless adventures around the surrounding Belize Barrier Reef. In this mini travel guide, we'll unravel the treasures of Placencia, from reaching this haven to savoring cherished experiences during your vacation in Belize. Prepare to be captivated by the essence of this charming destination.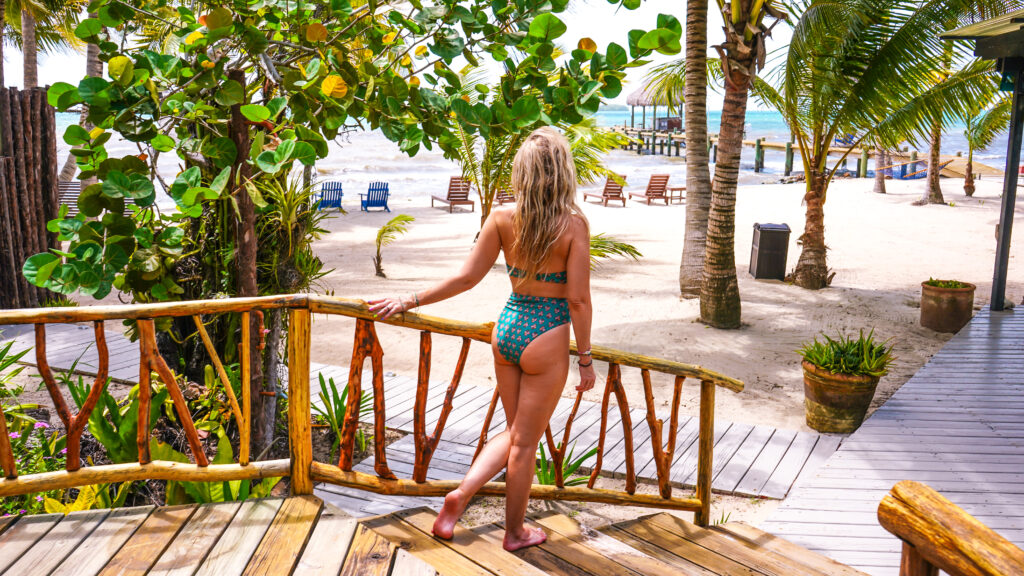 I traveled to Placencia for the first time in the summer of 2023 for a girls trip and that quickly sparked my Belize series. I returned with my husband to embrace more time in this sparkling gem of a country about a month later. During my time in Belize, I was drawn to the welcoming, kind Belizean people that were overjoyed to share their country with me. Also, there are over 450 islands in Belize, and over half of the country consists of subtropical jungle or rainforest – traveling here taught me that there is SO much more to discover.
Getting To Placencia, Belize : Your Journey Begins
Half the fun is in your journey to Placencia, it's truly an exhilarating experience in itself! Most travelers arrive via Belize City, where your gateway to paradise awaits. From there, several options await, all allowing you to experience the richness of this country on your way.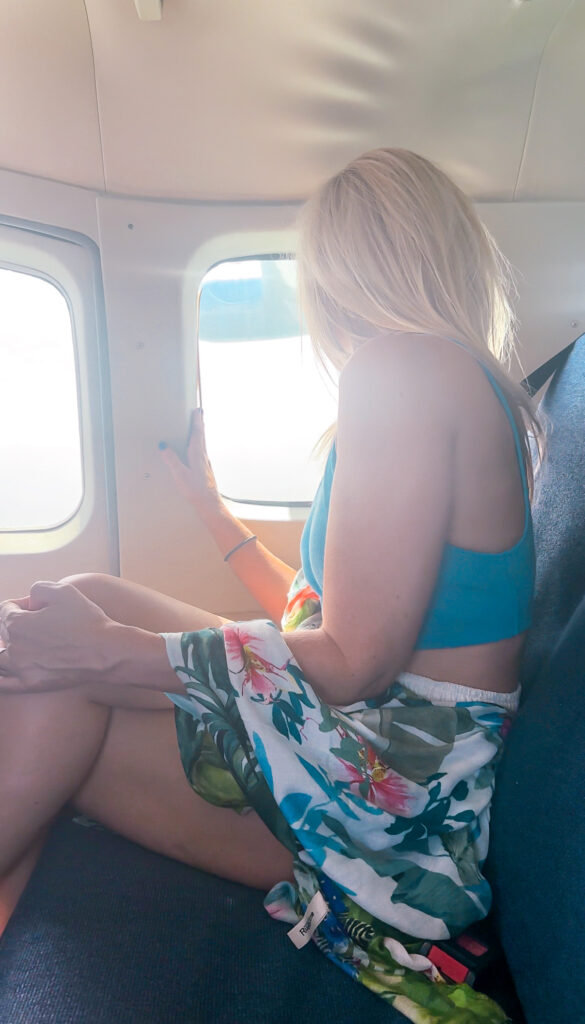 Transportation to touristy spots from the Philip S.W Goldson International Airport is abundant. With so many options, you can truly make your travel on to Placencia part of the fun. Choose from various options to reach Placencia :
Bus ($7-$15), approximately 5 hours
Water Taxi + Bus ($35-$75), approximately 4.5 hours
Rent A Vehicle (varies), approximately 3.5 hours
Take a puddle hopper flight ($125-$260), approximately 45 min
We chose to fly on a puddle hopper with Tropic Air and I can't recommend this enough. After checking in with Tropic Air, grab a yummy tropical drink to kick off your Belize vacation as you wait for your flight! Soon you'll be cruising out of the bustling city and enjoying views of the turquoise Caribbean sea. The quick flight down the coast offers stunning views. You might even get lucky enough to sit in the co-pilot seat! (Pro Tip : when you're waiting to board your Placencia flight, ask if this seat is available.)
Navigating Placencia: The Golf Cart Experience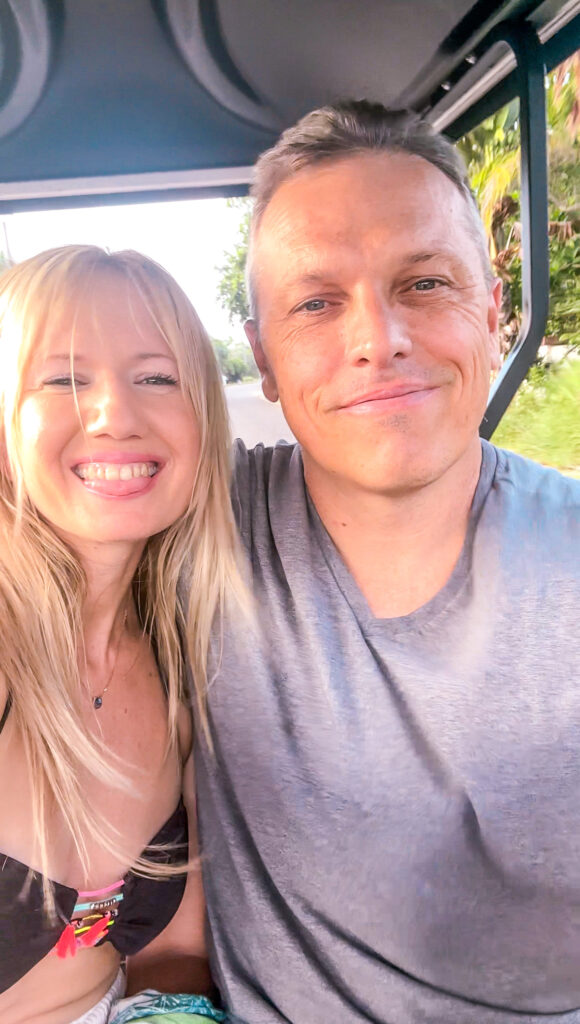 Get a vehicle in Placencia, unless you decide to stay in town entirely and your resort provides airport transportation. Especially if you're on the outskirts of downtown, you'll absolutely want a vehicle – exploring the peninsula is a breeze, thanks to the allowance of golf carts on its roads.
We rented a golf cart directly from Captain Jak's. They conveniently dropped off and picked up at our resort. Driving down the Placencia peninsula (say that 10 times fast!) was such a fun adventure each time we headed out in our open air vehicle. This affordable mode of transportation not only adds a touch of adventure and romance, but also provides the freedom to explore at your pace.
Stay At A Maya Beach Oasis
There are so many gorgeous Placencia resorts to choose from. Make your stay a dream by choosing Azure Del Mar, the boutique Maya Beach hotel where private beach cabanas become your haven.
Do you remember your favorite night of sleep ever? I didn't until my first night at Azure Del Mar! I'll never forget falling asleep to the gentle waves and sea breeze on my first night, it was so incredibly healing and relaxing. Azure Del Mar is a treasure you'll want to return to again and again.
Nestled along the Maya Beach shoreline, their boutique accommodations provide a blend of blissful comfort and natural beauty, ensuring a serene retreat after your daily escapades. The friendly staff and sandy property will encourage you to kick off your shoes and pause time while visiting. Walk through their tropical gardens, lounge by the pool or oceanside on a beach hammock. You could absolutely spend the entire day at Azure Del Mar.
Embracing the Dawn: Sunrise at Maya Beach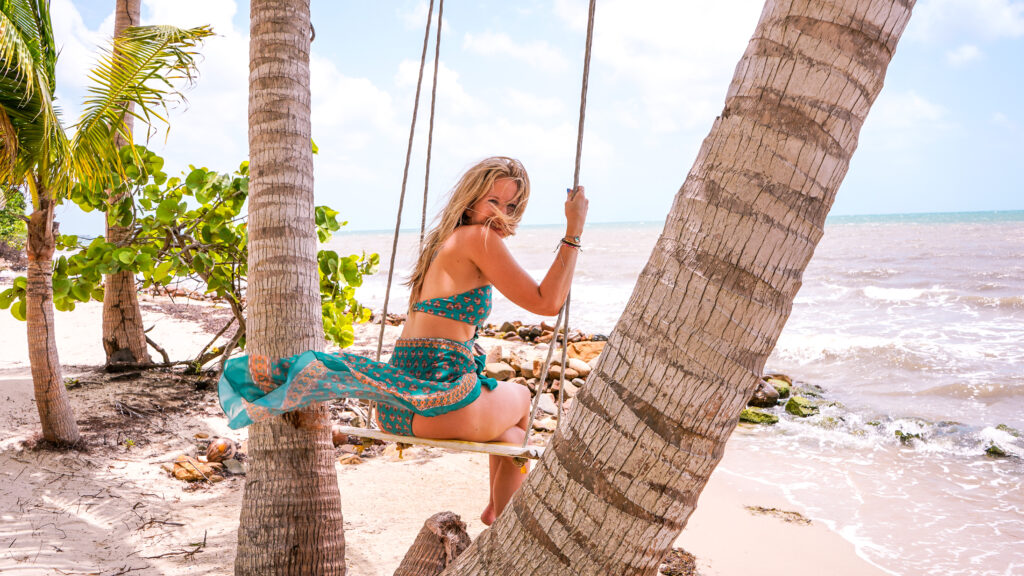 Start your day by witnessing the breathtaking sunrise at Maya Beach. Full disclosure – I'm not a morning person, but will wake early for a beach sunrise, and have to say that catching the Belizean sun rise during your stay is a must.
Sunrise in Placencia is between 5:30am-6:30am depending on the time of year. Azure Del Mar's beach swing, lounge chairs, hammocks and dock offer the perfect vantage points to marvel at the rising sun, casting its golden glow upon the tranquil waters. Afterwards, walk through the soft sand towards their Reef Restaurant for a delicious Belizean breakfast.
Sidewalk Strolls: A Guinness World Record Adventure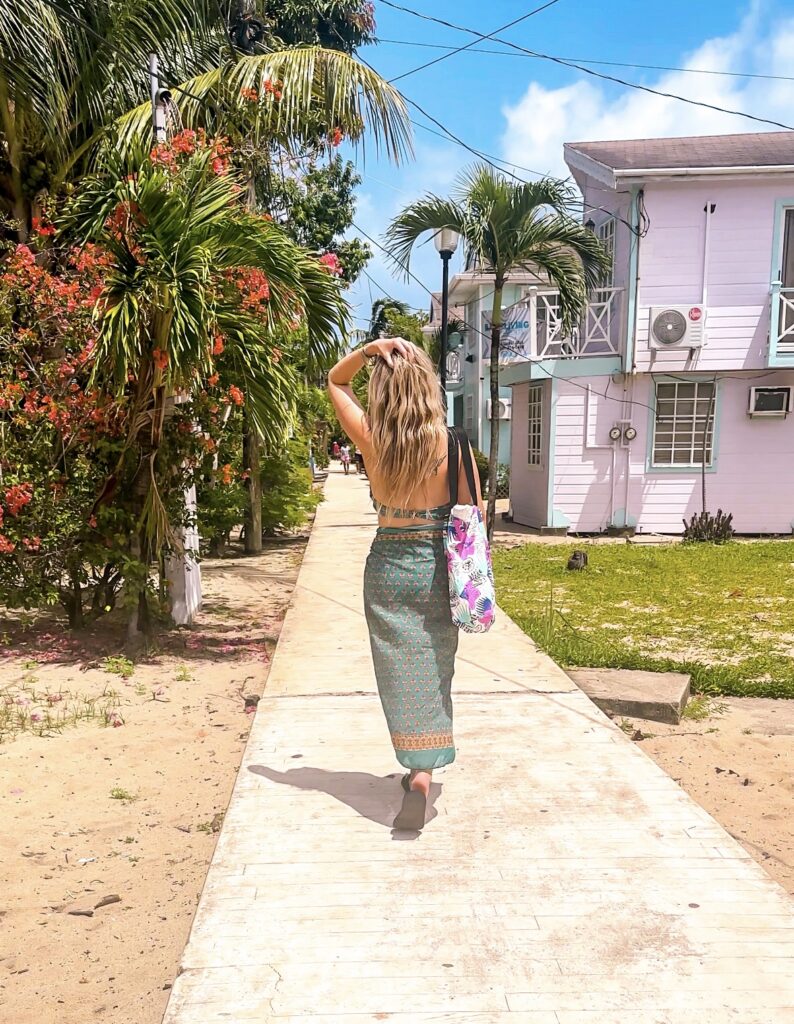 Immerse yourself in this town's unique charm by strolling the Placencia Sidewalk – the world's narrowest street, as recognized by the Guinness World Records. At just over 4,000 feet long and measuring only 4 feet wide, it's open to pedestrians only.
The Placencia Sidewalk is a must for shoppers and explorers alike. Find one of a kind gifts and simple treats to take a slice of Belize home with you. This charming street is adorned with tropical flowers and lined by boutiques, cafes, live music and local vendors.
Placencia Beach Club: An Afternoon of Bliss
For a joyous afternoon, spend a few hours under the palm trees at the Placencia Beach Club. With a range of affordable day rate options and an array of amenities, including beachfront access, pools, games, delicious food and tropical drinks, this spot on the beach gives pure joy.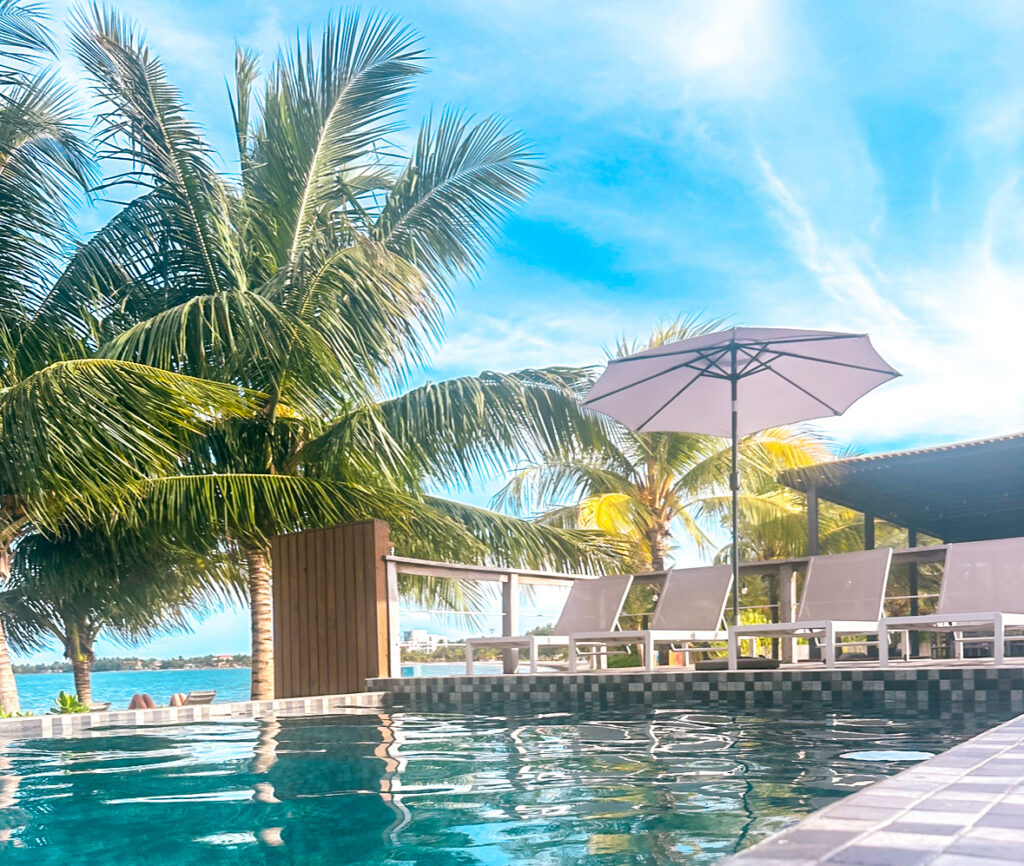 Y'all, I'll be honest, at first the Placencia Beach Club had me at "swim up bar", and although this is the best seat in the house, their entire menu of offerings is so much fun. Their spot along the Caribbean Sea is one of a kind.
Surprisingly, you can enjoy the beach club for just $10BZD / $5USD (learn more about currency in Belize here), which gets you a pool and beach access + a towel. However, if you're planning on staying awhile, consider an all inclusive day pass (all you can eat and drink, some exclusions apply) for $100BZD / $50USD. Their menu is delicious and includes plant based options. Ask for a couple of coconuts and they'll climb a palm tree to chop them down if they're out!
A Culinary Wonder: Savoring Placencia's Flavors
Savoring culinary delights during a trip to Placencia, Belize is a must. From the fresh fruit stands (my girlfriends and I were able to get about 5 pounds of fruit for under $10BZD!) to the other delectable creations, your taste buds are in for a treat.
Most people are excited to try fresh catches from the abundance of restaurants lining the Placencia Village. Contrarily, I'm plant based in my eating and was thrilled to find options I could fall in love with at every spot we tried. Some favorites include :
Enjoy a spicy orange jalapeno margarita on the RumFish patio and don't pass on their menu
Dine under thousands of brightly colored flowers at Omar's
Kick off your day with a smoothie or fresh juice from Cloud 9
Enjoy wave-side dinner at The Reef Restaurant at Azure Del Mar, where people come just for the food and ambience
Sit on the roof at Muna with a mojito in hand and fresh salad in front of you
Grab some coconuts from a fruit stand or the Placencia Beach Club to cool off on a hot afternoon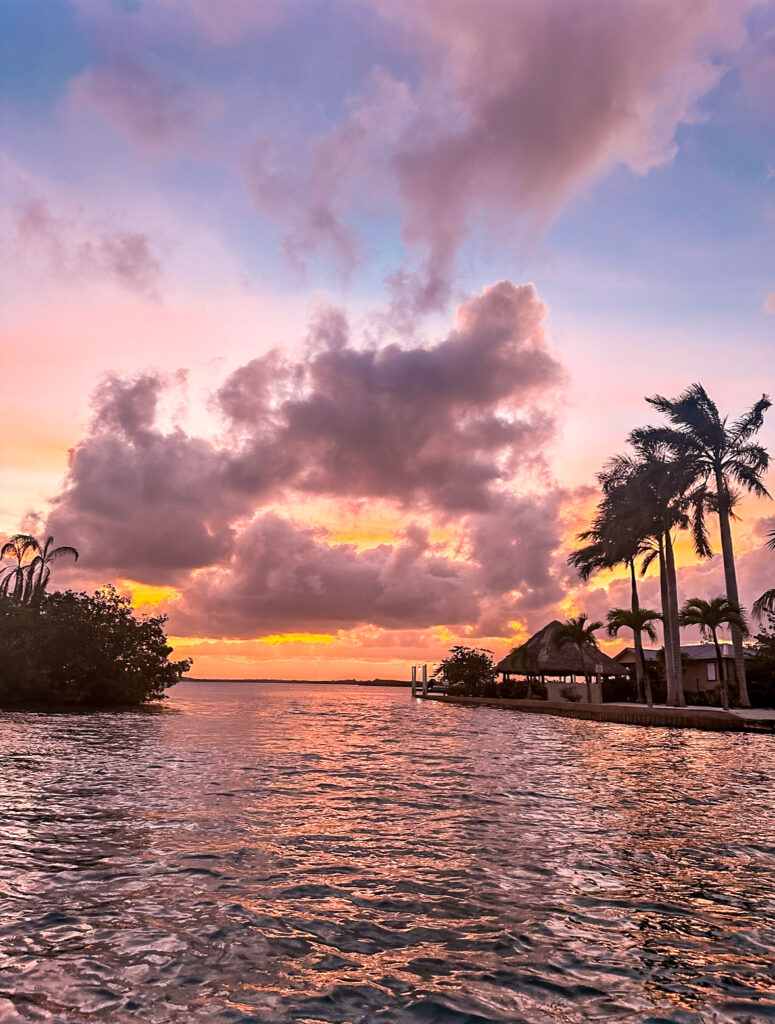 Chasing Sunsets on Sunrise Blvd
Fellow sunset lovers, take note! Despite Placencia not being known for its sunsets, the lagoon side offers a quiet spot to watch the day close out under a painted sky.
Located behind the soccer field, Sunset Pointe is a sleepy lagoon that offers the perfect view to watch the sun dip below the horizon. As the bright rays disappear, stay a little longer to watch the fish jump.
Placencia Bucket List
There is so much to be discovered in Placencia – I found that I wasn't able to get to nearly all of the wonders I want to experience. Bucket list items for the next trip include :
Take a sunset cruise
Snorkel on the Belize Barrier Reef
Kayak Laughing Bird Caye
Visit the Mayan Temples
Visit Monkey River Jungle Tour
HIke Cockscomb Basin Wildlife Sanctuary
Visit Bocawina National Park
See a tucan and scarlet macaw
Placencia, Belize is a wonderful place to discover the beauty and charm of this Caribbean country. The delectable flavors, narrow shop-lined streets, warm culture and serene beachfronts will welcome you with open arms on your Belize vacation. Pack your curiosity and leave your worries behind, let Placencia's beautiful people and lifestyle embrace you. Fully enjoy your Placencia, Belize vacation – just be warned that you'll want to return again and again!
xx, Jenny (The Kai Life)
Have You Been To Placencia, Belize?
I want to hear about your favorite part of your trip! Comment below and let's chat about our love for Placencia, Belize!