8 Simple Ways to Actually Unwind On Your Beach Vacation
Life is a whirlwind of responsibilities, deadlines, and constant connectivity. It truly seems to be moving faster and faster anymore, doesn't it?! It really takes a conscious effort to slow down and get present, even when you're on trying to unwind on your beach vacation.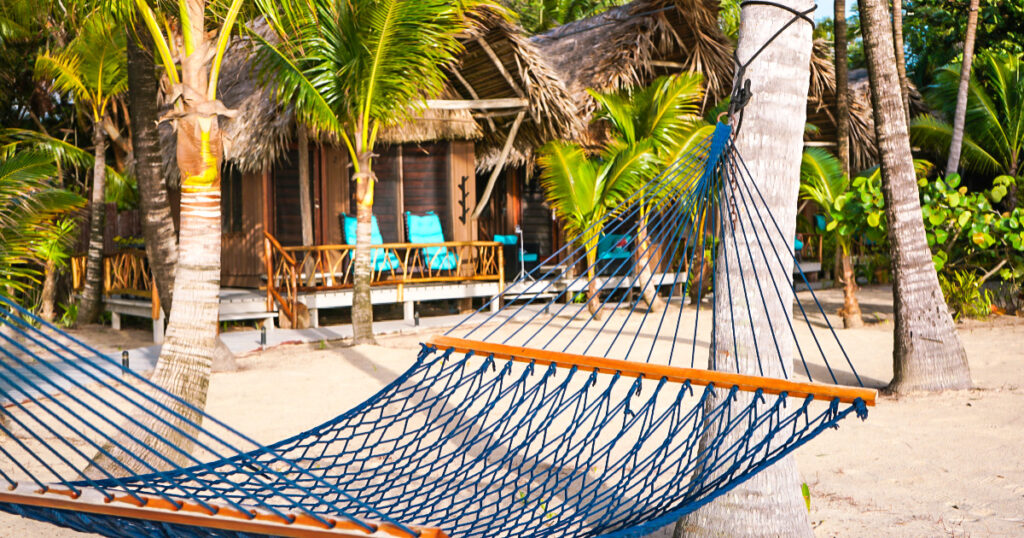 In the midst of our bustling routines, planning a beach vacation becomes a hopeful retreat, promising moments of peace and rejuvenation. The problem is that we are so used to the go-go-go lifestyle, that unplugging once we get to our vacation can create new stress! It can be surprisingly challenging to leave the demands of daily life behind and just let GO.
I've definitely taken trips that feel like I never quite relax in the way I wanted to, and come back feeling like I was so busy on my trip trying to fit everything in that I need another vacation (who is with me on this?!). The impulse to check emails, respond to messages, and keep a balance of connection can be hard to resist or just straight up difficult to achieve, even when we arrive at the dreamiest of beach destinations.
8 Simple Ways to Actually Unwind On Your Beach Vacation
After enough times of feeling like I needed a vacation from my vacation, I've learned that it takes just a little bit of thoughtful effort to slip into that beachy state of mind. I love and apply these simple ways of letting go each time I travel, find that I'm able to more deeply immerse myself in the serenity of my beach trip – and come home feeling like I actually took that vacation I needed.
Choose Your Beach Oasis Thoughtfully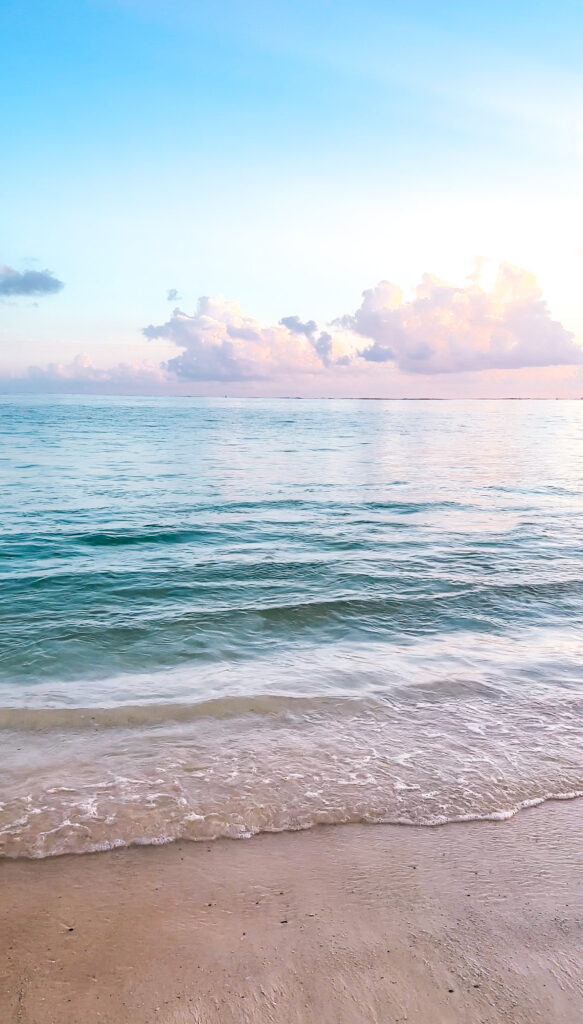 There are SO many different options when it comes to the style of beach vacation that you can take. Take the time to research and decide on a destination that truly resonates with the retreat you're needing. Although this first step takes just a little more planning than the rest, it's well worth a little extra effort.
We took a trip to Florida when Kai was little and were SO looking forward to chilling under the sun – we didn't realize until we checked in that our picturesque beachfront hotel was also the destination for hundreds of spring breakers!
Whether you've opted for a luxurious all-inclusive beachfront resort, a cozy cottage nestled in lush greenery, a fun-filled beach with a boardwalk, or a serene beachfront villa with the sound of the waves lulling you to sleep after the sunset, taking the time to decide where you're headed will set the tone for your trip.
When you're planning your beach vacation, consider things like :
Travel time
Ease of entry into your final destination (especially if you're traveling internationally)
How you'll get around the area
Do you want to experience any excursions or simply lounge near the waves?
The proximity of restaurants and activities
How busy or noisy it is around where you're staying
Plan Your Digital Detox
Before you head to paradise, plan a conscious step back from technology (or put that phone down completely if you're going all in!). In our increasingly connected world, it's essential to allocate dedicated time to unplug and recharge.
Inform clients, colleagues, family and friends about your time off and set up your away message (out of office!) to manage expectations and keep interruptions at bay. Even consider setting some focus or do not disturb times on your devices.
By disconnecting to your level of comfort from the virtual world, you'll be free to immerse yourself in the natural wonders around you, ground and embrace the simplicity of living in the present moment, unwinding on your beach vacation.
Consciously Capture + POST Moments
While it's tempting to capture every moment through a lens (and share it online!), practice getting present and enjoying your surroundings without constantly reaching for your camera or phone. You've given yourself this time to get present, so allow yourself to take that true step back.
Etch the precious memories you experience in your heart. Take mental snapshots of the breathtaking sunsets, the laughter-filled beach time, and the quiet moments of solitude.
When you do reach for your camera, take that photo or video and then put your device back down. Have fun looking back through your memories when you return home, and post about them then to share with your loved ones!
Align Everyone's Expectations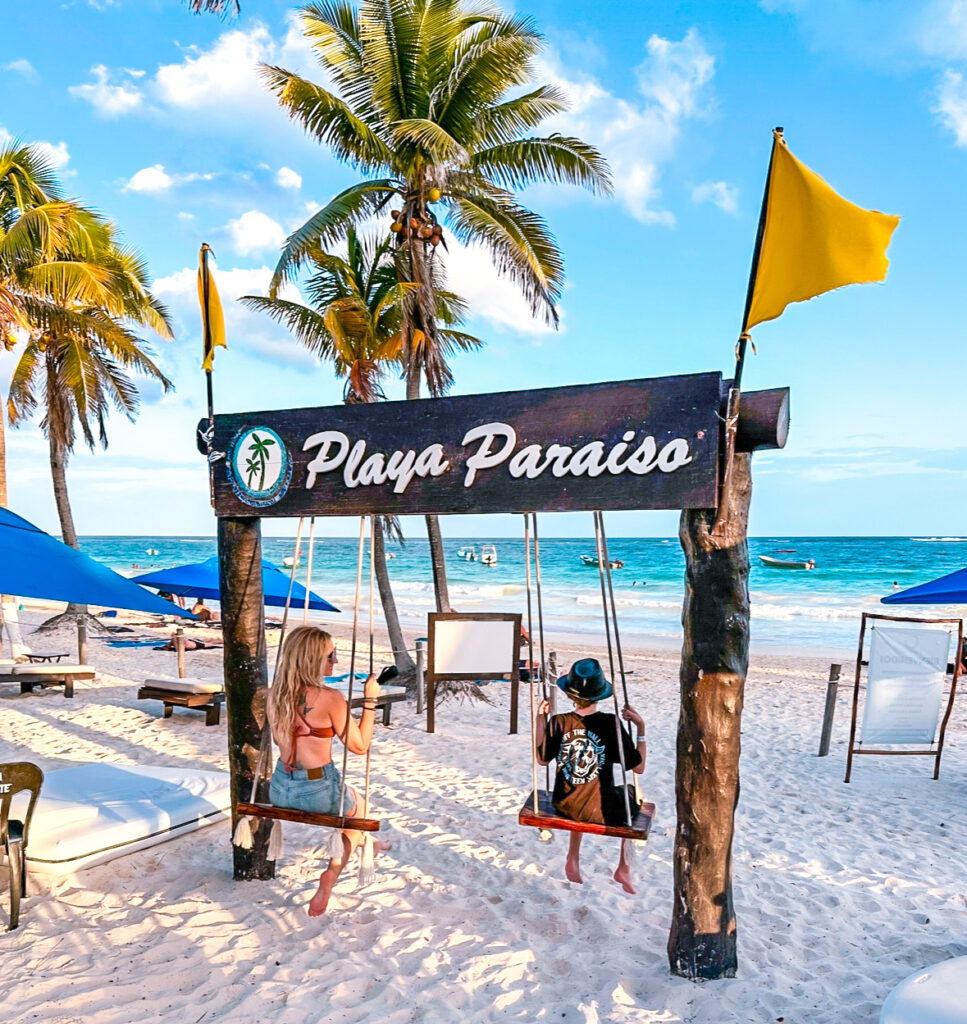 If you're traveling with others, it's essential to have everyone on the same page about the trip's purpose and pace.
Beach getaways can mean different things to different people. Some may seek adventure and water sports, while others may yearn for uninterrupted relaxation on a sun-kissed beach. Have fun planning your trip and create a harmonious itinerary that accommodates everyone's desires. You might even consider separating a bit during the trip so that everyone can enjoy the day how they want, and come together as a group later on.
Savor That First Step On The Sand
Who else feels at HOME when you take your first step onto the sand after you're checked in, bags dropped in the room and have slipped into your sandals?
As you take that first step onto the warm, velvety sand, pause and take it all in. Let the soothing sensation of the beach under your feet set the tone of your time away. Take a deep breath, inhaling the salty air and notice how calming it is. Allow your first steps in the waves to wash away any busy feelings, and embrace a sense of gratitude for the opportunity to be in such a beautiful setting.
Try Embracing A Relaxed Itinerary
In our fast-paced lives, we often tend to over-plan our vacations (it's me, hi!), trying to squeeze in as many activities as possible. I am one to get so excited when I'm visiting a new destination or returning to a favorite place, wanting to take it ALL in. I've found that when I'm heading to the shore to relax, planning a thoughtful and simple itinerary helps me do less.
Try something different this trip, resist the urge to over-plan your beach escape. Leave room for lazy days and spontaneous beach adventures. Allow yourself the freedom to indulge in downtime, sleep in, stroll on the beach, and leisurely read in your lounge chair, especially during the initial days. Let the ebb and flow of the tide guide your daily rhythm, and you'll find yourself naturally unwinding into the slower pace of beach life.
I'm a big fan of slowed-down mornings at the beach. Even if waking up early to catch the sunrise is what you're craving, let yourself stay awhile after it rises. Ease into breakfast and a beach stroll or some movement before your plans for the day.
Savor Every Moment
Beach destinations have a unique way of heightening our senses and drawing us into the present moment – the symphony of the sea, the feeling of warm sand between your toes, and the smell of the salty air can all lull us into the here and now.
Let yourself be present, fully immersing yourself in the beach ambiance surrounding you. Feel the sea breeze against your skin, listen to the rhythmic crashing of waves, relish the stunning sunsets that paint the sky in a myriad of colors and savor every sip from that coconut in your hand.
By staying in the moment, you'll create a deeper connection with your surroundings and yourself, really allowing your beach retreat to heal your busy heart. Practicing presence while you're away is a beautiful reminder as you head back into your routine.
Find Balanced Beach Bliss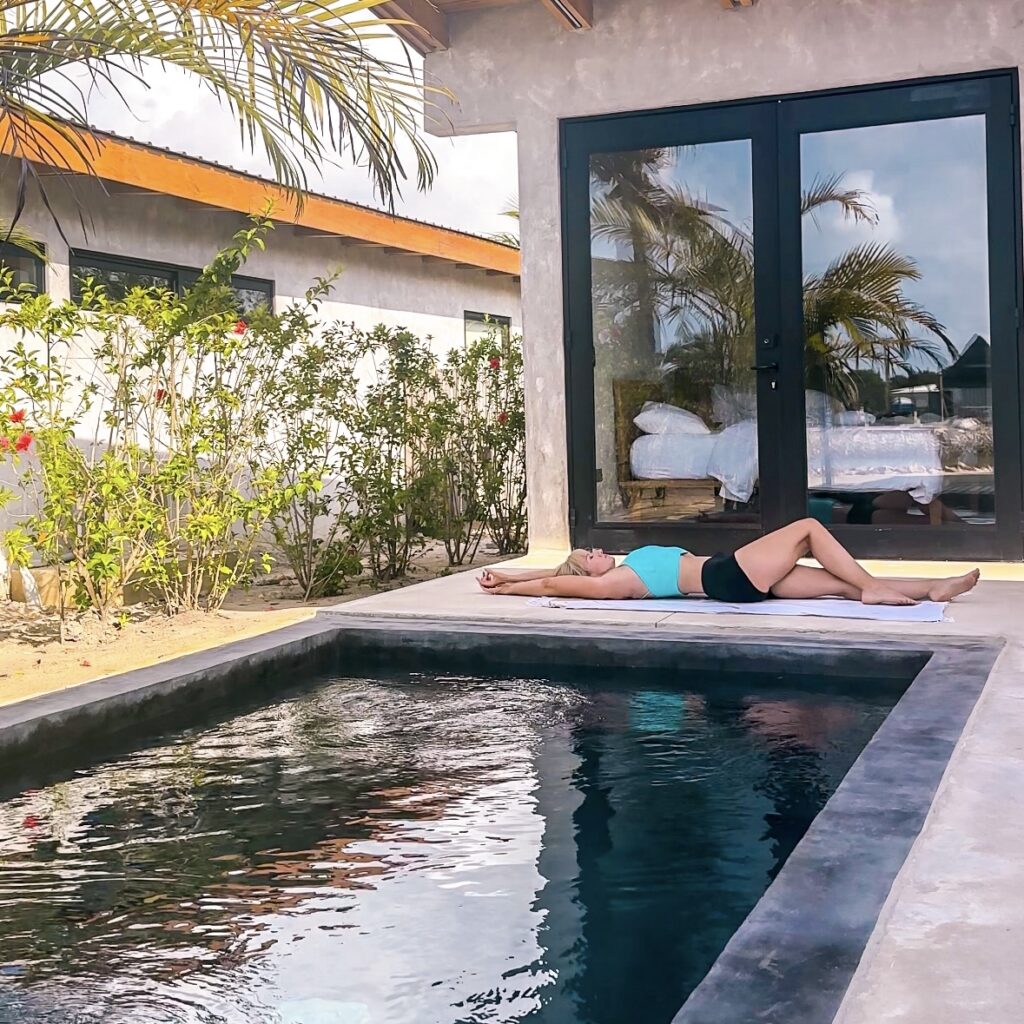 Strike a balance during your beach vacation to savor each moment and leave feeling revitalized.
Nourish your body with wholesome local delights like delicious tropical fruits and smoothies, while enjoying occasional treats guilt-free like a few scoops of nice cream! Embrace both relaxation and exploration—soak up the sun while you lounge poolside with a book and take leisurely beach walks or bike along the boardwalk without an agenda .
Listen to your body and mind's needs, creating a well-rounded beach retreat that leaves you fulfilled and balanced.
Salt water heals everything.
I so hope that these ideas help you to get that R&R you've been craving and unwind on your beach vacation. By thoughtfully planning your stay, embracing the moment, and disconnecting from the everyday hustle, you'll find yourself immersed in the soothing serenity of the beach, leaving you with cherished memories for years to come. Let that sea breeze carry away your worries, sister! Embrace the art of doing nothing in the company of sun so you can return home with a renewed sense of relaxation.
xx, Jenny (The Kai Life)
What's your favorite way to truly ensure that you unwind at the beach?
(Cause I want to hear about it!)
Share your favorite way to unwind during your beach vacation below!