El Ben Cabañas Tropical Escape : Caye Caulker Resort Review
If you're looking for a Caye Caulker resort that seamlessly blends relaxation and adventure, check out the paradise that is El Ben Cabañas. Tucked away on the serene north side of the island, this hidden gem offers a taste of the tropics like no other.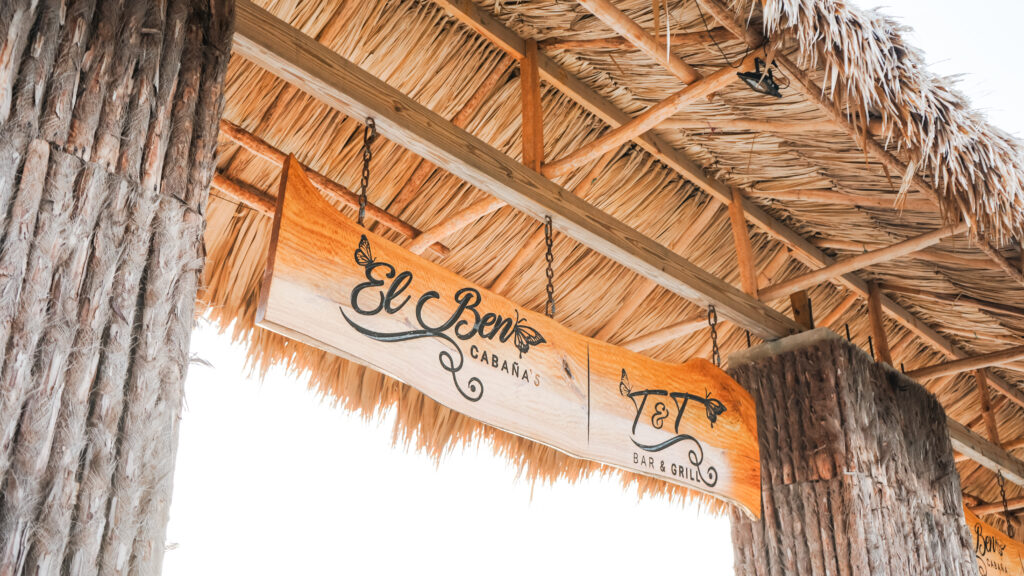 Embarking on Your Journey to Paradise
Most travelers find it easiest to fly into Belize City. From there, you have several options to head to Caye Caulker.
When you arrive at the Caye Caulker Marina, you'll be whisked away on a private boat to El Ben Cabañas (coordinate your arrival time in advance with the hotel). It's a quick but gorgeous boat ride along the shoreline to your slice of paradise. Before you know it, you'll be at your tropical Caye Caulker hotel.
A Warm Welcome and First Impressions
Arriving at El Ben Cabañas is a statement in itself. Once docked, you'll walk into the oasis of a property. Walking the lush palm-lined brick path to reception will give a sneak peek. Upon check in, you'll be handed a cool glass of freshly squeezed juice. As the staff delivers you luggage to your cabana, you'll receive a property tour.
Thatch Roof Cabanas: A Slice of Paradise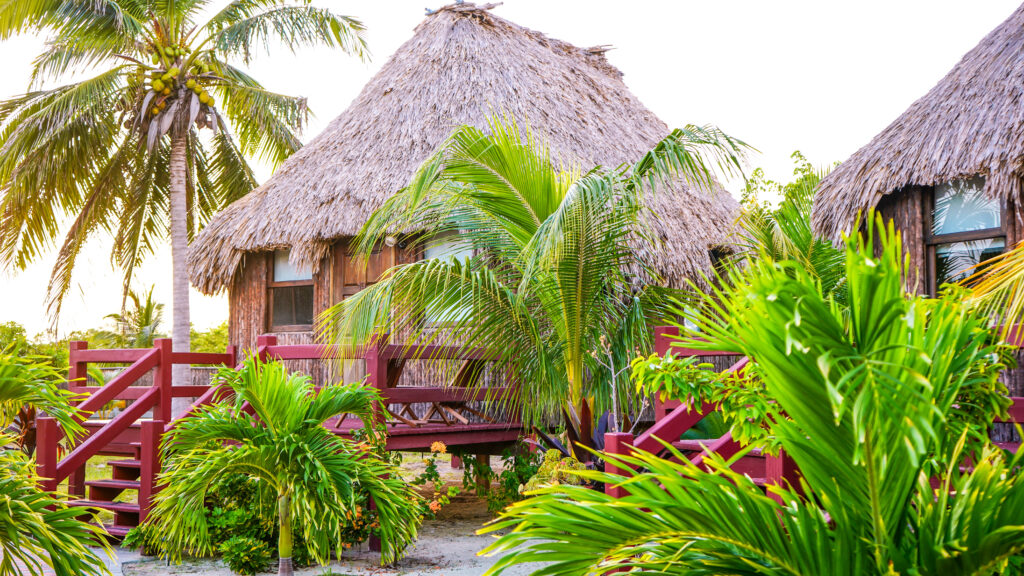 Picture yourself in a thatch roof cabana during your vacation. El Ben Cabaña's take on the traditional Belizean accommodations is a refresh. Tropical charm intertwines with modern luxury. Here, nature's beauty is seamlessly woven into every detail. El Ben Cabañas are intimate spaces that blur the lines between indoor opulence and outdoor splendor.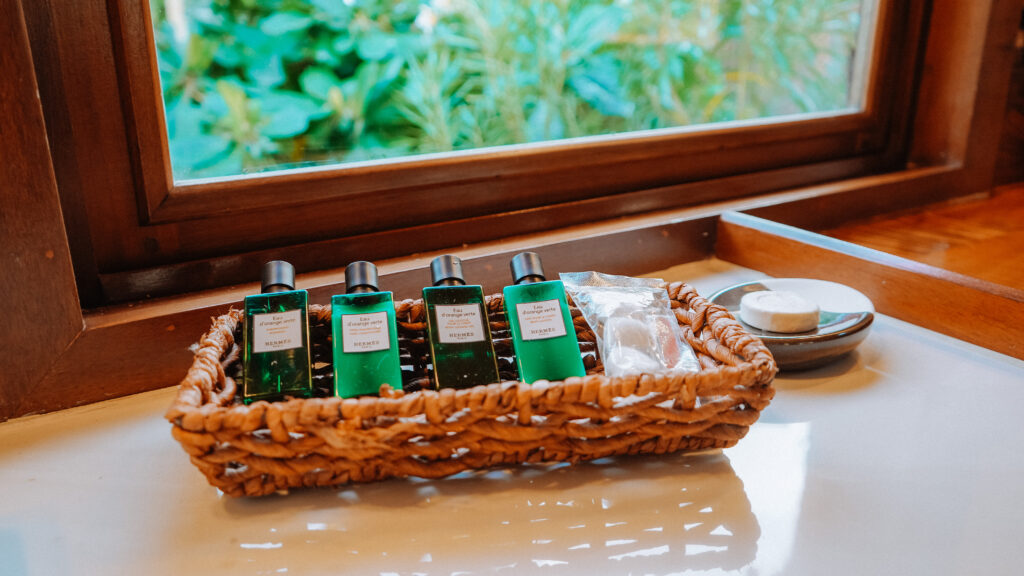 At this Caye Caulker resort, no comfort is forgotten. The cabanas are private and spacious. Obviously the weather is hot in Belize – but each tropical cabana has air conditioning and fans to keep cool. Bathrooms are spacious and equipped with hot water spacious showers. Hermes toiletries are provided to stay refreshed. Each piece of furniture and linen is locally sourced from Belize designers and artisans. Wifi is located throughout the property.
Bask in Tropical Serenity At Your Belize Resort: El Ben Cabañas Refreshing Pools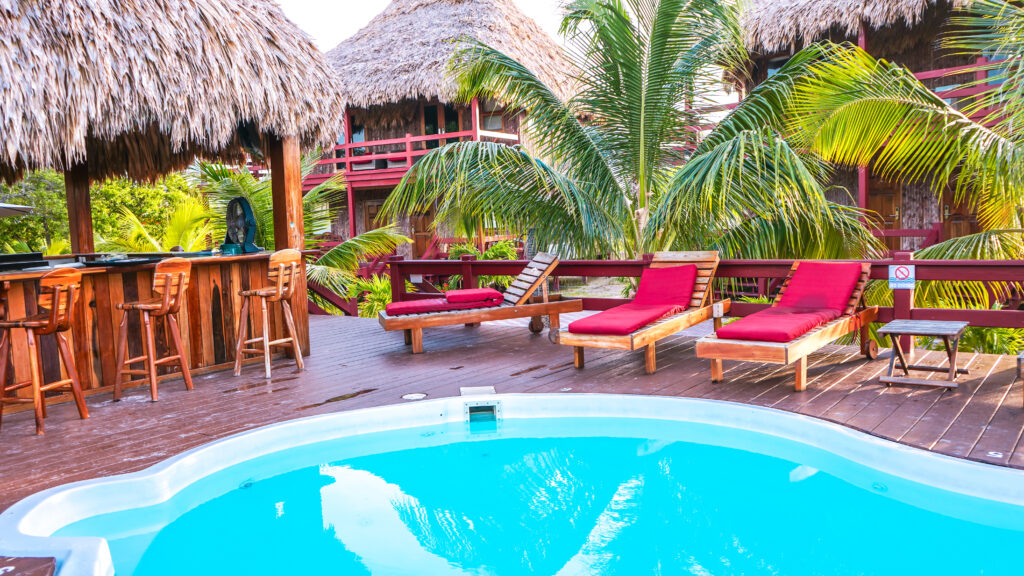 Indulge in the luxury of choice as you soak in not one, but two inviting pools, each a cool oasis beneath the Belizean sun. The resort's lush tropical foliage becomes your private garden of serenity, inviting you to explore, unwind, and rediscover the simple joys of life. You'll find yourself wanting to stay all day in the cool blue waters on the pool deck. The pool bar, just steps away is an added treat.
A Sanctuary of Mangroves
Lining the shoreline is a living tapestry of protected mangroves, a reminder of the resort's commitment to preserving the environment. Mangroves in Belize are under threat due to rapid development. In fact, about 20% of mainland mangroves in Belize are protected, while on the cayes, only 1% are under protection.
El Ben Cabañas has made a conscious effort to preserve the mangroves lining their property. Not only is it a nod to the importance they put on preservation, but it provides a gorgeous backdrop. Wander along the walkways, lost in the tranquility of the beautiful mangroves.
Exploring the Dual Charms of Caye Caulker
Caye Caulker extends two sides of the island – the vibrant energy of the south side and the serene tranquility of the north. The island is split in a natural mystery, possibly by Hurricane Hattie in the 1960s. Because the town is located on the south side, it's bustling with energy.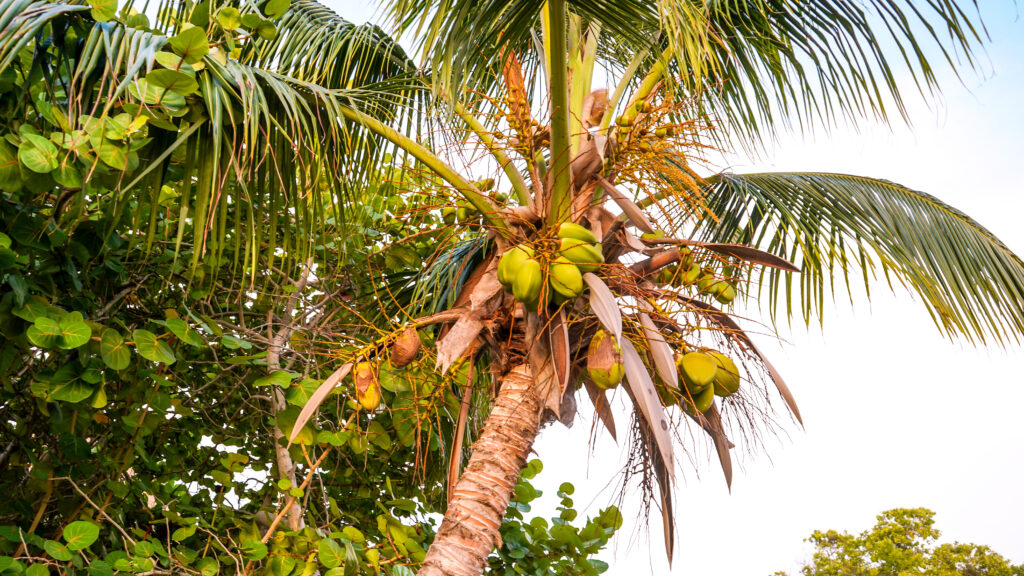 With so many Caye Caulker hotels located on the south side, El Ben Cabañas is a sanctuary to the quiet north. After spending the day exploring town, you'll love arriving home to your relaxing cabana. It's truly the best location.
El Ben Cabañas makes it easy to access the entire island. Take advantage of their water taxi which regularly travels to the south side. Alternatively, their staff is happy to golf cart shuttle you to the Split to Split ferry.
Adventure Awaits: On Land and Water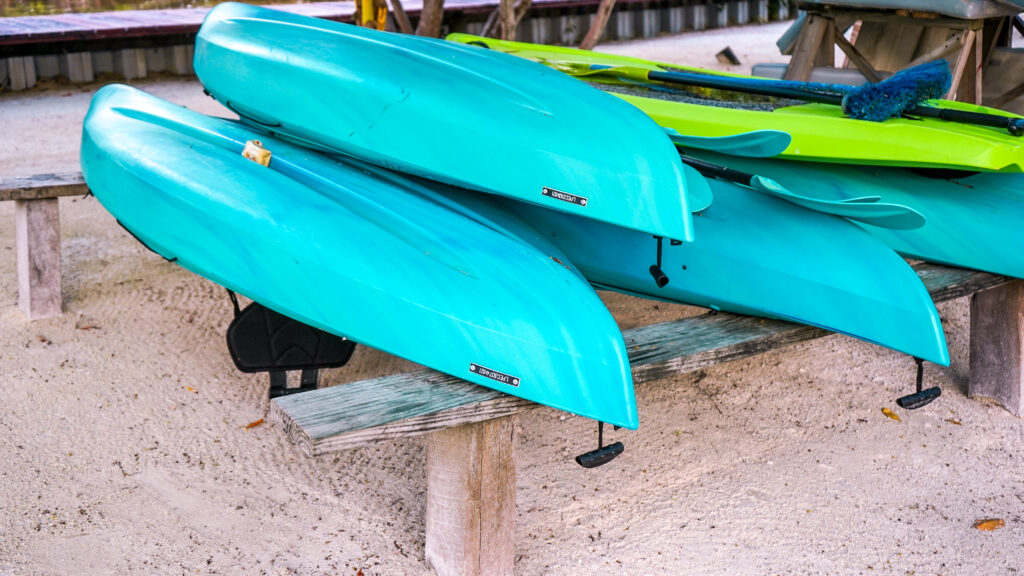 Unleash your inner explorer with an array of island adventures. This Caye Caulker hotel makes it hard to leave their property! El Ben Cabañas offers kayak, paddle board, and bike rentals for guest use. Pedal along picturesque paths on a bike, glide through crystal-clear waters on a kayak, or stand atop a paddle board, the wind tousling your hair as you embrace the rhythm of the sea.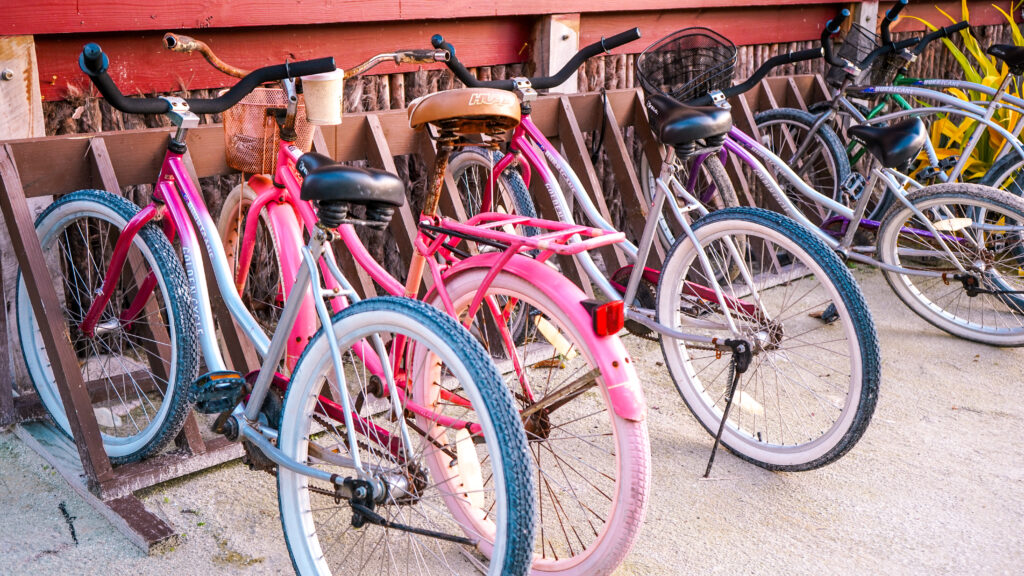 Savoring Moments: A Caye Caulker Resort Open Air Restaurant
The tropical ambience takes center stage at El Ben Cabañas open-air T&T Bar and Grill, where culinary delights are savored amid panoramic views. Don't sleep on their delicious breakfast, complete with Belizean favorites like fry jacks or a pineapple mimosa.
Embrace the Tranquility of A Belize Resort : El Ben Cabañas
It's easy to question where to stay in Caye Caulker Belize because there is an abundance of resorts. Then, add in the decision to stay on the quiet north side of the island, or busier south side. El Ben Cabañas makes your decision simple.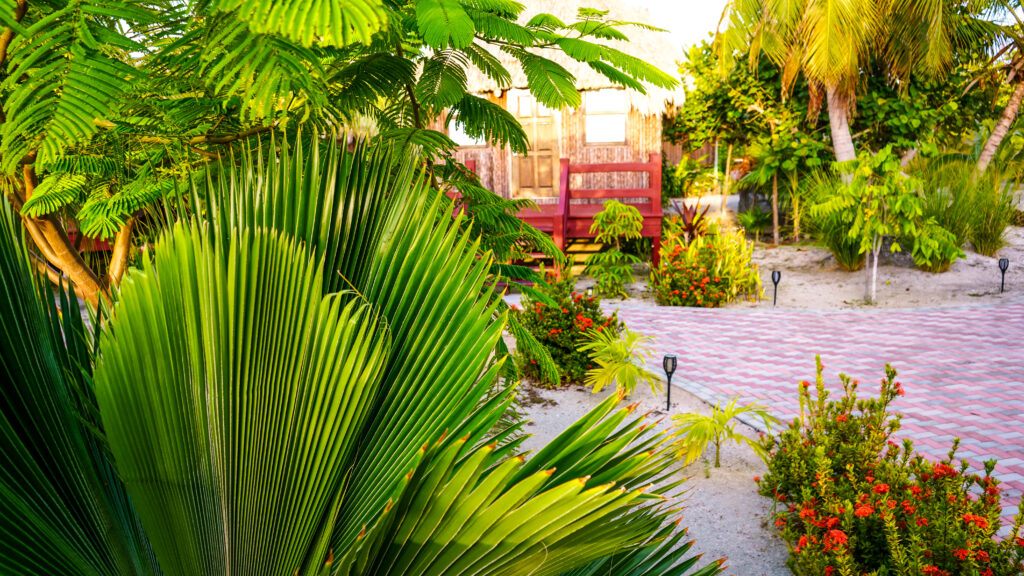 El Ben Cabañas isn't just a Belize resort; it's an embodiment of paradise found. Thatch roof cabanas, lush landscapes, and seamless connection to both tranquility and adventure makes it the perfect landing for your time on Caye Caulker. El Ben Cabañas beckons – answer the call and indulge in a tropical escape that promises moments of pure enchantment. We would stay in again and again, in a heartbeat!
xx, Jenny (The Kai Life)
Have You Ever Stayed In A Thatch Roof Cabana?
I want to hear about your experience!