The Allure Of Ambergris Caye Belize : A Mini Travel Guide
Welcome to the captivating paradise of Ambergris Caye Belize, where adventure and relaxation intertwine amidst turquoise waters and vibrant streets. Recently voted second place for readers' favorite islands in Mexico and Central America in Travel + Leisure's "World's Best Awards", Ambergris Caye is a beloved place to visit. Whether you're yearning for a tranquil escape or an exhilarating experience, this charming island offers a kaleidoscope of colors and warm hospitality, ensuring an unforgettable trip.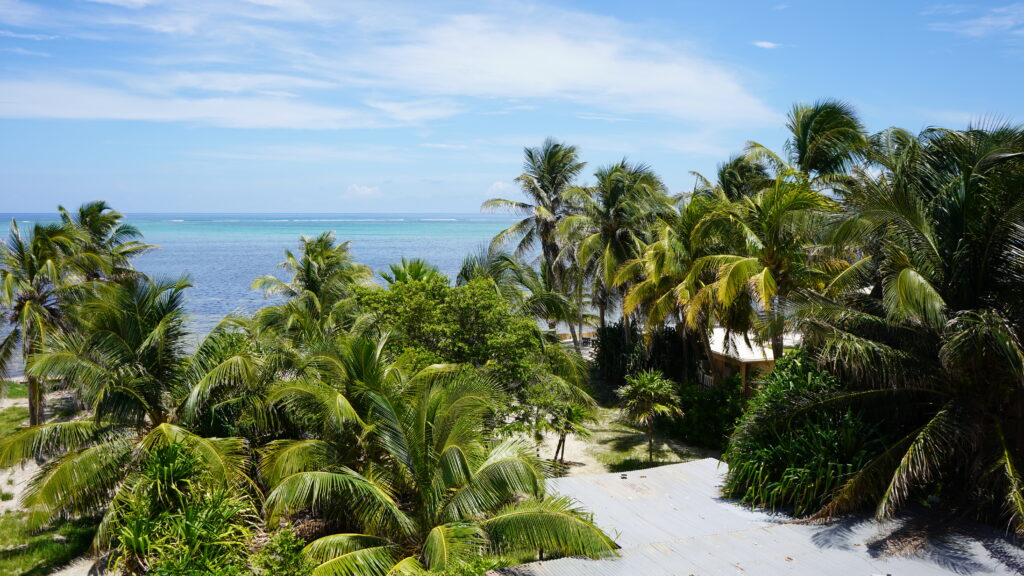 In this mini travel guide, we'll unveil the allure of Belize's most visited spot – San Pedro Belize, also known as Ambergris Caye Belize. From reaching its shores to discovering its hidden gems, let's embark on an island adventure like no other. Welcome to Ambergris Caye!
Ambergris Caye or San Pedro: What's The Difference?!
Ambergris Caye is often referred to as San Pedro. San Pedro is the only major town on the island. The two names "Ambergris Caye" and "San Pedro" have become interchangeable.
Ambergris Caye is actually located on the Yucatan Peninsula, connecting it to Mexico. It is considered a caye because of the Bacalar Chico. The Bacalar Chico is a 1500 year old Mayan canal, hand-dug to separate it from Mexico's Yucatan Peninsula.
Getting to Ambergris Caye Belize: Embarking on Your Island Escape
The journey to Ambergris Caye is an exciting adventure in itself. For most, the trip starts with a flight into Belize City. The Philip S.W Goldson International Airport in Belize City a gateway to numerous stunning Belizean destinations. Most people wonder how to get from Belize City to Ambergris Caye once you're in the country.
From Belize City, you can take a puddle hopper flight or a scenic water taxi ride directly to Ambergris Caye. Either the quick flight over turquoise waters or the leisurely cruise alongside the coast will set the tone for your tropical getaway.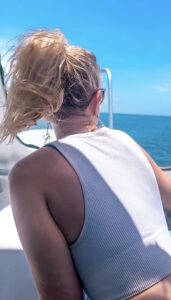 We traveled to Ambergris Caye from Caye Caulker via water taxi with San Pedro Belize Express. This water taxi from Caye Caulker was about 45 minutes. The water taxi from Belize City to San Pedro takes about 90 minutes.
Leaving San Pedro / Amergris Caye, we flew via Tropic Air to Belize City. That gorgeous flight is only about 15 minutes long.
Upon arrival at the San Pedro Marina or airport, you'll be situated in busy downtown San Pedro. Coordinate pickup from the marina with your resort or hotel in advance, or you will find taxis abundant.
The Weather in Ambergris Caye and When to Visit
Ambergris Caye's tropical climate promises warmth and sunshine year-round. From November to April, the peak tourist season boasts dry weather and comfortable temperatures. May to October marks the off-peak season, with occasional rain showers and lower prices.
During our July visit, overcast skies and light rain kept tropic temperatures comfortable, offering a less crowded yet still enjoyable experience. Consider visiting during the off-peak season for a unique perspective of the island's beauty.
Navigating Ambergris Caye: Golf Carts and Bikes
There's a certain charm to Ambergris Caye's lack of vehicles. Although you'll see less cars on Ambergris Caye than on Caye Caulker, you will notice some delivery trucks and taxis. The streets of San Pedro get busy. The favored modes of transportation are golf carts and bikes, allowing you to leisurely explore its hidden corners.
We chose to rent a golf cart on Ambergris Caye. The golf cart allowed us to explore a stretch of Belize's longest island (about 25 miles). Arranged through our hotel, it was delivered directly to our accommodations. The golf cart made it easy to navigate both the busy streets of San Pedro and vast scapes of northern Ambergris Caye.
Note : on Ambergris Caye, the golf cart was delivered with hardly any gas. We were told to fill it up immediately. On Placencia, it was delivered full. Check your fuel levels before you head out with your rental for the first time!
Where to Stay: The Watermark's Splendor
Nestled just north of San Pedro lies The Watermark Belize Hotel. The Watermark Belize Hotel is a brand-new hotel that beckons with its location and panoramic views.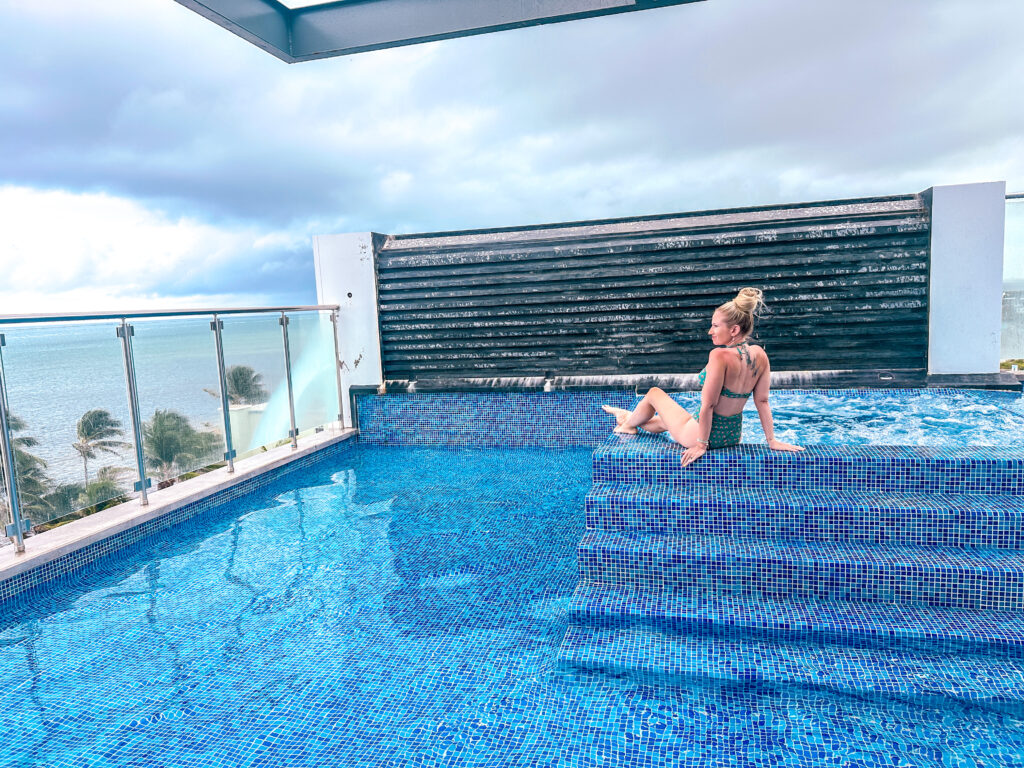 The Watermark Belize Hotel exudes luxury and comfort. Upon walking in for the first time, you'll be immersed in a modern take on lavishness. Head to the rooftop pool immediately for stunning panoramic views of the Caribbean Sea and San Pedro. Spacious rooms with modern amenities will make your stay comfortable.
Possibly the best part of The Watermark Belize Hotel is its convenient location. Located just north of the Boca Del Rio Bridge, The Watermark Belize Hotel is accessible to the town – yet is separated enough that it ensures quiet comforts. Its location is central to all of the fun Ambergris Caye offers.
Where to Eat on Ambergris Caye: A Culinary Adventure
Ambergris Caye's culinary scene mirrors its vibrant culture and tropical ambiance. There are so many incredible dining choices that you'll no doubt leave with a bucket list longer than what you arrived with! Amidst an abundance of options, a few standout favorite restaurants during our short time visiting were :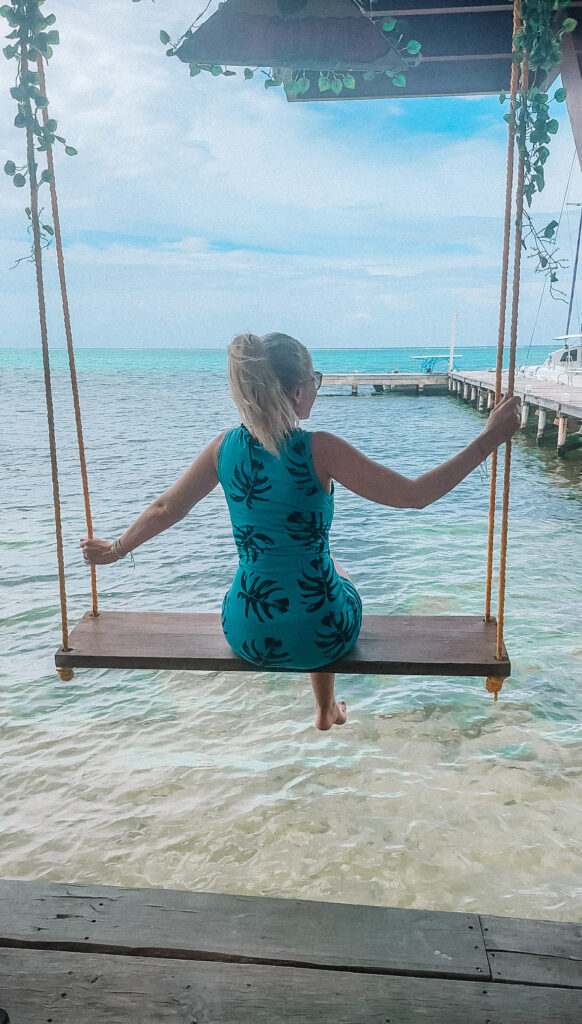 The Sky View Restaurant at The Watermark Hotel Belize : grab a seat on the rooftop near the pool for stunning views and delicious food at sunset.
Cool Beans Cafe : the cutest little restaurant located on a dock on the water, Cool Beans Cafe offers fresh breakfast lunch and coffee. Really appreciated the abundance of vegan options! Cool Beans Cafe has an adorable swing overlooking the ocean.
Fueling Station near Secret Beach : ok, hear me out on this one! There's one small fueling station near Secret Beach just as you're driving in. They feature a tropical bar and their fresh coconuts were delicious! They'll even create a blended alcoholic drink in the coconut for you. Bonus points for the comedy of getting a coconut at a fueling station!
The Truck Stop : Ambergris Caye's first shipping container food park offers an abundance of delicious food choices. It's a great choice when dining with a group looking for a variety of options.
Blue Water Grill : one of San Pedro's most beloved restaurants comes with a view. Make a reservation for this beach-side restaurant as it gets busy.
Juice Dive : conveniently located near the marina and airport, Juice Dive is a great spot to grab a healthy bite on your way in or off the caye. We grabbed juices and wraps to enjoy on our journey back to Belize City. The food was fresh, offered so many vegan options and was delicious.
Must-Do Activities on Ambergris Caye
Like every other destination in Belize that we've visited – we left Ambergris Caye with a LONGER list of things to see and do than we started with! There is SO much to experience on Ambergris Caye. We had just two days on the island, and found some favorite experiences.
Witness The Sunrise And Sunset From A Rootop Patio
There's water to the east and the west, so depending on your location during the day – you could catch both!
Sunrise
Wake with the sun and head to The Watermark Belize Hotel's gorgeous rooftop patio to kick off the day. The rooftop boasts panoramic views and you can't miss the sun rising over the calm waters.
Cool Beans Cafe is located directly on the water facing East. Catch an early breakfast at this favorite spot as you watch the rising sun.
Sunset
Catch a pretty sunset at The Truck Stop where lounge chairs line the west facing docks.
Added to our bucket list, it was recommended to us several times to head to Rain Restaurant's rooftop for stunning sunset views.
Explore Secret Beach
One of the island's warm jokes is the "not-so-secret" – Secret Beach. In fact, you'll be told to visit Secret Beach by anyone in the area you ask about what to do on Ambergris Caye! It's become one of the top tourist destinations on the island. Don't let its popularity deter you though, visiting Secret Beach is a fun right of passage for any Ambergris Caye Traveler.
With an abundance of beach clubs that feature bars, restaurants and fun water experiences – there's a ton to choose from. Pick a spot that gives the vibes you're craving and settle in. We grabbed a spot on the dock at Pirate's Not So Secret Bar & Grill and loved the vibes!
Tip : Do watch for sea lice in the leeward waters of Secret Beach. We experienced some while we were visiting and although we didn't have a reaction, we spoke to a man whose friend had a terrible reaction for weeks. Upon arrival, ask some locals if they are out. You an prevent an attack by applying vaseline to your skin before swimming.
San Pedro Guide provides a wonderful, thorough dive into everything you'll need to know about Secret Beach.
Visit The Truck Stop For A Night Of Fun
The Truck Stop, located about a mile north of San Pedro, is Belize's first shipping container food park. It's a vibrant hub with something for everyone, a fantastic place to take the family for an evening of fun.
Choosing where to eat comes easy at The Truck Stop, offering a variety of choices with several food trucks, a beer garden and ice cream shop. I was able to find a delicious vegan Tofu Bahn Mi while my husband enjoyed local flavors.
The Truck Stop offers ever-changing entertainment. Their calendar is full of fun events happening daily. Between the swimming pool, 18 foot outdoor movie screen, outdoor game area, sunset views and live music – everyone in your group will look forward to this fun location!
Embrace Ambergris Caye Belize's Magic
Ambergris Caye Belize invites you to embrace its enchanting beauty, vibrant streets, and delectable flavors. Whether watching the sunrise, spending the day at Secret Beach, or immersing yourself in San Pedro – your journey on this captivating island will be etched in your memory. As you bid farewell to Ambergris Caye, carry its spirit with you, eager to return and create more unforgettable memories on its welcoming shores.
Safe travels and island dreams await. xx, Jenny (The Kai Life)
Have You Been To Ambergris Caye, Belize?
I want to hear about your favorite part of your trip! Comment below and let's chat about our love for Ambergris Caye, Belize!