The Watermark Belize Hotel: Ambergris Caye Hotel Review
Planning your Caribbean vacation and Ambergris Caye Hotel is so wonderfully exciting. Thinking about the swaying palm trees and sea breeze is enough to put a smile on your face. There is so much fun to be had on Belize's most popular Caye.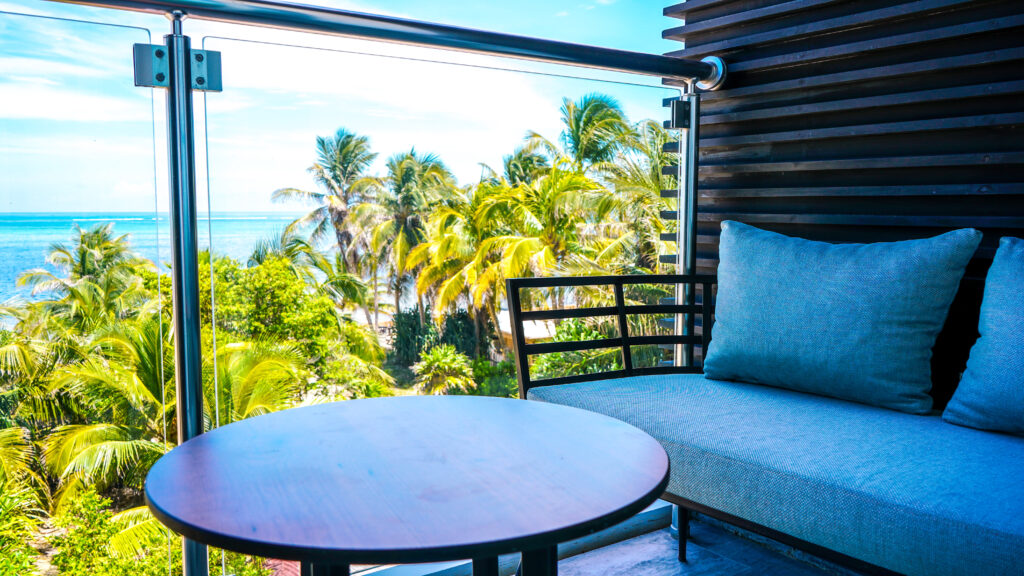 When deciding on your Ambergris Caye hotel, if you're looking for a new property with a great location, be sure to consider The Watermark Belize Hotel. This pristine resort promises an unforgettable retreat for those seeking both tranquility and adventure.
Arrival and Access: Reaching Your Ambergris Caye Hotel
Most travelers find it easiest to fly into Belize City. From there, you have several options to head to Ambergris Caye.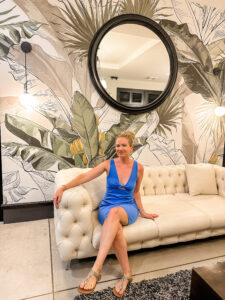 Arriving at The Watermark Belize Hotel is simple, ensuring a smooth start to your tropical journey. Whether you arrive by air or sea, the hotel is happy to pick you up (pre-arrange your travel details with them), or you can take a short taxi ride. Taxis are abundant near the airport and marina on Ambergris Caye.
The Watermark Belize Hotel is located just north of busy San Pedro. It's a convenient spot along the beautiful Caribbean Sea. Upon stepping in, you're instantly enveloped by an oasis of modern calmness. While staying in close proximity to the city's vibrant energy, you're rewarded with tranquility that allows for serene relaxation. Explore the surroundings and experience the perfect balance between accessible urban life and peaceful seclusion.
Panoramic Retreat: Rooftop Pool with Unmatched Views
Hear me out on this – upon arrival after your bags are dropped – head directly to the rooftop pool! Their stunning rooftop offers panoramic vistas that stretch across San Pedro and the Caribbean Sea.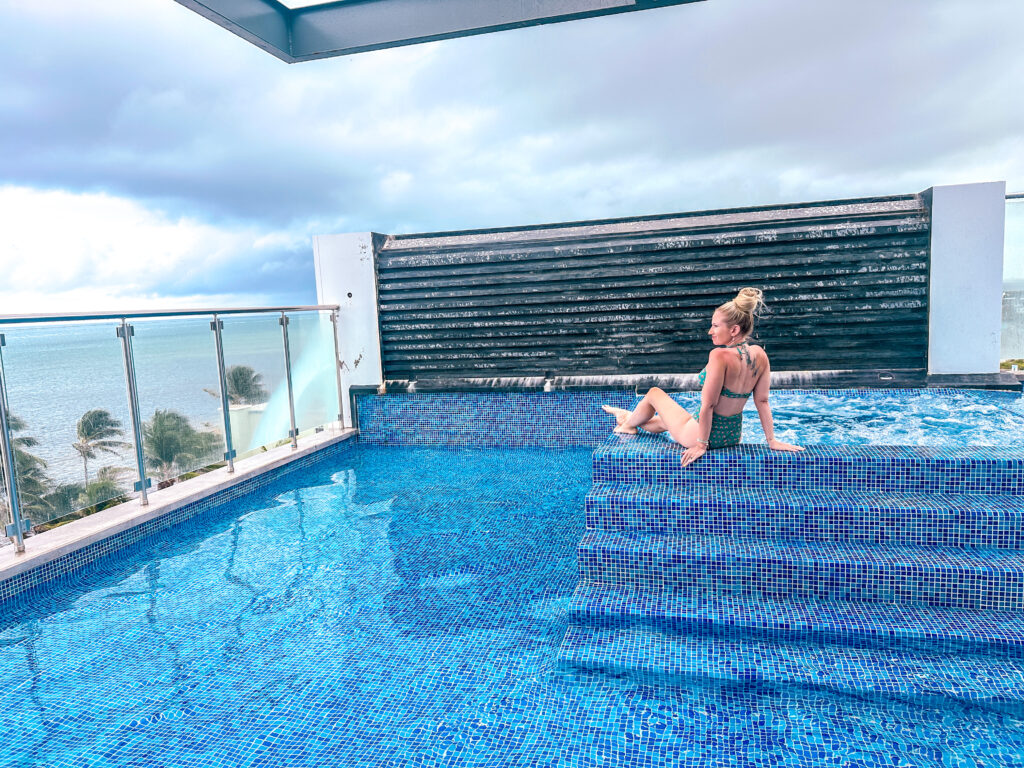 The Watermark Belize Hotel's pool is gorgeous and so inviting. It stretches the length of their massive rooftop and beckons you with multiple seating areas and a hot tub.
Give happy hour a whole new meaning and stay awhile for some early dinner and a dip. The Sky View Restaurant is the perfect spot for dinner. As the sun dips beneath the horizon, the rooftop pool becomes a captivating stage for nature's colors. Immerse yourself in the pool's refreshing waters while taking in the sunset views and delicious food.
Captivating Comfort: Luxurious Accommodations and Beyond
The Watermark Belize Hotel's commitment to comfort is evident in its thoughtfully designed accommodations. Each room and suite offers a haven of relaxation, embodying modern elegance with a touch of local charm. Fresh and clean white walls and linens brighten your stay. The cool AC sets the temperature for a comfortable stay. The large walk-in rain shower is the refresh you need after a day in the sun and sea.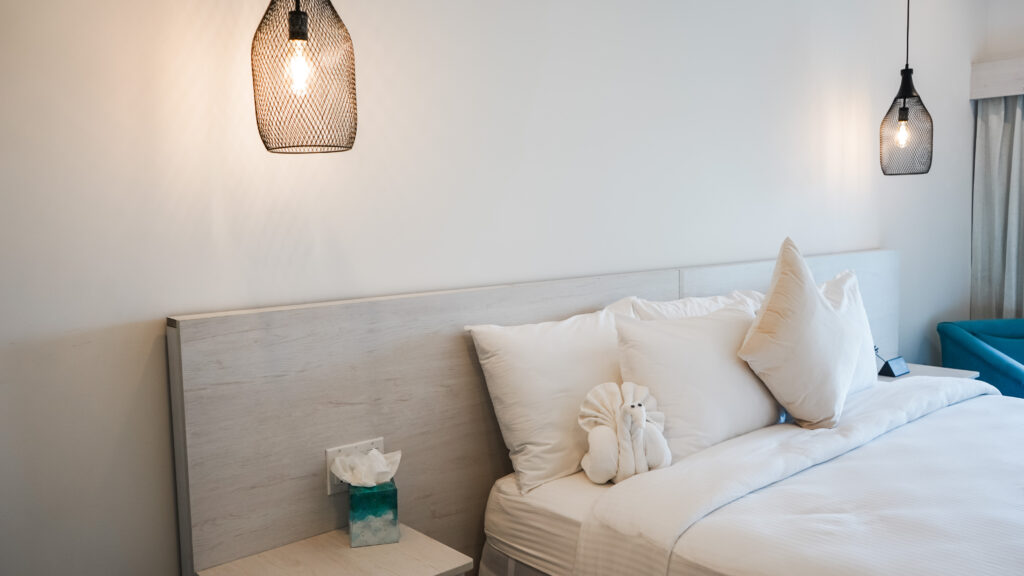 Beyond the luxurious rooms, this Ambergris Caye hotel presents a variety of amenities designed to enrich your stay, ensuring that every moment is steeped in indulgence. Take advantage of the hotel arranging your golf cart rental for easy access to it.
Seaside Exploration: Adventures Beyond Your Ambergris Caye Hotel
While the allure of The Watermark Belize Hotel is undeniable, the surrounding Ambergris Caye beckons you to explore. There is so much fun to be had on Ambergris Caye. Engage in a world of marine wonders through snorkeling or diving, discovering the vibrant underwater life that thrives beneath the crystal-clear waters. Immerse yourself in the rich culture and history of the region, discovering treasures beyond the resort's borders. Be sure to head to the not-so-secret "Secret Beach"!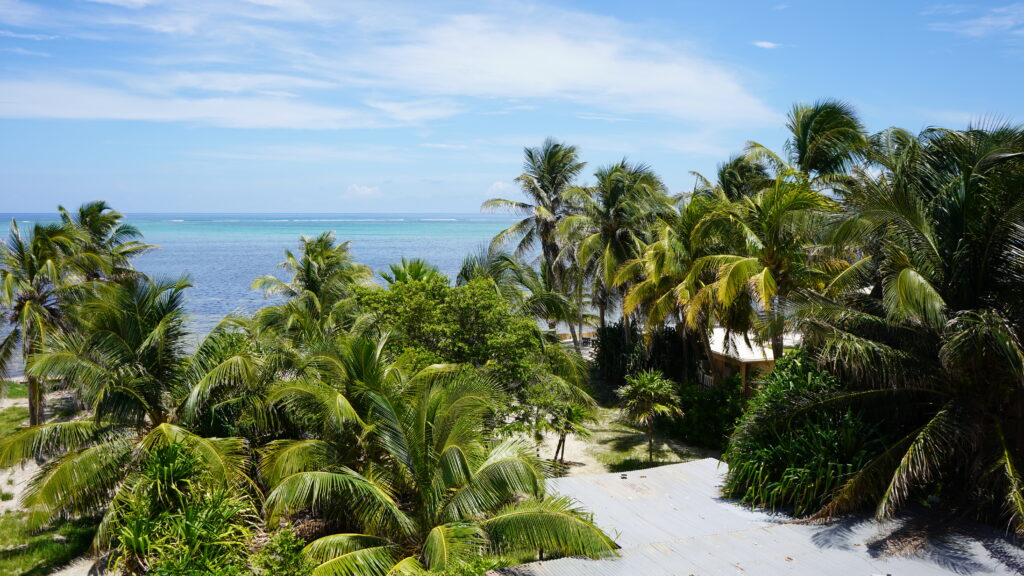 The Watermark Belize Hotel – Where Dreams Set Sail
In the heart of Ambergris Caye, The Watermark Belize Hotel offers luxurious brand new accommodations and incredible views. It sets the tone for memories that linger long after you leave its shores.
Discover, indulge, and rejuvenate at The Watermark Belize Hotel – where the essence of Ambergris Caye becomes an extraordinary narrative of relaxation and adventure.
xx, Jenny (The Kai Life)
Have You Ever Stayed In A Brand New Hotel?
It was such a treat staying in a BRAND new hotel! Highly recommend if you ever get the chance!